EAO, the expert partner for innovative, intuitive and reliable Human Machine Interfaces (HMI), recently celebrated its 40-year anniversary for its North American headquarters in Shelton, CT. The event was highlighted by a company capabilities and historical presentation from Kurt Loosli, CEO, EAO AG Olten, and Jim Valentino, President of EAO North America. Guests were also taken on a facility tour showcasing EAO's North American design engineering and manufacturing areas.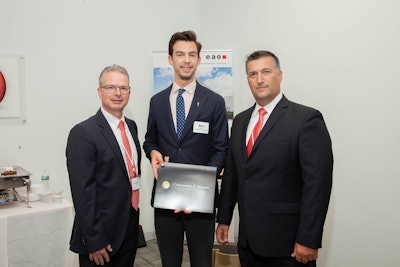 "As a Swiss-based company, this emphasizes EAO's commitment to direct foreign investment in manufacturing and fostering innovation in North America," said Loosli. "EAO is a customer-focused, leading manufacturer of HMI Components and Systems and we are a dedicated partner that has a rich history of innovation and driving economic growth around the world. We are proud to call Connecticut home for our North American operations and look forward to many more years of continued success and growth."
"Achieving 40 years in business is an accomplishment that we are extremely proud of," added Valentino. "EAO Corporation has grown quickly to position itself as a leader within North America and a premier supplier of Human Machine Interface (HMI) products. I look forward to fostering innovation, advancing technology and continuing to contribute to the economic growth within the state of Connecticut."
Originally established in 1978 by Robert W. Maier in Milford, CT, EAO has developed into one of the world's leading manufacturers of HMI Components and Systems through consistent innovation and technology advancements. EAO provides customized HMI solutions and value to many markets that include transportation, machinery, and heavy-duty and specialty vehicles.
In 2014, EAO moved its North American headquarters from Milford to Shelton, CT. The move was a result of a strategic decision to increase its design and manufacturing capabilities in the U.S. to satisfy the growing demand of customer requirements.
EAO is a Swiss-based company with its worldwide headquarters in Olten, Switzerland.