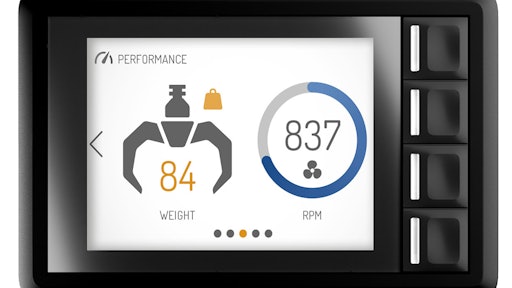 This year the CrossControl booth at bauma will showcase the latest additions to its product portfolio including upcoming flat-front 5 and 7 in. display computers, featuring PCAP touch interface, optically bonded screens and best-in-class sunlight readability. The company will also be highlighting the next generation of small form factor displays, the CCpilot VI, which defies expectations with its rugged 3.5 in. display and robust dynamic multifunctional capabilities; use cases even include video monitoring, not something commonly achieved on such a small device. And the powerful get smaller as the CCpilot XM display computer series, with Intel Atom dual core, expands with a new 9 in. PCAP touchscreen variant.
Plus, CrossControl has reimagined the HMI of Things into a fully-fledged platform for telematics. Smart Connect enables connectivity between machines, displays and smart devices for additional control interfaces and to leverage supplementary communication options to enhance lean telematics. Enterprise Connect provides fleet wide connectivity for geo fencing, routing, data logging and diagnostics to provide end users and OEMs the data they need for the next level. As part of this CrossControl will introduce the new CrossLink TG, an advanced telematics module that easily integrates with on-board systems. It comes with the same modular LinX software platform as all CrossControl displays, featuring ready-made components that shorten your application engineering effort.
CrossControl will be at Booth 326 Hall A2.