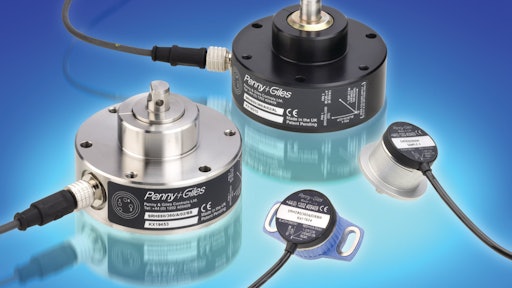 From road construction equipment, cranes and booms, scissor lifts, agricultural vehicles, container handling and hydraulic lift systems, Penny + Giles has extensive experience in providing solutions for monitoring and control under extreme operating conditions.
Its extensive range of rotary position sensors offer angle measurements from 10 to 360 degrees and use Hall effect, inductive and potentiometric technologies, all packaged in compact or rugged housings with environmental protection to IP68 and IP69K.
Penny + Giles linear position sensors, displacement transducers and potentiometers offer stroke lengths from 0.2 in. (5 mm) to 196 in. (5000 mm) and use potentiometric, inductive, eddy current and Hall effect technologies. All are packaged in rugged housings with mountings offering users a range of flexible installation options.
The company's tilt sensors use solid state 3D-MEMS technology to measure inclination relative to earth's gravity. By using solid-state system-on-chip technology, the sensors provide distinct advantages in reliability, stability and compactness over fluid-based, electrolytic and pendulum-operated sensors. For maximum flexibility the range has a low-power requirement of less than 6.5 mA, so can be used in hard-wired or battery-powered wireless systems.
The Penny + Giles range of finger- and hand-operated joystick controllers is developed for the smooth, precise control of critical functions where a Human-Machine Interface is required. They are available in one, two or three axis configurations; with ergonomic handle styles to enable superb proportional control; and a range of selectable options for the most comprehensive matching of the joystick to your application.
For further information on its range of sensors and joystick controllers, visit Penny + Giles on Stand 5A G53 at the INTERMAT Show from April 16 to 21.