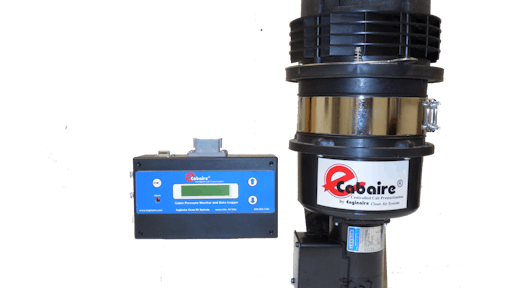 Enginaire takes the next step in cab pressurization, automatic controlled cab pressure with the new Cabaire, complete with intelligent pressure compensation.
The Cabaire control constantly monitors the pressure inside the cab and maintains a constant preset value. This allows for maximum operator safety and pressure. The control takes readings 14 times per second and adjusts the output of the Cabaire pressurizer either up or down to maintain the correct pressure. If a leak occurs (a door or window opens) after a set time, the Cabaire will increase output to try to recover the loss in pressure. It will constantly tell the motor to increase speed and push more and more air into the cab until it either can maintain the preset pressure or it reaches max output. The control has a readout that will tell the operator that a door or window is ajar and a warning light and even a buzzer that will alert the operator where the leak is occurring. When the leak is corrected, and the vessel is again sealed, the Cabaire will once again slow down until the correct pressure is achieved. The control will store pressures as well as alarms for up to a year. These outputs can be downloaded or linked to off-vehicle collection devices for evaluation.
Enginaire offers Cabaire in either 12 or 24V and with standard cellulose, HEPA or activated charcoal elements.