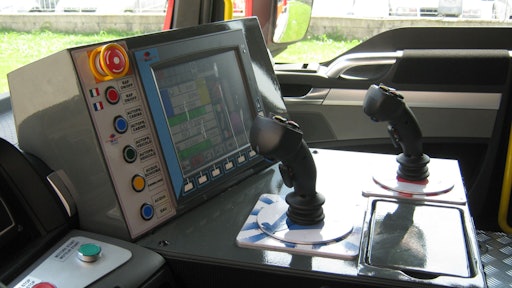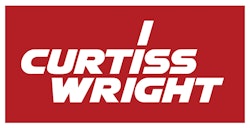 Curtiss-Wright Corporation has announced that its Industrial division – with regional support from Italian distributor Leane International S.r.l. – has supplied Penny + Giles joystick controllers and rotary position sensors to Brescia Antincendi International S.r.l. (BAI) for use on the company's second generation tunnel fire fighting and rescue vehicle, which has been designed for use in the thousands of kilometers of tunnels found in Italy and especially by the French/Italian Mont Blanc tunnel Fire Brigade.
Following the devastating fire that ripped through the Mont Blanc tunnel in 1999, BAI tirelessly researched and developed a vehicle that could quickly and easily access and retreat from tunnels. The result was the company's first generation Janus 4000 Bifronte, a unique dual-faced, double-direction fire and rescue vehicle which, thanks to its all-wheel-drive transmission and automatic gearbox, was capable of driving in either direction at speeds in excess of 120 km/h. Additional all-wheel counter steering capabilities meant the Janus 4000 was also able to turn in very limited spaces when the rear wheels were turned in the opposite direction to those on the front and even move in an almost sideways 'crab-like' manner when they were turned in the same direction.
For Curtiss-Wright, the project started when BAI were looking for a friction-hold joystick to control the fire-fighting equipment installed on its second-generation fire fighting and rescue vehicle, the VSAT 13000 S, which has been specifically designed for high-temperature fire fighting operations in isolated and low visibility tunnel environments.
The new VSAT 13000 S features updated fire fighting equipment including roof- and bumper- mounted fire monitors (water canons), each operated by its own Penny + Giles JC1500 friction hold joystick controller installed within the vehicle's command cabin. The up/down function of each water canon is operated using the joystick's X axis, with the rotational function being provided by a Penny + Giles NRH280DP rotary position sensor fitted to the bottom of each joystick. For both roof- and bumper-mounted water canon applications, the JC1500s are also used to operate water spray or jet functions, lighting, reach and direction.
To ensure that the water canons can be operated under all conditions, even if the cabin is overcome with smoke, the position of each canon can be easily identified by looking at the position of the joystick on the command cabin's control panel.
Commenting on the reason for specifying a friction hold joystick, BAI's Enrico Callura says, "Feedback from users of the Janus 4000 stated that, without having to refer to the control panel's display, they wanted to easily identify the position of the joystick. The decision to specify Penny + Giles was based on BAI's requirement for a joystick that was completely compatible with the rotary sensor and featured a low-profile design so the sensor could be fitted to its base – and with an under-panel depth of just 53 mm, the JC1500 was ideal."
BAI also stipulated that prototypes be manufactured and delivered quickly and the Industrial Division's rapid-prototyping facility was able to meet the very short lead time.
The Penny + Giles JC1500 single-axis, Hall-effect joystick controller is designed for heavy-duty applications such as specialist on- and off-highway vehicles, where maintaining smooth proportional control is essential. Standard features include an IP69K rating on the sensor assembly; spring-to-center or friction-hold lever action; lock and detent features; 5V DC or 9-30V DC supply; dual-channel output with optional ramp directions; analogue (V DC) or digital (PWM) outputs; and an operating range from -40 to 85 C.
The company's non-contact NRH280DP Hall-effect rotary position sensor is provided with a housing activated by a separate magnet, allowing a small 6.5 mm profile. The NRH280DP is designed for operation in extreme temperatures and is factory configured to provide OEMs with a wide selection of parameter options including measurement range and clockwise or anticlockwise direction output. This flexibility provides a greater amount of control to configure the sensor to best suit the needs of OEMs and achieve maximum performance. For example, the sensor can be configured so that one signal can be used in a control function while the other is used for position monitoring or display purposes.