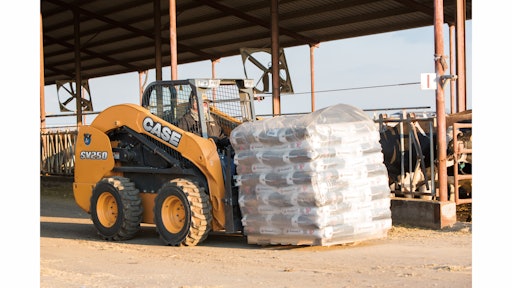 CASE Construction Equipment's SV250 Alpha Series skid steer now features CASE's EZ-EH (electro-hydraulic) controls that allow operators to dial the machine into their own setting and pattern preferences. With a 2,500-pound rated operating capacity, the SV250 offers a bucket breakout force of 7,570 lbs., 82 hp (gross) and 257 ft.-lbs. of torque (at 1,400 rpm). A standard hydraulic flow of 24.2 gpm and an optional high-flow of 37.6 gpm provide more than enough power to run a variety of attachments, including bunker defacers, sand buckets, augers and trenchers. As with all Alpha Series skid steers, the SV250 provides some of the industry's best cab space and 360-degree visibility, along with the lowest entry threshold for easy access and optimal visibility to the bucket/attachment.
EZ-EH Controls Provide Options and Flexibility
The SV250 offers a new EZ-EH setup menu that features nine preset speed and control settings that can be adjusted on the fly. This allows the operator to match controls to their preference for comfort and greater productivity. A single rocker switch allows operators to switch between the CASE "H" operating pattern and ISO pattern controls. New handles with industry-exclusive "feel points" improve controllability and feathering.
The machine also features push-button Ride Control, hydraulic one-way self-leveling, two-speed ground drive, and an advanced instrument cluster with programmable security and automatic shutdown as options.
Extended Wheelbase Builds Confidence
The CASE PowerStance wheelbase improves stability during lifting and hauling, which helps retain more material in the bucket. That stability also improves operator confidence when working on varied terrain. Additional counterweights can further improve stability and performance while also increasing the rated operating capacity.
Comfort for the Operator
The SV250 offers one of the widest cabs in the industry at nearly 3 feet. The cab is fully sealed and pressurized against noise, dust and fumes. The cab-forward design provides best-in-class visibility with excellent sight lines down to the bucket edge and curb lines, and to the rear of the machine. Ultra-narrow wire side screens, side lighting and a skylight further improve visibility. The low step and entry threshold makes it easy for the operator to get in and out of the cab. The machine also features an optional radio and upgraded climate controls for optimal comfort.
Easy to Use and Maintain
The engine, filters and fill points are all located at the rear of the machine for quick access. The SV250 also features CASE's easy-tilt cab for convenient access to the drivetrain compartment. Hydraulic quick couplers allow operators to quickly change attachments from the comfort of the cab, while Connect Under Pressure (CUP) manifolds require no tools to connect or disconnect hydraulic lines. A larger fuel tank has also been added to ensure all-day operation without the need to refuel.