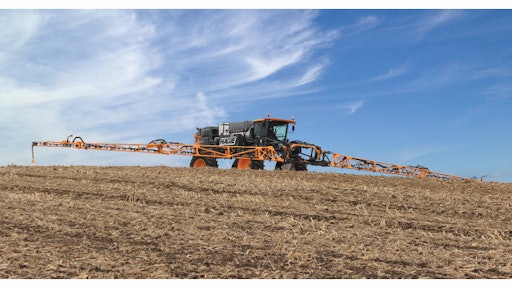 The 2015 Hagie STS product changes may seem small to the eye but will have big impact for the customer in terms of operational comfort, system performance, and overall productivity of the machine. Starting at the operator station, the customer will notice changes to the way he/she enters the cab, with the addition of a hands free door opening system. This design helps to eliminate the contamination of the steering wheel and controls, as a result of chemical on the door handle. While in the operator's seat, customers will also notice a redesigned section keypad that improves the backlighting system for early morning or late evening operation.
It's no secret that operator comfort is a large key to longer days in the seat. To help enhance the feel of the updated cab, suspension updates have been made to improve the feel from the seat. While these changes change the ride height by less than one inch, they make large differences in the feel of the machine. Additionally, the option for a severe-duty suspension has been added for operators running larger float tires. This change includes a solid inner leg, thicker wall outer leg, as well as higher load rated hubs.
Uptime, productivity and ease of operations have been areas of focus for the new design. A revised fuel fill option offers an extension to the catwalk and an in-tank fuel fill to reduce fill time. While loading product, the operator will notice changes to fill system including a check valve style fill and increased fill time capability, of which can achieve over 300 gallons per minute. Once all the product is on the machine, the customer will notice increased flow capability due to the new ARAG flow meter. This system operates without the restriction of an impeller for increased flow. Finally, clean out has been simplified as a result of Xpress end fittings from Hypro.
When walking around a machine, you will notice a new look on the hardware that the machine is assembled with. New MagniCoat hardware has increased resistance to corrosion, even in the presence of nitrogen. Additionally, new instructional decals for the solution system will help the new operator to be an expert in no time. Finally, the NTB was also updated this year, with the addition of gauge wheels to help more accurately control depths.