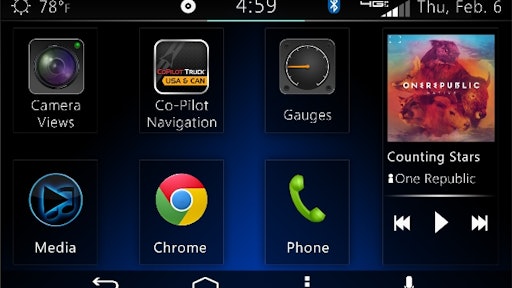 Peterbilt Motors Company announced during the Mid-America Trucking Show it is introducing the next generation of its in-dash SmartNav infotainment system that features an expanded array of virtual gauges, auto-activated safety cameras, improved hands-free calling and the capability to provide real-time traffic and fuel price information, .
"Peterbilt was the industry's first manufacturer to offer a factory-installed, all-in-one infotainment system," says Darrin Siver, Peterbilt General Manager and PACCAR Vice President. "This new, enhanced system greatly expands SmartNav's functionality and will help drivers operate with greater levels of productivity, safety and convenience."
Operators engage SmartNav through its touch-sensitive, full-color, seven-inch display. Drivers can also interact with the new system through improved voice-recognition capabilities for hands-free calling. Other enhancements include:
Nearly double the available virtual gauges, for a total of 30, including all vocational gauges;
Expanded satellite radio content with both Sirius and XM channels;
Automatic activation of optional safety cameras when the vehicle is put into reverse or turn signals are on; and
Real-time traffic updates and fuel pricing through an optional subscription service.
"One of the key improvements to the new SmartNav system is its ability to be customized with approved applications developed by Peterbilt, PACCAR or third parties," says Scott Newhouse, Peterbilt Chief Engineer. "For instance, future functionality could include integration with reefer trailers or truck bodies to provide operational data, like reefer temperature. SmartNav's new flexible architecture allows it to be updated quickly with additional features and capabilities.
"Additionally, it is telematics enabled to communicate with systems such as electronic logbooks and other fleet management platforms."
SmartNav will continue to provide:
Truck specific navigation;
Vehicle operational and diagnostic information;
Bluetooth connectivity and pairing with Bluetooth-enabled devices, as well as controls for using certain devices;
USB input for auxiliary audio devices; and
Complete integration with the vehicle's cab and sleeper sound system.
SmartNav is standard with Peterbilt's platinum-level interiors and is optional for all medium- and heavy-duty conventional models. Peterbilt had the new system, which goes into production in June, displayed on several of its vehicles at the show.