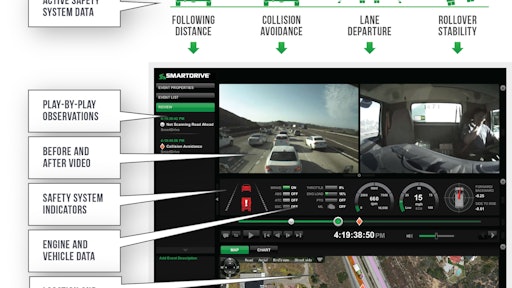 WABCO, a leading innovator and global supplier of technologies that improve the safety and efficiency of commercial vehicles, has further strengthened its partnership with SmartDrive Systems, a leader in driving performance management solutions that help fleets to enhance operating safety and lower fuel consumption. WABCO invested $20 million in U.S.-based SmartDrive Systems and will jointly develop next-generation, video-based analytics solutions for commercial vehicle fleets worldwide.
WABCO made the announcement leading up to the 2015 Mid-America Trucking Show (MATS), one of the largest heavy-duty trucking industry events in the world, held from March 26 to 28, 2015 in Louisville, KY (USA).
This partnership harnesses the extensive capabilities and know-how of two industry leaders to help further enhance the safety and efficiency of fleet operators worldwide. WABCO pioneers advanced safety and efficiency technologies for truck, bus and trailer manufacturers and fleets. SmartDrive Systems offers unequaled expertise in driver and vehicle data and video analysis.

WABCO and SmartDrive Systems will combine their breakthrough products and services to offer a new level of functionality and support. SmartDrive Systems offers real-time, video-based driving performance insights and analytics integrating information from data-rich vehicle systems such as WABCO's advanced braking and stability control technologies into its offerings in real-time. SmartDrive Systems maintains a database of more than 100 million analyzed risky driving events that enable predictive analytics and real-time risk identification. This information can help fleets to identify and reduce potentially hazardous driving maneuvers and improve overall operating efficiency.
"We are excited to invest in our winning partnership with SmartDrive Systems," says Nik Varty, President, WABCO Americas. "The integration of comprehensive real-time data gathered from WABCO's onboard advanced braking, stability control and efficiency systems – together with SmartDrive Systems' video-based driver performance management systems and data analytics services – will continue to create significant value for fleet customers worldwide. The combination of our industry-leading technologies and services will help fleets to improve driver performance and further increase vehicle safety and efficiency."
WABCO has made a significant investment in both SmartDrive Systems and our partnership," says Steve Mitgang, CEO, SmartDrive Systems. "Fleets have experienced firsthand the unprecedented insight to potential risk that our combined systems deliver and can clearly see the significant role active safety systems play in protecting drivers from the hazards they face on the road every day. We are looking forward to jointly developing advanced products and services that build on our initial work together while expanding our reach to dynamic growth markets around the globe."