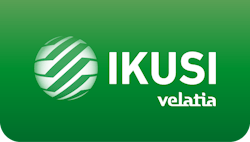 Ikusi has put in a major effort this year to make new communication tools available to its distributors and customers and the market as a whole. Ikusi has chosen bauma 2016, a leading event in the sector, to launch its new website with a fresh image and content. An updated, practical space that aims to encourage communication with the various interest groups.
The visitor will find a website that is easy to browse, organized around seven sections (Products, Applications & Sectors, Service, Events, News, Media and About Ikusi), and designed with end users as well as the distributor network in mind. So it is a website geared towards solutions to address the information needs of the various customer segments.
The website is available in Spanish, English and German.
To accompany the launching of the new website, Ikusi will also be presenting at bauma a new video with visual coverage of its proposal for the sector and which is underpinned by concepts such as service, long-term relations and, at the end of the day, the desire to be a technological partner of its customers. 
Range of equipment for the construction sector
Ikusi has a full range of remote controls for construction vehicles and cranes which it will also be showcasing from April 11-17 at the bauma fair in Munich. Robust, technologically upgraded equipment capable of operating in the harshest of conditions and which offer excellent ergonomic conditions.
Ikusi remote controls take into consideration all the requirements to address the specific needs of the construction sector; it is proposing a range of solutions suitable for tower cranes, auto concrete pumps, stationary concrete pumps, rollers, shotcrete machines, tunneling machines, concrete mixers, drills and stone crusher machines.