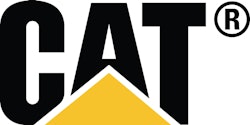 The new Cat R1700K Underground Loader features multiple engine configurations, a new ergonomic operator cabin and greater payload to help miners drive down costs and boost productivity. The compact profile, efficient powertrain and rugged construction deliver low cost-per-ton truck loading and load-haul-dump production in underground mining applications.
The new R1700K delivers a payload of 15 tonnes (16.5 tons), 20% more than the previous model and supporting efficient three-pass loading of the 45-tonne-capacity (50-ton-capacity) Cat AD45B Underground Truck. After rigorous field testing is completed in 2017, the R1700K will be commercially launched in 2018.
To enable miners to optimize the new loader for lowest total costs in a specific application, multiple engine configurations are available. All options use the proven Cat C13 ACERT engine. This engine can be configured for applications that require compliance with the highest emission standards in underground applications, and it enables options for customers who are striving to improve underground air quality.
The R1700K is available in US EPA Tier 4 Final/EU Stage IV and in Tier 3/Stage III emissions compliance configurations. The Tier 4/Stage IV engine employs the Cat Clean Emissions Module, proven in millions of operating hours on a broad range of Cat equipment. The exhaust aftertreatment package components include a diesel particulate filter and a selective catalytic reduction catalyst to reduce both particulate and NOx emissions to near zero. The R1700K C13 Tier 4 Final engine has a gross engine power rating of 257 kW (345 hp) at 2,050 rpm.
For Tier 3/Stage III machines, Caterpillar offers the Ventilation Reduction Package, which uses select engine hardware and software modifications to minimize particulate matter emissions. Further particulate reductions are available through the addition of an optional diesel particulate filter, which features automatic regeneration while the machine is working.
Enhanced cabin
The new R1700K operator cabin is designed to promote safe and efficient operation throughout the shift. An open ROPS/FOPS cab and an enclosed cabin are available. Increased leg room, multiple ergonomic adjustments, and automatic climate control and filtered ventilation in the enclosed cab enable operators to work comfortably.
Simple and easy-to-use controls are at the operator's fingertips. Pilot hydraulic controls enable precise operation with low effort. Switches and control panels are located central to the operator and within arm's reach for fast adjustment to the operation of the machine or systems. The R1700K provides enhanced visibility with an optional rearview camera that displays its view on the easy-to-read color LCD monitor.
The monitor also presents live diagnostic code feedback for faster repairs in the event of an issue. The diagnostic codes refer to individual circuits or functions that have been monitored to display irregularities—enabling technicians to identify causes quickly.
Moving more, safely
The R1700K has many new features—ranging from simple to high tech. At the business end of the machine, the newly designed bucket has an increased throat angle to allow for faster filling and better material retention during tramming. New Cat Bolt On GET (Ground Engaging Tools) are designed for use in abrasive applications where high wear rates make welded GET impractical. The system also delivers more available wear material for longer life and greater uptime. Built-in wear indicators and replacement corner segments allow the system to be integrated into scheduled maintenance regimens.
The innovative traction control system enables the R1700K to control drive power to each wheel independently. The result is minimal tire slip, optimum traction, and the ability to penetrate the pile more effectively for fast loading.
The R1700K also delivers significant technology enhancements. It is equipped with multiple subsystems for fast technology implementation. The Cat line-of-sight remote control systems allow operators to control their machines from safe distances, and the Cat Command for underground, semi-autonomous system enables operators to work from a remote location. Remote machine health monitoring, payload monitoring and other technology options can be installed at the factory or in the field.