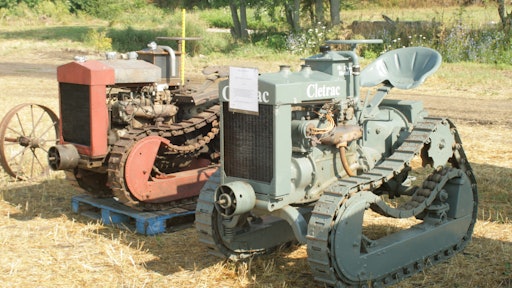 The tracks on a crawler tractor are the machine's means of propulsion and travel, and as such they and all related components take a thrashing. To oversimplify, they bear the weight of the machine and absorb shocks, and they carry the tractor through all manner of abrasive and abusive materials. Moreover, the drive sprocket – a large gear on each side of the powertrain whose teeth propel the track – also bears the torque and strain of power from the engine applied to the weight and resistance tracks while being exposed to the sand, rock, grit and mud over which the tractor is passing.
In 1969, Caterpillar set about developing a revolutionary solution to the problem, a crawler tractor with an elevated drive sprocket. The first prototype was built in 1973, and in 1978 the first production tractor with this design, the massive D10, was introduced. The logic of the design was simple. Raising the sprockets several feet off of the ground got them away from the rocks, sand and so forth that could damage them, and isolated them from the shocks of passing over obstructions. It removed all machine weight from the sprockets, so they bore only the torque from the powertrain and from driving the track. The sprockets also no longer bore the strain of roller frame alignment shock loads. Combined with other design features, resistance was minimized, allowing more flywheel power to reach the ground; one of these features was a suspended bogey undercarriage system that would not have been possible with conventional sprockets.
As with so many other revolutionary ideas, one may wonder: Why didn't someone think of this earlier? It turns out that someone had. The elevated drive sprocket, while revolutionary in modern machinery, dates back—as do so many other design concepts—to the early days of construction mechanization.
Leader Engine Company of Detroit, MI, was a producer of wheel tractors. Dayton-Dick Company (later Dayton-Doud Company) of Quincy, IL, purchased Leader in 1915 and, two years later, introduced the Leader Model D 25-40 crawler tractor. This was a half-track arrangement, with a wheeled steering axle out front, and was the first use of an elevated drive sprocket. Unlike the D10, it was not large at all, weighing 6,500 lbs., and it was powered by a 6x7 Doman gas engine. A somewhat heavier full-crawler model, the GU, followed in 1921; it too had a raised drive sprocket, and was powered by a Climax gas engine. Unfortunately, only very poor images of these pioneering machines are available, and the machines themselves may be extinct.
In 1920, Cleveland Tractor Company also introduced a raised-sprocket tractor, the Model F, under its famous Cletrac brand. It was even smaller than the Dayton-Dick machines, weighing just under a ton and having a 9 hp engine. The Model F also featured another Cletrac innovation, differential steering. It was steered by a horizontal steering wheel that turned a steering differential which applied resistance to one or the other sprocket. The F was offered in standard, narrow-gauge and high-clearance models, and was discontinued in 1922. Fortunately, examples of the Model F exist today, and so these machines are well documented.
The Historical Construction Equipment Association (HCEA) is a 501(c)3 non-profit organization dedicated to preserving the history of the construction, dredging and surface mining equipment industries. With over 4,000 members in twenty-five countries, our activities include publication of a quarterly educational magazine, Equipment Echoes; operation of National Construction Equipment Museum and archives in Bowling Green, OH; and hosting an annual working exhibition of restored construction equipment. Our 2017 show is November 2-4 in Carthage, North Carolina. Individual memberships are $35.00 within the USA and Canada, and $45.00 US elsewhere. We seek to develop relationships in the equipment manufacturing industry, and we offer a college scholarship for engineering and construction management students. Information is available at www.hcea.net, or by calling 419-352-5616 or e-mailing info@hcea.net.