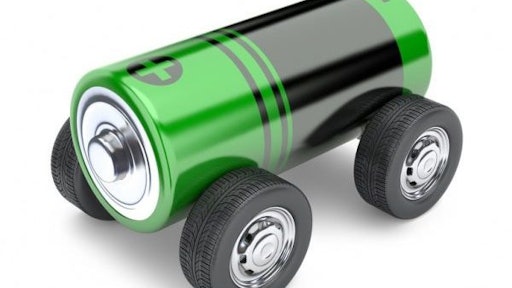 Off-road vehicles sell by the millions for forklifts, down to small volume numbers for applications like mining. To some extent that means that components are proved and cost reduced in volume in on-road vehicles before adoption in off-road vehicles. However, off-road vehicles are more likely to have to provide power surges, be exceptionally rugged and reliable, cope with rough terrain and be far from refueling facilities. They also insight a different purchase mentality focused on benefits and total cost over the life of the vehicle over the up front price. This leads to many technologies appearing first in off-road where higher priced technology can be more easily tolerated. Investment in such sectors as construction and mining is highly recession prone, impeding innovation in the bad years.
The jargon needs care: an "electric drive" off-road vehicle does not mean it's an "electric vehicle." Electric drive means that only when the engine is working does an electric motor provide the machine's propulsion. The next stage is "hybrid electric meaning using a substantial battery so pure electric modes are possible for part of the time and there can be a plug-in option reducing fuel consumption and emissions even more. Electric tools such as pushers, lifts, grabs and excavators are more compatible with genuinely electric vehicles.
Construction
All vehicles are electrifying for better performance, reliability and control of emissions. For light-duty, small wheel loaders and even small excavators are pure electric. Many manufacturers are developing or offering larger wheel loaders and excavators that are hybrid electric including Komatsu, Volvo and Caterpillar. Care is needed however, because this industry sometimes uses the word hybrid to mean a non-electric hybrid of hydraulic and diesel drive.
For all off-road vehicles, think smart, connected, electric and autonomous with energy independent vehicles (EIVs) further along the line but some EIV technologies such as on-board wind turbines and solar on the vehicle being more widely applicable today.
JCB, world number three in construction vehicle numbers, recently told IDTechEx that their customers are often constrained to working only a four hour day in cities due to noise and emissions from the diesel power but equivalent, almost-silent, zero-emission electric versions may be allowed to operate day and night giving much faster payback and less blocking of roads. Husqvarna has coined the term "silent city" for where we are headed.
Examples of the new virtuosity
Let us look at some examples of the new virtuosity. The full gamut is covered in the IDTechEx report, "Industrial and Commercial Vehicles on Land 2017-2027."
At the Industrial Hybrid Vehicle event, Cologne November 2016, Huddig revealed its articulated hybrid electric wheel loader with near-wheel motors permitting vectored traction and steering so it does not damage road surfaces and copes better with slippery surfaces. It has 100% software controlled differential, individual control at each wheel, dynamic and static compensation control, electric engine boost, plug-in and a pure electric option for silent, zero pollution use for 10-20 km in cities and indoors. This give fuel saving, energy recovery and more power when needed compared to internal combustion engine drive alone. Launch is 2018-9. Listed features demonstrate the move from moving mechanical parts to electrical and electronic systems and software becoming key with a 100% software controlled differential, dynamic and static compensation control, regenerative braking of vehicle and tools like some Komatsu excavators and lower fuel consumption: heavy duty 65-70%, light cycle 80%
The off-highway EV business - hybrid and pure electric - will rise rapidly to about $350 billion in 2027, so there is plenty of incentive for new technologies.
Search and rescue
The new rescue vehicle Vanquisher from Advanced System Design has local motors driving each of the independent four tracks giving vectored traction and steering, there is an autonomous option, advanced power electronics and amphibious operation.
Mining
Most of the world's mines are open cast. Deloitte Touche has shown feasibility of electric mining communities with zero emissions and energy self-sufficiency based on wind turbines and solar panels. Giant trucks are pure electric with 350 kW battery swapping. Volvo is trialing hybrid wheel loaders and autonomous pure electric carriers. Indeed, Volvo's fully autonomous truck was first to be tested deep underground in the Kristineberg Mine; part of a development project aimed at improving the flow and safety. The truck covers 7 kilometers, reaching 1,320 meters underground in the narrow mine tunnels where humans should not be asked to go.
Small off-road vehicles
Many small off-road electric vehicles are emerging. "Mules" autonomously fetch and carry for the military and mining in Canada. Postal deliveries using drones is extremely dangerous: vertical takeoff makes them very power hungry. Near misses of drones with passenger aircraft rose in London airports last year from four to 13. The small robot vehicle trundling down the sidewalk and into property areas is lower in cost and safer than drones. That is why in January Daimler led a new $17.2 million funding round in Starship Technologies, a UK startup created by Skype founders Ahti Heinla and Janus Friis. The round will help expand its efforts to bring off-road robot deliveries around the world. One plan is to deploy them from Daimler delivery trucks.
Lawn care
There is steady progress to electrify seated lawn care machines for grass cutting, rolling, sod cutting and staff and equipment transit in campuses, hotel grounds, theme parks and so on. The Textron division Ransomes Jacobsen in the UK makes industrial lawnmowers based on diesel engines and lead acid batteries that are sometimes primitive hybrids in having a separate lead acid battery pack for the powertrain. This does not permit pure electric mode. The migration route will be to full hybrid and pure electric in future using lithium-ion batteries. Drivers of this include reduced/ zero emission, reliability, noise reduction and meeting new CO2 laws "Stage 5 emission 2019" says the company. Indeed, for over ten years, it has had one of its smaller seated models pure electric based on lead acid batteries, this being used for silent mowing of golf courses at night without disturbing local residents. Smaller autonomous lawnmowers are at last selling well thanks to Husqvana, Honda, John Deere and others. They use lithium-ion batteries for endurance.
Agriculture
Vehicles for agriculture are undergoing a considerable transformation with a trend to autonomy and a debate about going from, "elephants to ants". However, although pure electric drones and wheeled robots are fine indoors for microfarming there needs to be more innovation in getting electricity to them in outdoor remote locations. Unfolding solar roads and tethered airborne wind energy are candidates. Certainly electric is the way to go for greater precision, a better driver environment and to meet increasingly onerous emissions laws.
Components reinvented
Supporting all this frenzy of innovation is the use of new and different components. Off-highway electric vehicles often use supercapacitors instead of batteries for those power surges. Near wheel motors are particularly favored for the necessary vectored traction and steering but there are some in-wheel motors coming in too. Volvo finds that the excavator/ loader can then do the same job in a smaller footprint thus improving both cost and maneuverability. Switched reluctance traction motors are becoming popular off-road because they are rugged like the even-more-popular AC induction motors. The rotor of the reluctance motor is not just free of magnets: it does not even need copper wire so the device can be very compact and reliable now that the challenges of the complex electronic controls needed with switched reluctance are overcome.
Raghu Das, CEO, IDTechEx advises, "Powertrains for off-highway vehicles are going electric for reasons of performance, reliability, life and tightening emissions legislation. Small versions, such as commercially operated golf cars, airport ground support equipment, and indoor forklifts and scissor lifts have often gone straight to pure electric. Larger versions such as farm tractors and outdoor mobile cranes, wheel loaders and forklifts are typically going hybrid first because of their more demanding duty cycles. These transition to pure electric via larger batteries and smaller engines called range extenders that simply charge the battery. The off-highway EV business - hybrid and pure electric - will rise rapidly to about $350 billion in 2027, so there is plenty of incentive for new technologies. Important value sectors will include military and forklifts. Fuel cell hybrids will be a niche business: they are struggling to gain more than 0.1% of the forklift business for example. On the other hand, hybrids based on batteries and supercapacitors and pure electric powertrains will be very popular indeed".