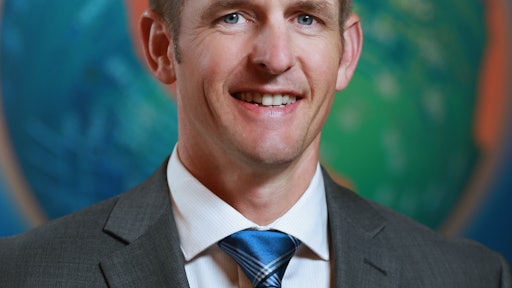 responses submitted by Patrick McDermott, President of B&R Industrial Automation for North America
Automation & Smart Systems
What smart systems or components does your company currently offer? If they are application or industry specific, include that detail in the explanation.
For 40 years, B&R has served OEMs in many industries with a machine control and automation platform, which is scalable and modular to meet the individual needs of their application. The B&R hardware includes industrial PC's, PLC's, IO, displays, motors, drives and safety rated control solutions which are all programmed in one programming environment using a variety of programming languages. Our migration into the mobile equipment control market will help OEMs in that space take advantage of advances in technology, which industries including food & beverage, plastics, packaging, pharmaceuticals have been pioneering for some years. The ruggedized X90 control platform is the first of many developments from B&R for the mobile equipment market and OEM's are now using the platform to leverage value from a variety of areas including advanced software features for faster time to market, CPU performance for challenging applications and network versatility to reduce complexity.
How will that portfolio be expanding in the near future? What customer/industry demands drove these future developments?
Expansion will include both hardware and software.
On the hardware side, special functionality IO to enable intelligent maintenance will help OEMs to limit unexpected downtime for their customers. This truly predictive maintenance technology will help to optimize component life and limit unnecessary expense through excessively early or late reactive part replacement. This means more profit for the end user, and better satisfaction with the OEM brand of equipment.
Ruggedized displays will also enable OEMs to take advantage of the latest touchscreen technology and web-based visualization capabilities of the B&R platform.
For software, mapp (modular applications) technology components will expand to include more mobile equipment relevant functionality. This will shorten development time for OEMs and speed their time to market for new machine designs.
The web-based visualization capability of mappView will see expanded libraries of widgets further enhancing the "what you see is what you get" type development tools. Most of these enhancements are directly driven by our OEM customers.
Customers from the mobile equipment market are already using tools like Matlab Simulink and MapleSim with our Automation Studio programming environment to take advantage of simulation-based development. Further development of these interfaces are ongoing and driven by additional functionality the OEMs would like to see possible.
How do you see the timeline of vehicle automation unfolding in the coming years?
Autonomy and semi-autonomy is already in use or test in on and off-road scenarios. Widespread adoption of this technology is likely still some years off, but we expect to see it increase in those off-road applications where the environment or area is controlled and all machines or objects therein are also controlled. This will require machine-to-cloud and machine-to-machine communication, which can meet the requirements of performance, bandwidth, determinism, safety and security. The open technology standards of OPC UA TSN are going to be of interest to many industries considering the advances associated with IIoT, and the vehicle automation industry is certainly one of them.
Positioning technology is already widely used in on- and off-road vehicles and machines, but an ability to combine that expertise with serial kinematic transformations and complex control algorithms will likely see excavators and cranes able to take advantage of robotic type control to further optimize operations in the future.
Where do you see the greatest opportunity for automation, either on-board or in the manufacturing process?
Both provide opportunity, but the construction industry, for example, has been lagging behind manufacturing in terms of productivity growth for a number of years, and needs to play catch up. One way to help close this gap is by taking advantage of what enhanced machine control and automation has to offer. Examples of use cases include improving efficiency and profitability by embracing technology like intelligent maintenance, and overcoming the challenge of fewer available operators with extensive skills and expertise by using web-based visualization.
However, advances in manufacturing automation will not slow down. Therefore, the degree to which that gap might close will depend on the appetite of the industry to innovate and properly consider what is possible. Collaborating with automation technology innovators like B&R will help OEMs to stay on track with helping to close that productivity growth gap.
Patrick McDermott is the President of B&R Industrial Automation for North America. He has had several roles within the organization over the past 11 years in Sales and Senior Management. B&R, a member of the ABB Group, is a rapidly growing automation company focusing on technology innovation for industrial machinery. Prior to B&R, Patrick was controls engineering manager for an OEM machine builder responsible for electrical design, support, and software. Patrick began his career with a manufacturer of high performance motion control products, programming on different machine types in many different industries including Semi-con, Machine Tools, Packaging machines, as well as Printing/Converting. Patrick has a B.S. and M.S from the University of Illinois at Urbana-Champaign Engineering specializing in control systems.
Companies in this article