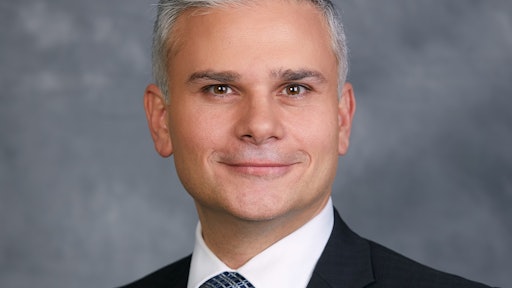 responses submitted by Michael D'Argenio, Vice President, Digital Transformation & Customer Experience, SKF Americas
Data, IoT & Connectivity
What role is data playing in your company, and how do you anticipate it will grow in the coming years?
Data plays a huge part in our business strategy at SKF. It's leveraged inside the company from a business intelligence perspective, in addition to being delivered through our business models and product development efforts. Technology is revolutionizing our industry, and data is the fuel of that revolution, the two working in concert to deliver all-new levels of value and insight. These insights allow us to better service our customers and perform better as a company.
We are constantly evolving our products and services to deliver deeper insights that help our customers better manage their business. Whether it's product performance, historical data, industry data – we are looking across the value chain, recognizing that data and insights are the building blocks for our future value proposition.
SKF is cognizant of the model of current technology which qualifies not just the value of data, but the trajectory that data is on. There was a recent study conducted by the International Data Corporation which predicted worldwide data creation will grow to an enormous 163 zettabytes (ZB) by 2025. That's ten times the amount of data produced in 2017. The amount of investment SKF is putting into data insights internally as well as externally for our customers is significant and will continue to grow in anticipation of those overall trends.
What benefits are the Internet of Things (IoT) bringing to your company, and/or the industry as a whole, and how do you see it continuing to be beneficial in the coming years?
SKF is applying Industrial Internet of Things (IIoT) resources to build strategies for products and services around delivering value to our customers. Our IoT is the local mechanisms that exist to capture, process and communicate our data. SKF is hard at work developing multiple types of sensors and sensing equipment – even going so far as to connect the bearings we build via fiber optic sensing technology. All of these examples represent the IIoT components that aid in the capturing, processing and transmission of valuable data, so insights can be driven into the business.
Additionally, a large amount of effort is being applied to the development of IIoT – not just in the product development space we have today, but also looking forward and thinking about what kind of services we can enable for our customers in the future when data and insights are going to be of high value. We are in the process of researching what type of hardware we will need to build and deliver to serve as a conduit for that information.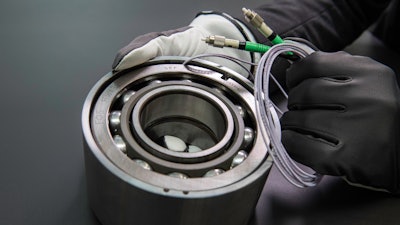 If IoT is not already being utilized by your company, do you foresee it being so in the near future, and how will your company go about using it?
Although SKF is already using IoT in our business processes there are still countless opportunities to harness IoT – from connected factories, products and services to Industry 4.0 applications. When it comes to the future of IoT, the current technology infrastructure will enable what comes next. Companies need to identify those points of value and allow them to grow overtime. This will lead to a doubling and tripling of connected devices on the network. With this will come much higher levels of efficiency, significantly improved planned downtime, improved fleet and resource management, and optimized business operations. There will also be new levels of autonomy and control over how machines operate through data and insights.
Are you seeing any new opportunities in regard to connectivity, and if so, what technologies are making these possible?
It's predicted there will be 60 billion connected devices by 2020. While SKF began its business manufacturing tangible parts, we now recognize the need to connect those parts to sensors and fiber optics in order to deliver data to our platforms to help enhance traditional products. Connectivity and the insights it enables are a massive component of our overall product delivery strategy. The products and services we will be bringing to our customers in the future will strongly emphasize data enablement.
Every bulldozer, every tractor of the future will become part of the IoT network. Today many vehicles have sensors connected to the engine or transmission, but in the future, there may be over 200 sensors that allow people to measure and monitor at a more granular level. These insights allow operations to break that data down to not only predict failure but optimize performance in areas such as machine management and fleet management.
In the future we could see machinery with massive amounts of sensors that are transmitting data, computing and processing that data locally while moving to the network in real time. The technology is here, it just hasn't gone through the maturity lifecycle yet.
Companies in this article