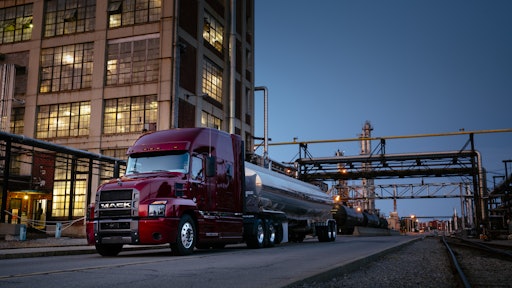 Mack Trucks
Volvo Trucks North America and Mack Trucks announce both companies have entered into a Memorandum of Understanding (MOU) with Samsara, a leader in industrial Internet of Things (IoT).
The purpose of the MOU is to provide customers with more options for integrated connectivity solutions as a means of increasing efficiency, safety and sustainability of commercial fleets.
Volvo Trucks says it entered into the agreement with Samsara to investigate providing an all-encompassing, single-source telematics service. This would include compliance services, cameras, trailer sensors, safety, maintenance services and more which are available via Samsara's platform.
"We look forward to working with Samsara and their unique data systems," says Conal Deedy, Director of Customer Productivity Solutions, Volvo Trucks North America. "This opportunity allows us to explore how our customers can leverage Samsara's integrated solutions for more efficient fleet management."
"Volvo Trucks is at the forefront of connectivity, and we're always looking to bring solutions to the market that help increase operational efficiency, safety and sustainability for our customers," adds Ashley Murickan, Product Marketing Manager, Volvo Trucks North America.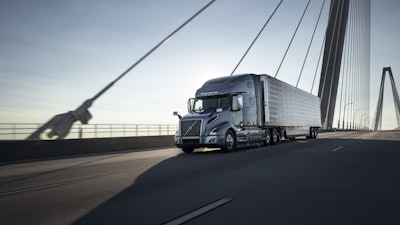 Samsara's portfolio of complete IoT solutions combine hardware, software, and the cloud to bring real-time visibility, analytics, and AI (artificial intelligence) to operations. The company serves over 15,000 customers across diverse sizes and industries, including transportation and logistics, field services, energy, construction and other sectors.
"We're thrilled to be partnering with Volvo Trucks, particularly given our shared belief that driver safety and overall experience is of the utmost importance," says Chris Mozzocchi, Director, OEM Integrations at Samsara. "Today marks the beginning of a partnership that will eventually span numerous products and services so customers can run safer and more efficient fleets."
"We are pleased to be working with Samsara and their unique approach to analyzing data," adds David Pardue, Vice President of Connected Vehicles and Uptime Services for Mack Trucks. "Through our planned collaboration, we will investigate how Mack customers can benefit from their integrated fleet management solutions."
"With a number of Mack vehicles currently on the Samsara platform, we're thrilled about this opportunity to examine how to make their embedded telematics data even more seamlessly integrated," says Rushil Goel, Vice President and General Manager, Fleet Management at Samsara. "Through this MOU, we hope to provide fleet managers and drivers with a more holistic understanding of their data and in turn, operate a safer and more efficient fleet."
Details regarding specific offerings to be developed have not yet been finalized.
Companies in this article