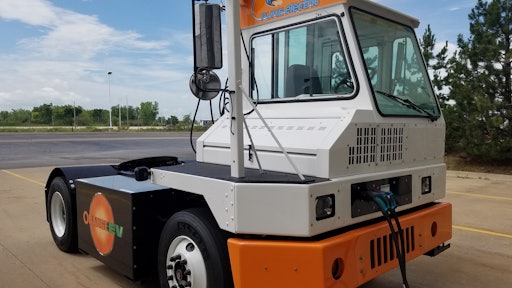 Orange EV
The Orange EV T-Series all-electric terminal truck is designed to operate similarly to other diesel-powered trucks, with the exception of the powertrain and auxiliary systems being battery-electric, eliminating diesel and tailpipe emissions.
As terminal trucks are used in a variety of environments—waste management sites, retail distribution, warehouse and inter-modal operations—the T-Series is offered with a range of standard configurations for the battery pack size, charging solution and more which can then be tailored to individual application needs.
Available in an off-road version, as well as a Dept. of Transportation (DOT) compliant on-road one, the T-Series has a speed capability of up to 25 mph and capacity of 81,000 lbs. GCWR. Each vehicle is equipped with an 80-160 kWh battery, depending on the application needs. Mike Saxton, Orange EV Chief Commercial Officer, says within a year the company will introduce a version of the truck with a 175,000 lb. GCWR for port applications.
Standard or fast charging capabilities are possible. The truck is able to run up to 24 hours on a single charge. Charging can take place at any time, at any battery level; it can be recharged within 2 hours.
Electricity from the battery is used for all loads on the truck from the brushless induction motors—used for truck movement—to auxiliary systems, pumps, lights, as well as the control and computer systems. The company says 100% of truck emissions have been eliminated by operating on battery power.  
Advantages of going electric
Battery operation of the vehicle reduces costs, as well, as there is no need to spend money on fuel, and maintenance is lower due to the use of electrical componentry to drive the truck. Saxton says fleets are already saving up to 90% on fuel costs in comparison to a traditional diesel-operated terminal truck.
Electricity costs for recharging will vary from one fleet site to another depending on how many vehicles need to be recharged and what type of system is used—standard or fast charging. Orange EV stated in a press release announcing recent milestones its vehicles have reached that moderate use sites can save more than $30,000 per truck annually in fuel, maintenance, and emission control related costs; heavier-use sites can save up to $60,000 per truck per year.  "When adding in improvements in health and safety, the cost savings improve even further," notes Saxton.
He says the T-Series is the first and only commercially deployed, 100% electric Class 8 truck. It is already deployed in all environments in which Orange EV's 4x2 terminal tractors are designed to operate, and 75% of Orange EV fleets order more vehicles within 6 months of receiving their first one, it says.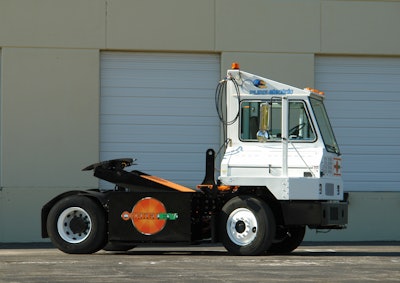 "Electric is the future of transportation from passenger cars to heavy-duty vehicles. We're growing our fleet across the country as fast as we can," said Wayne Nolan, President of Nolan Logistics, in a press release announcing it had taken delivery of its eighth T-Series terminal truck in November of last year. The company has been operating Orange EV's trucks across multiple 24x7 distribution centers since early 2016, logging over 8,000 hours to date.
"Nolan Logistics has been investing to grow its fleet of heavy-duty electric vehicles to better serve our customers while doing the right thing for the environment," Nolan continued. "Stricter air quality rules, purchase incentives, strong and growing concern for the environment, and the simple economics all make a very compelling case for going electric."
Orange EV says its commercially deployed fleet recently surpassed 67,000 "key on" hours and 130,000 miles. The company says this is a noteworthy milestone because terminal trucks operate at lower speeds of typically less than 25 mph. In comparison, passenger cars used 10 hours per week for commuting and errands could take almost 100 years to reach 50,000 hours.
In addition to cost and emissions reductions, Saxton says there are other benefits, as well. Smoother vehicle operation is one, as there is no engine vibration or shift of gears due to the elimination of a transmission. Instead, direct drive acceleration and deceleration is provided via the truck's electric motors.
Without an engine, the truck also runs cooler and quieter, further increasing operator comfort.
Each Orange EV truck comes equipped with the company's Fleet Information Management System (FIMS) which provides real-time access to truck status and operational information. It delivers data on how much energy and cost savings are being achieved, as well. 
Saxton says Orange EV's powertrain and vehicle control systems can be applied to a range of heavy-duty electric vehicle applications. While the T-Series is currently its main development focus, other vehicles are planned for the future.