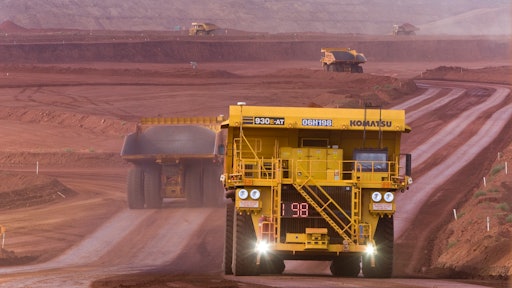 Komatsu America Corp.
UPDATED AS OF 3/24/19 WITH ADDITIONAL COMMENT FROM CATERPILLAR INC.
Nowadays, the mining of materials and electric vehicles (EVs) are intimately intertwined. The mining industry must be electrified, and EVs require the copper, neodymium, cobalt, iron and other metals that mining extracts.
Although on-road vehicles are the largest EV market, many technological advancements and the highest profitability opportunity occurs in other sectors, such as mining. The increased interest in the mining market and its closely allied construction and agricultural EVs are the subject of the latest IDTechEx Research report, "Electric Vehicles in Construction, Agriculture and Mining 2019-2029."
The IDTechEx report forecasts a huge $132 billion market for construction, agricultural and mining EVs in 2029 from a modest figure today. The market shares of the five market leaders—Komatsu, Caterpillar, John Deere, Hitachi Construction Machinery, and Volvo Group—are estimated for that date, allowing for the fact that some are innovating strongly while others are "sleeping through the future." The report provides unique, up-to-date analysis and forecasts of the technology and markets globally for all in the value chain from investors, researchers and materials suppliers, to vehicle and microgrid manufacturers and operators, system integrators, facilities managers and legislators. The report also gives consideration to driverless vehicles and the reasons why these are a strong trend in the construction, agriculture and mining sectors.
Consider use of fuel cells. The fuel cell hybrid EV has lost most of its window of opportunity because developers have failed to meet promised price and performance targets, and most of the hydrogen is still made from fossil fuels. Nonetheless, for large EVs there is still promise due to rapid refilling time and potentially smaller powertrains permitting the vehicle to carry more, be more compact and maneuverable, or have longer endurance.
Over 95% of the world's mines are open pit, or the variant called "block caving" that involves undermining an ore body, allowing it to progressively collapse under its own weight. Very large trucks carry the rock up and return down.
Raghu Das, CEO of analysts IDTechEx advises, "The power needed is over 500 kW but, for this, a battery pure-electric version will have a major win over diesel or even fuel cell hybrid because it recovers a huge amount of electricity in regenerative braking during descent – about 40 kW for 30 minutes giving 800 kWh 'free' per working day instead of burning brake disks, a huge win."
To prove this, two Swiss companies recently disassembled the Komatsu 605-7 and replaced the diesel engine with a synchronous electric motor capable of 590 kW (800 hp) of continuous power and up to 9,500 Nm (7,006.8 ft.-lbs.) torque. They fitted a 700 kWh Li-ion battery on the chassis using 1,440 prismatic lithium-nickel-manganese-cobalt-oxide (LiNiMnCo, or NMC) lithium-ion cells for high energy and power density, and giving a total battery pack weight of 4.5 tons. The electrics even give maximum torque from a stationary state, unlike diesel.
Das adds, the "next biggest land pure-electric vehicle is BYD's double decker bus with a 547 kWh battery pack, though Thor (read more, 21043804) and Tesla (read more, 20983193) will soon have pure-electric Class 8 trucks with similar or larger batteries. Meanwhile, the mining prototype truck is being used in a quarry operated by Ciments Vigier SA on the slopes of the Chasseral in Switzerland. This is the beginning of a major mining success story."
Hundreds of autonomous large diesel dumper trucks are deployed in mines worldwide, many Komatsu (learn more, 21044116), as well as Caterpillar with more than 195 trucks currently operating across multiple sites on multiple continents. Regarding its autonomous vehicle endeavors, Caterpillar claims "We have safely moved over 1.26 billion tonnes and driven over 43 million kilometers."
Expect autonomous mining trucks to go electric for clean-up, cost of ownership and performance wins.
In late 2018, at its Arizona Proving Grounds, Tucson, Komatsu Mining revealed the status and future plans for its FrontRunner Autonomous Haulage System (AHS) technology (learn more, 21032573). It has over 130 fully autonomous mining trucks over seven sites. Six are fully autonomous sites – Suncor oil sands Alberta, Codelco copper operations in Chile, and Rio Tinto iron ore sites in Australia's Pilbara. All have perfect safety records. Komatsu predicts that, in due course, it will take only three people to run a large open pit mine.
Caterpillar's autonomous mining trucks are made up of 789Ds, 793Fs, 797Fs and Komatsu 930Es. Caterpillar can adapt hardware and software to the Komatsu 930E mining truck with its Cat autonomous technology--an interoperability initiative driven by mining companies' goal to reduce mining costs by using their existing fleets.
Deep mining has its own electric revolution. The air in deep mines is typically a danger to people and mining is having to go deeper. Studies show an elevated cancer risk for underground miners exposed to diesel exhaust, classified as a Class 1 carcinogenic by the World Health Organization. Health issues are a big problem, particularly acute in long-running underground mines with older equipment, but people should not be there in the first place.
Goldcorp Inc., the world's largest gold miner, is therefore building the world's first new all-electric mine in Chapleau, Ontario, Canada 260 m (853 ft.) underground, completion being in 2020. With an all-electric underground mine operation, it is estimated that operating costs will be reduced by over C$9 million ($6.9 million USD) per year due to the elimination of two million liters of diesel fuel. With reduced ventilation needs, a decrease of approximately 32,000 MWh of electricity and a corresponding decrease in propane required to heat the ventilation is in prospect. A reduction in annual greenhouse gas emissions of more than 7,000 t, or 70%, is expected, so the Government of Ontario is contributing C$5 million from its greenhouse gas program.
Sandvik DD422IE automated battery/electric jumbos and MacLean Engineering 975 Omnia Bolter battery bolters are used with huge Sandvik LH514E electric load haul dumpers (LHDs). A Caterpillar 12M3 grader was made battery-operated by MEDATECH. The rock chewing machine weighs 60,000 lbs. (27,215.5 kg) and runs non-stop on a giant cord. It has a 75 kWh sodium nickel chloride battery to buffer power demands and move the drill from one part of the mine to another in EV mode.
Further information on IDTechEx research on electric vehicles can be found at www.IDTechEx.com/research/ev. IDTechEx guides your strategic business decisions through its research, consulting and events services, helping you profit from emerging technologies. Find out more at www.IDTechEx.com.
Companies in this article