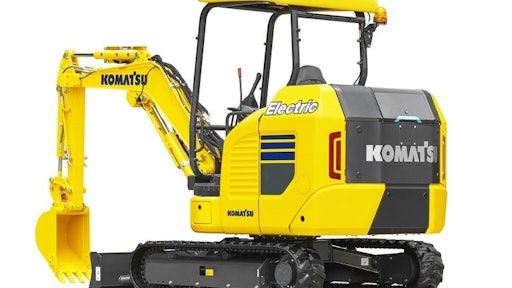 Komatsu Ltd.
Type "electric drivetrain" into a search engine and results clearly show the proliferation of electric-powered systems. In an effort to understand this trend and the individuals it directly affects, Waytek and OEM Off-Highway conducted an industry wide survey to get a baseline for sentiment, actions and predictions around the introduction of electrification in heavy-duty on- and off-road equipment.
Survey results showed 59% of respondents say the trend of electrification has already affected their business and 75% of survey responses indicate their companies either will or might take steps to pursue electrification over the next year.
So, what's driving this trend? And what do engineering teams have to focus on to continue advancing electric capabilities?
Benefits of electric systems
Heavy-duty equipment powered by electric systems offers benefits such as cost savings over the long-term, reduction in greenhouse gas (GHG) emissions and less routine maintenance. These factors not only pose an advantage to equipment owners, but have the potential to affect several industrial markets if electric systems are implemented on a large scale.
Long-term cost savings
Looking at long-term cost savings, equipment owners and fleet managers need to understand these savings occur over the course of 5-10 years of owning and operating electric equipment. The upfront cost of purchasing electric systems is more expensive than systems powered by fuel - especially since electric components, drivetrains and prototypes are costly when newly introduced.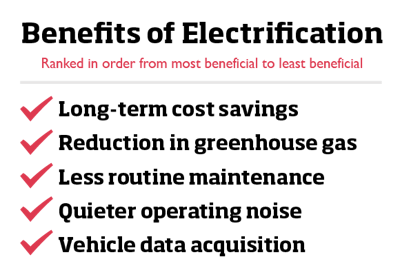 Over time, electric-powered equipment can yield a savings of up to 50% compared with their traditional counterparts.1 This savings is largely attributed to reduced fuel consumption and less routine maintenance; although it's necessary to consider that actual savings vary between type of equipment, use case and industry.
Professionals tasked with researching electric-powered systems need to exercise due diligence to understand how investing in this new tech will affect their company in particular.
Reduction in greenhouse gas emissions
The gradual move toward reducing GHG emissions will continue well into the future. This direction may be better known in consumer vehicles, which have increased electric capabilities radically over the last decade. But, it also applies to emissions from heavy-duty on- and off-road equipment in industries such as agriculture, construction, and lawn and garden, for example.
Government bodies such as the U. S. Environmental Protection Agency (EPA) set standards for acceptable emissions levels from these types of equipment. As emissions standards tighten, companies are likely to rely more heavily on electric-powered systems as a means to meet new regulations.
Less routine maintenance
One of the main cost saving factors is the reduction in routine maintenance. What is currently a never-ending to-do list that fleet managers are accustomed to can become far less time-consuming because electric systems have fewer moving parts. While combustion engines function with hundreds of components working together, electric drivetrains typically have less than 25 moving parts. Fewer components mean fewer chances for performance issues.
In addition to less money spent on maintenance, equipment owners will benefit from longer operating time since vehicles will be on the job rather than in the shop.
When looking at the top benefits of pursuing electrification, it all comes back to the bottom line. As long as the initial investment provides positive return on investment over the long-term, companies are likely to move toward electrification. The difficulty is that each company needs to evaluate how electric systems will affect its individual business.
Challenges against electrification
Electrification faces several hurdles that prevent these new systems from performing alongside diesel equipment in today's work environments. Challenges include the technical capability of batteries, the high cost of implementation and the intangible willingness of industries to break from their established operations.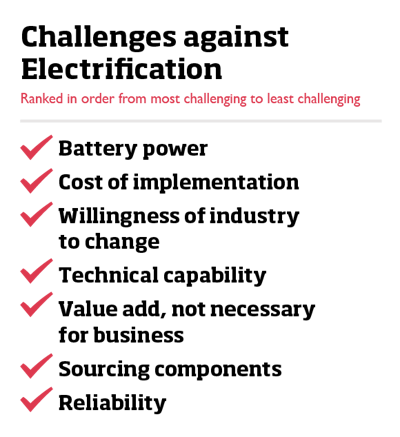 Battery storage capacity
Battery storage stands as the biggest deterrent against electrification because of the time it takes to recharge and the ability for electric machines to operate for extended periods of time. Pair these high-power demands with the fact that batteries need to be small enough to integrate into current mechanical systems, and it's clear why battery storage capacity remains a primary focus of research around electrification.
Timely recharging and duration of operation go hand in hand. In one example, a recently released electric excavator takes 3 hours to recharge and can operate for 8 hours without interruption. Compare this with the nearly instant refueling of diesel equipment and it's understandable why fast charging and continuous operation are determining factors in pursuing electrification.
When looking at battery size, the bigger the battery, the more power it can hold. But massive batteries are not ideal for mechanical systems, so engineers have focused on packing more energy into smaller spaces. That's why lithium-ion (Li-ion) batteries promptly rose to the battery of choice for their capability to recharge quickly and hold a longer life.
Battery storage has made strides over the last decade. This is apparent with the release of electric equipment from companies such as Volvo, Cummins and Komatsu. But in order for electric systems to provide the same operating value as diesel systems, it will be necessary to continue advances in recharging, energy storage and size.
Cost of implementation
New technology can be amazing, but it comes with a price tag that can be just as shocking. The cost associated with purchasing electric systems is a major deterrent, especially for small and medium size businesses. Couple this barrier with the vague return on investment and it's clear why some companies choose to watch the game from the sidelines before joining in.
Willingness of industry to change
Diesel equipment has been a staple for more than a century. Even with the introduction of electric systems, diesel will remain a dominant power source for years to come. Some survey responses showed skepticism over whether or not electrification is a passing fad, but overall 71% of respondents believe electric equipment will eventually become more popular than fuel-powered equipment. Survey results indicated it would take 10-30 years for electric systems to surpass other power sources as the primary power source.
As electrification continues to permeate on- and off-highway markets, it's important for industry members to understand how their company fits into this new landscape of electric systems. Even taking simple steps such as monitoring headlines and staying up-to-date on competitor activities will help position companies to stay relevant through this change. For the full report and data visit www.waytekwire.com/electrification.
About the Author
Gary Christianson is the Director of Marketing at Waytek, Inc. (www.waytekwire.com) - Specialists in DC Power Distribution for OEMs and Upfitters. Waytek serves a variety of industries with simplified sourcing and high-quality electrical components.
Companies in this article