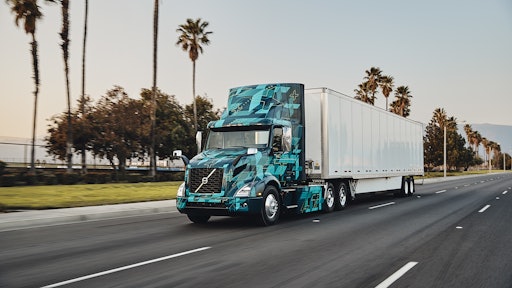 Volvo Trucks North America
At the end of June, the California Air Resources Board (CARB) adopted the Advanced Clean Trucks (ACT) rule requiring all new trucks sold in California be zero-emission electric vehicles by 2045. Soon after the ruling, 15 U.S. States and the District of Columbia signed a memorandum of understanding (MOU) which set a goal of achieving full electrification of medium- and heavy-duty vehicles by 2050. The memorandum also set an interim sales target of 30% zero-emission trucks by 2030 for truck manufacturers.
States which signed the MOU are: California, Connecticut, Colorado, Hawaii, Maine, Maryland, Massachusetts, New Jersey, New York, North Carolina, Oregon, Pennsylvania, Rhode Island, Vermont, and Washington.
"No package delivered by a diesel truck is worth dirty air, asthma and climate change. It's time to shift past the old ways of thinking and move toward a clean environment with trucks that don't pollute. Clean electric trucks can clear the air and help stave off the worst impacts of climate change. That's the delivery we are all waiting for. This plan will play a major role in realizing that goal. We applaud the states involved for charting a path for zero-emission electric trucks to clean up our roads," said Morgan Folger, Clean Cars Campaign Director for Environment America, in a statement issued after the MOU was announced.
Matt Casale, Transportation Campaign Director for U.S. PIRG, said, "Getting to school or commuting to work shouldn't include a daily dose of toxic pollution or increase the chances that people will get sick. These states' commitment to 100% zero-emission school and transit buses, along with other heavy- and medium-duty trucks, will help slash lung-damaging pollution and save lives. The sooner we get more electric buses and trucks on the road, the healthier our kids and communities will be."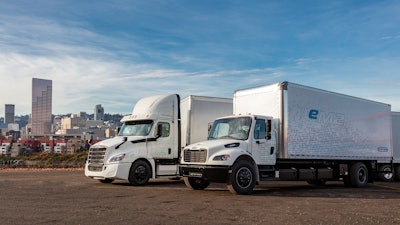 What the new
ACT

rule entails

The new ACT rule is part of CARB's efforts to create a holistic approach to accelerate a large-scale transition to the manufacture and adoption of zero-emission medium- and heavy-duty vehicles (Class 2b to Class 8).

According to CARB's fact sheet on the rule, there are two major components of it which include a sales requirement for manufacturers as a well as reporting requirement for fleets:
Zero-emission truck sales - Manufacturers who certify Class 2b-8 chassis or complete vehicles with combustion engines would be required to sell zero-emission trucks as an increasing percentage of their annual California sales from 2024-2035. By 2035, zero-emission truck/chassis sales would need to be 55% of Class 2b–3 truck sales, 75% of Class 4–8 straight truck sales, and 40% of truck tractor sales.
Company and fleet reporting - Large employers including retailers, manufacturers, brokers and others would be required to report information about shipments and shuttle services. Fleet owners, with 50 or more trucks, would be required to report about their existing fleet operations. This information would help identify future strategies to ensure that fleets purchase available zero-emission trucks and place them in service where suitable to meet their needs.
By adopting this ruling, California aims to meet its air pollution reduction goals including a 40% reduction in greenhouse gases (GHG) by 2030, an 80% reduction in GHG by 2050 and a 50% reduction in petroleum use by 2030.
"California is an innovation juggernaut that is going electric. We are showing the world that we can move goods, grow our economy and finally dump dirty diesel," said Jared Blumenfeld, California's Secretary for Environmental Protection, in CARB's press release announcing the new rule.
"For decades, while the automobile has grown cleaner and more efficient, the other half of our transportation system has barely moved the needle on clean air," said CARB Chair Mary D. Nichols. "Diesel vehicles are the workhorses of the economy, and we need them to be part of the solution to persistent pockets of dirty air in some of our most disadvantaged communities. Now is the time – the technology is here and so is the need for investment."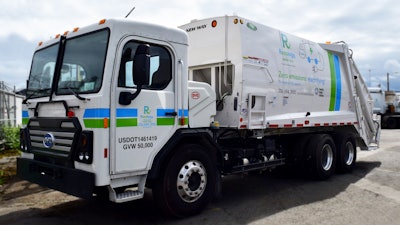 In the coming months, CARB will also consider two complementary regulations which will support the ACT rule. The first sets a stringent new limit on NOx (oxides of nitrogen), requiring new trucks that still use fossil fuels to include the most effective exhaust control technology during the transition to electric trucks. There is also a proposed requirement for larger fleets in the state to transition to electric trucks year over year.
Jacobs Vehicle Systems—a manufacturer of diesel and natural gas retarding systems and valve actuation mechanisms—says it supports CARB's new initiatives. "Jacobs has been working with our customers and industry partners for years to develop solutions to improve engine combustion and aftertreatment efficiency to be ready to respond to these new regulations," said Steve Ernest, Vice President of Engineering and Business Development for Jacobs, in a press release from the company on the subject. "We have the technology to help engine and vehicle makers meet these new limits and improve fuel efficiency while doing it."
"We can support meeting these new limits by providing flexibility to the valve train; one of the last 'fixed' parameters on current production engines," added Robb Janak, Director New Technologies for Jacobs. "While clearly a standard test cycle will be key to measuring improvements, the new focus on in-use emissions is clearly targeted at making sure the tightened regulations are met on the road in real-world conditions."
The company recently announced testing has confirmed its cylinder deactivation (CDA) engine systems can deliver better fuel economy while keeping diesel exhaust aftertreatment systems operating at optimal temperatures. This supports these proposed goals of reducing NOx within the CARB HD Omnibus, as well as the U.S. Environmental Protection Agency (EPA) Clean Trucks Initiative (CTI) and lowering CO2 emissions sought by the EPA GHG Phase 2 requirements.
For the states which signed an MOU to enact electric truck goals similar to California, the signatory jurisdictions will work through the existing multi-state ZEV Task Force facilitated by the Northeast States for Coordinated Air Use Management (NESCAUM). This will help provide a framework and coordination of state efforts, as well as to develop and implement a ZEV action plan for trucks and buses.
"California is proud to be joined by 14 other states and the District of Columbia in a push for clean, zero emission trucks," said California Gov. Gavin Newsom in the press release announcing the MOU. "Our efforts in California will be magnified through the efforts of this multi-state coalition to reduce emissions and improve air quality, especially crucial in communities where our most vulnerable citizens live. By working together, we can move toward a cleaner future."
"The electric vehicle industry is primed for tremendous growth," said D.C. Mayor Muriel Bowser. "We cannot afford to miss this opportunity to place clean transportation technology and infrastructure at the center of the nation's economic recovery."
Companies in this article