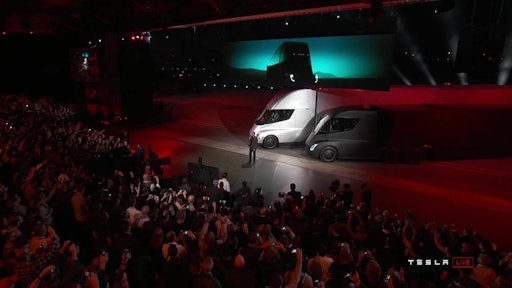 On November 16, Tesla unveiled its electric semi truck. Featuring a unique aerodynamic design, the truck is said to have a range of 500 miles on a single charge. For longer trips, Tesla will establish a cross-country network of "Megacharger" stations, similar to the high-speed superchargers it has set up for passenger electric vehicles. This will enable a truck to stop about every 8 hours and recharge within a half hour; the recharge will provide enough energy to travel another 400 miles.
The semi is powered by four separate motors which drive the four back wheels of the cab. Tesla says the truck will offer sports car-like performance with its ability to launch from 0-60 in 5 seconds, or 20 seconds when carrying a full load. A conventional diesel truck can take over 1 minute to do so.
During the reveal Elon Musk said the semi would provide customers with low maintenance and last for at least a million miles. He also said operating costs will be at least 10% lower than those of a convention diesel truck.
The company says the truck will go into production in 2019.