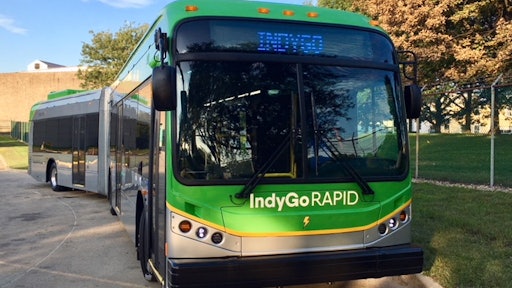 BYD
BYD (Build Your Dreams) has provided 13 of its K11 60-ft. (18.3 m) articulated battery-electric buses for Indianapolis' new BRT (bus rapid transit) Red Line bus service. It is the U.S.'s first all-electric BRT service. Operator IndyGo plans to have 31 total BYD electric buses in place by the end of the year.
BYD's K11 buses are developed specifically for rapid transit services. The battery-electric powertrain enables zero-emissions operation, as well as reduces noise and vibration to improve the comfort level of travelers. IndyGo plans to replace all of its diesel buses with electric models by 2032 in an effort to reduce pollution and operating costs while also improving ride quality and service.
Power is provided by iron-phosphate batteries that are non-toxic and environmentally friendly, according to BYD. In-wheel motors deliver instant torque for performance in all driving conditions. Regenerative breaking is used to minimize wear as well as capture energy to charge the batteries. The bus can be charged in 3.5 hours and can also be used as a mobile power supply.
The buses will be charged utilizing 300 kW inductive charging points installed by Momentum Dynamics Corp. Providing wireless charging capabilities, the battery automatically receives a charging boost enabling the buses to continue along their route. Chargers are located at the endpoints of the route.
Statistics from the U.S. Department of Transportation (USDOT) show zero-emissions buses like those from BYD can eliminate around 10 tons of nitrogen oxides (NOx). They also remove 350 lbs. (158.8 kg) of diesel particulate matter and 1,690 tons of CO2 over the course of the vehicle's 12-year lifecycle.
The new rapid Red Line service aims to improve travel times and decrease wait times along a route that runs between Broad Ripple on the north side of the city and the University of Indianapolis on the south side. There will be more frequent runs and longer hours of service to help increase convenience, frequency and reliability of public transport for Indianapolis residents.
Over 64,000 passengers boarded IndyGo's all-electric BRT line in its first week of operations, which began on September 5.