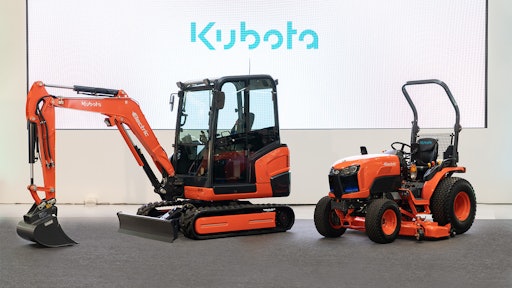 Kubota Corp.
In mid-January, Kubota Corp. unveiled several new machine prototypes during a new product exhibition in Kyoto City, Japan. Among the new machines were an electric tractor and an electric mini excavator. Kubota will proceed with continuous development of the prototypes by conducting demonstration experiments and analyzing the needs of customers.
Read more: Kubota Unveils Autonomous, Electric Concept Tractor
Reasons for development
While diesel powered machines are still the norm—and anticipated to be so for the next several decades—there is a shifting global interest in alternatively powered equipment. In addition, regulations are changing and further emphasis is being placed on reducing emissions and use of diesel powered machines, especially in larger cities.
Kubota, like many other OEMs, is responding to this shift by developing electrically powered equipment, such as the electric tractor and mini excavator. The company says this includes research and development of motors, inverters and battery packs for use in the electric machines.
Both machines share key electrical components to ease the company's transition from diesel to electric powered equipment.
The tractor and mini excavator are both powered by Lithium-ion batteries and provide an output equivalent to their diesel counterparts.
Kubota says it intends to start testing the tractor in France this year (2020), and launch both machines not long after conducting its real-world evaluations.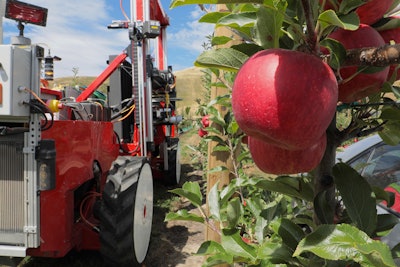 Further advanced technology investments
Kubota also recently announced an investment in Abundant Robotics Inc., a U.S.-based start-up offering robotics-based automation for agricultural applications. The company is currently developing an apple-harvesting robot; its goal is to help overcome the labor shortages facing many farms while also helping improve overall harvesting efficiency.
According to the founders of Abundant Robotics, they formed the company because of the productivity gains automation can provide which will be vital to feed the world's growing population.
Kubota says its investment in the company will reinforce Abundant Robotics' development of labor-saving and automation technology for harvesting apples and other fruits. It will enable the company to launch its business and make its technology more readily available to farmers across the U.S. and other parts of the world.