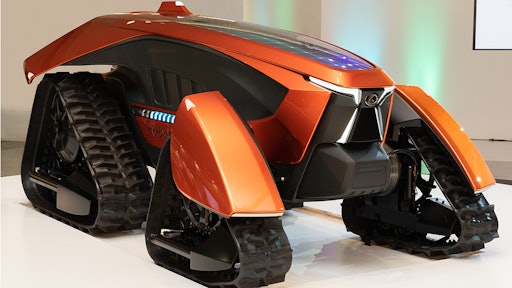 Kubota
The new IDTechEx report "Electric Vehicles and Robotics in Agriculture 2020-2030" explains that agricultural equipment is now going the way of the automotive sector in that t's becoming more electrified. Even in the most advanced countries, few farms can provide the power to fast-charge a Tesla or an electric tractor, let alone large farm vehicles. All the same, many agricultural vehicle makers are going electric because the charging capability, affordability and other factors are rapidly falling into place just as they are for road vehicles.
For example, farm electricity can now follow the robots. Renovagen sells a microgrid that, from the back of a farm truck, unrolls its solar cells like a carpet along a field and eWind develops tethered drones generating similar 30 kW levels of electricity from the wind, specifically targeting farmers.
As with cars, we have had the phase of electric variants of farm vehicles based on existing platforms and therefore not very successful but Kubota and John Deere newly have "born electric" concept tractors reading to the strengths by being robotic with triangular tracks.
READ MORE: Kubota Unveils Autonomous, Electric Concept Tractor
Lower cost of ownership is compelling but lower up-front cost is the killer blow, part of the reason why small outdoor and greenhouse agrirobots are all electric: price parity comes first with small vehicles. They pick fruit more gently, minimize poisons, and increase yields. The report embraces farming, forestry and turf care in the form of manned electric vehicles and robotics.
The new IDTechEx report includes infograms, graphs and timelines for the present, as well as executive summaries and conclusions to evaluate the market growth of automation and robotics in the agricultural sector.