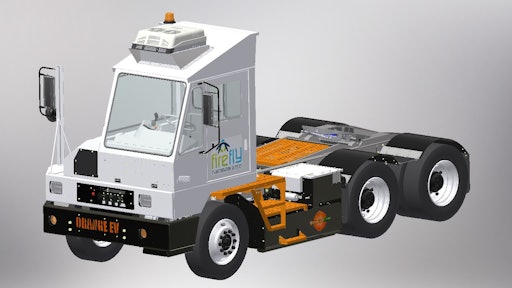 Firefly Transportation Services (Firefly TS) has partnered with Orange EV to deliver the all new T-Series Tandem (TST) pure-electric terminal truck to a client in the Chicagoland area, continuing to pave the way with sustainable solutions for yard service and short-haul shuttling.
"Orange EV is pleased to partner with Firefly Transportation Services to offer the industry's first all-new pure-electric tandem axle yard truck, enabling zero-emission goods movement across public roads with a full load. This customer-driven solution enables Firefly to offer a broader range of sustainable, emission-free yard management options," comments Wayne Mathisen, Orange EV Chief Executive Officer. "Orange EV will be accepting pre-orders for the T-Series Tandem in the fourth quarter of 2020."
While most terminal trucks (aka yard trucks, spotters, hostlers) are operated exclusively off-road and in-yard, some operate on public roads and must therefore meet regulations governing maximum gross vehicle weights, wheel loads, and axle loads. The T-Series Tandem 6x2 is designed to legally transport loads up to 81,000 lbs. on public roads. Like all Orange EV trucks, the TST will be built to meet site-specific requirements and duty cycles.
"Having successfully run single axle Orange EV trucks for over 3 years, Firefly TS is thrilled to be bringing our first Tandem EV T-Series unit to our clients, increasing our ability to provide short-haul shuttles," says Mike Bohnstengel, Firefly Transportation Services Principal Partner. "The addition of a tandem axle EV will immediately expand our service capabilities to our client base by more than 25%."
"The tandem axle truck is a continuation of Orange EV's commitment to HDEV solutions," says Kurt Neutgens, Orange EV Chief Technology Officer. "Over the coming months, we will be introducing further innovations in the HDEV space including advances enabling autonomous operations."