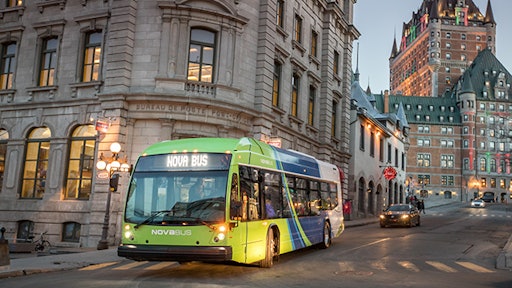 Nova Bus announces that Montreal is the first city in North America to put Nova Bus 100% electric buses in service. These buses were delivered by Nova Bus factories in Saint-Eustache and Saint-François-du-Lac, Québec, Canada. It is within the framework of the Montreal City Mobility project that three buses will circulate in order to continue the observations on this new electric bus operating in the city. These vehicles were acquired by the Société de transport de Montréal (STM) in accordance with a financial support from the Green Fund of the Government of Quebec. This project is a result of the Quebec Transport Electrification Action Plan 2015-2020.
The Quebec Minister of Transport, Sustainable Mobility and Transportation Electrification, Laurent Lessard; Minister of Sustainable Development, Environment and the Fight Against Climate Change, David Heurtel; Mayor of Montreal, Denis Coderre; and Philippe Schnobb, Chairman of the Board of the Société de transport de Montréal, made the announcement the week of May 26.
Nova Bus, a member of the Volvo Group, is responsible for the development of the buses and will support the STM throughout the evaluation of the project.
"It is a great feeling for our team to be part of changing our world, making it a greener place and helping our commuter travel with great comfort and peace of mind," says Ralph Acs, President of Nova Bus and Prevost divisions and Senior Vice President of Business Region Americas.
"City Mobility is a program that is already established elsewhere in the world, in innovative cities that offer effective, safe and sustainable solutions. Nova Bus is extremely proud to contribute to this movement to make Montreal the first North American city to benefit from it. This collaboration with our partners illustrates all the Quebec know-how deployed in the service of the metropolis," said saint Martin Larose, Vice President of the Nova Bus Project Management Office.
Highlights
The City Mobility project:
Is an initiative of Volvo and its North American division,

Nova Bus

;
Is deployed in several cities, and Montreal is the first North American city to take part in it;
Aims to make Montreal a showcase for technologies associated with electromobility
The Action Plan on Transport Electrification 2015-2020 targets:
Achieving a target of 100,000 rechargeable electric vehicles and hybrid vehicles registered in Québec;
The reduction of 150,000 tonnes of annual emissions of greenhouse gases produced by transportation, thereby contributing to the objectives of combating climate change in Quebec and improving air quality;
The reduction of 66 million L of fuel consumed annually in Quebec;
5,000 jobs in the electric vehicle sector and total investments of about $ 500 million.