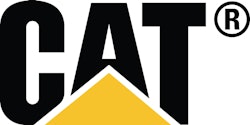 With an operating weight of 13,400 kg (29,500 lbs.), the new Cat 313D Series 2 hydraulic excavator uses a fuel-efficient, 70 kW (94 hp) Cat 3054C engine that meets China Tier 2 emission regulations. This new model is designed with durable heavy-duty structures for reliable operation in severe applications. The efficient hydraulic system combines powerful digging forces and intuitive low effort controls for precise operation. The world class operator station is ergonomically designed to ensure your operator stays comfortable throughout the working day. The 313D Series 2 also features serviceability enhancements to simplify routine maintenance and reduce machine down time.
Engine and hydraulics
The 3054C engine incorporates a time-proven mechanical governor and a low-pressure fuel- injection system, which is powerful, fuel efficient and reliable. Dual fuel filtration, using a primary filter/water separator and a secondary filter, ensures optimum fuel cleanliness and long engine life. The 313D Series 2 also features an economy mode, allowing performance and fuel-economy to be balanced depending on the application.
The efficient hydraulic system delivers a maximum implement flow of 254 L/min (67 gpm), providing ample hydraulic horsepower to handle a wide range of buckets and hydro-mechanical work tools such as hammers. To simplify operation and increase productivity, the 313D Series 2 has boom- and swing-priority functions that are automatically selected based on joystick movement, eliminating the need for work-modes, and making full power available at all times.
The hydraulic system is compactly designed with short tubes and lines that reduce friction and pressure variations, resulting in an efficient use of power. The system uses two hydraulic pumps that can utilize 100% of the engine's power under all operating conditions. Hydraulic "snubbers" at boom-cylinder rod-ends and at both ends of the stick cylinder cushion shock, reduce sound, and increase cylinder life.
To save fuel and extend component life, hydraulic flow is minimized when controls are inactive. A regenerative system directly re-uses oil during boom-down and stick-in functions to further increase efficiency and lower operating costs.
Structures
All heavy-duty structural components and the undercarriage are designed with advanced software and incorporate deep-penetration robotic welds, creating a durable foundation for the 313D Series 2. The X-shaped, box-section car body is extremely durable and designed to dissipate twisting forces. Track roller frames are press-formed,pentagonal structures that are exceptionally strong and grease-lubricated, sealed tracks extend pin and bushing life for reduced operating costs and consistent performance.
The 313D Series 2 incorporates box-section, high-strength-steel fabrications for the boom and stick, incorporating multi-plate construction to improve durability. The 4.65-meter (15.25-foot) one-piece boom and the 2.5-meter (8.2-foot) stick feature components made from a forging pattern and use self-lubricating bearings that resist corrosion and galling and also extend service intervals.
An extensive range of Cat Work Tools for the 313D2 includes buckets, rippers, couplers and hammers are available to 313D2. Each is designed to optimize the versatility and performance of your machine.
Operator amenities and serviceability
The operator station on the 313D Series 2 features low-effort, pilot-controlled joysticks, a standard suspension seat, complete climate control, and an LCD monitor. These all combine to provide high comfort levels whatever the application. The cab features viscous rubber mounts to reduce sound and vibration, and thick steel tubing around the bottom perimeter of the cab resists fatigue and vibration.
To ensure excellent visibility for added job-site safety, all glass panels are affixed directly to the cab, eliminating window frames. The upper-front windshield opens, closes and stores in the roof above the operator using a one-touch release system. Pillar-mounted wipers increase the operator's viewing area and offer continuous and intermittent modes.
Integral to the design of the new 313D Series 2 is simplified routine maintenance. Most service points are located within reach from ground level, and a right-side service door permits easy access to the pump, pilot filter, engine-oil filter, S·O·S (Scheduled Oil Sampling) ports, and diagnostic pressure taps.
A convenient left-side door provides access to the radiator, oil cooler, fuel filters, and water separator. The hydraulic oil change interval has a service life up to 3,000 hours without S·O·S, and a monitor shows when filter service is required. A remote greasing block on the boom delivers lubrication to hard-to-reach pivot points in the front linkage.