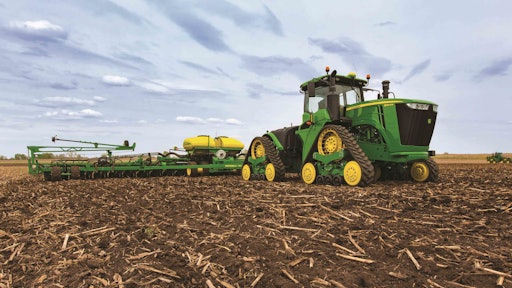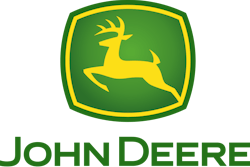 John Deere introduces three new 9RX Narrow Track Tractors, expanding its lineup of high-horsepower machines. Equipped with a narrow undercarriage, these four-track tractors are an ideal fit for 22-, 30- and 40-in. row-crop applications.
Three models are available with 420, 470 or 520 hp to easily handle high-speed planters, nutrient application bars, large grain carts or other high-horsepower needs. With this introduction, the John Deere 9 Family of Tractors now includes wheeled, 2- and 4-tracks and narrow- or wide-undercarriage configurations. "No other tractor manufacturer offers customers so many choices in high-horsepower tractors, and they're each backed by the best dealer network in the industry," says Tiffany Turner, Product Marketing Manager for John Deere.
All 9RX Narrow Track Tractors provide row-crop farmers the ability to cover more acres per day with improved row-crop capabilities, more horsepower featuring the latest advances in engine technology and enhanced flotation along with plenty of ground-gripping traction. The narrow-undercarriage tractor can be fitted with available 18- or 24-in. wide tracks and set to a track spacing of 80, 88 or 120 in.
"When a 9RX Narrow Track Tractor is utilized in a row-crop setting there are only two track paths going down the row instead of the tracks made by tractors equipped with duals or triples," says Turner. "Narrow track tractors can reduce the negative agronomic effects on pinch rows, reduce soil compaction and minimize soil disturbance for greater yield potential."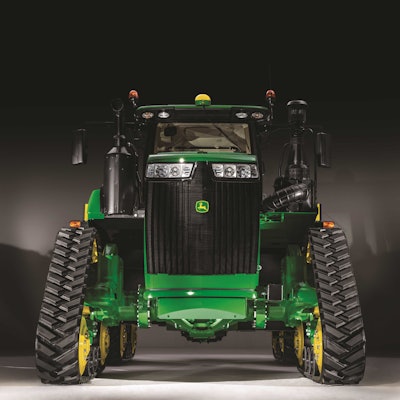 A roomy, well-equipped CommandView III cab on the 9RX Narrow Track features four-corner cab suspension with four inches of travel, and ActiveCommand Steering, providing operators with day-long comfort in the field. "The matched, full-width mid-rollers reduce pressure, heat and wear, and extend wear life of the tracks. Rubber isolators and oscillating mid-rollers minimize cab vibration and provide an ultra-smooth ride," Turner says.
Inside the tractor cab, integrated technology drives efficiency in the field. Important machine functions are easily monitored and controlled using the integrated Gen 4 CommandCenter Display. "A touchscreen on the Gen 4 Display makes it easy to watch and manage different aspects of machine performance and precision-ag technology, including AutoTracTM," Turner says.
Large jobs are more manageable and long days in the field quickly pass by thanks to a 400-gal. diesel fuel tank, increased hydraulic capacity and the integrated guidance and information management systems available on these new tractors.
John Deere is currently taking orders for 9RX Narrow Track Tractors and will begin production in January, 2018.