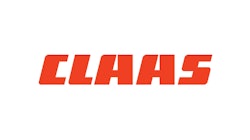 At the Farm Progress Show, CLAAS announced the latest enhancements made to its industry leading JAGUAR 900 Series forage harvesters.
Topping the list of 2018 upgrades is an improved cutting drum designed for longer chop lengths, optional enhancements to hydraulic feedroll compression, a cab comfort package, enhanced telematics and a completely redesigned PICK UP header. Additionally, many of the 2017 updates made exclusively to the most powerful JAGUAR models can now be found on the remainder of the 900 Series.
"The upgrades to the JAGUAR 980 and 970 last year were very significant, including enhancements to the engine, cooling system, header drive, front axle, shear bar and AUTO FILL system, just to name a few," explains Product Manager of Self-Propelled Forage Harvesters, Matt Jaynes. "For 2018, we rounded out the rest of the 900 Series JAGUAR forage harvesters with similar enhancements, plus many other 'goodies' designed to improve reliability, comfort and throughput."
The "business end" of the new JAGUAR 900 Series forage harvesters is available with an optional V-MAX Extended cutting drum that makes it easier to run half knifes for chop lengths of up to 30 mm in corn. The enhanced design allows the rings to be turned for symmetrical knife sectioning and harmonic cutting frequency that provide even smoother performance when producing SHREDLAGE corn silage – a CLAAS-exclusive feature.
Chop quality is further enhanced with optional dual hydraulic feedroll compression, using two rear cylinders for more consistent pressure. The new feature also gives operators the ability to adjust pressure settings from the comfort of the cab and lift the rolls all the way up for easy servicing.
An optional "Cab Comfort" package is now available for better visibility and quieter operation. It includes special insulation around the rear window, laminated safety glass that's thicker than traditional glass, anti-reflection film on the windshield and floor mats. The new cabs also offer a refrigeration option for improved "cool" storage on hot summer days.
A new "Fleet View" application for iOS devices is also available to new 900 Series operators. This special application for Apple iPhones and iPads tracks the movement of JAGUAR forage harvesters, tractors and trucks to simplify the logistics end of forage harvesting for the forage harvester operator and the hauling system personnel.
Custom cutters will especially appreciate the new load counter found on the latest 900 Series. It can control the fill weights of up to three different trailer sizes.
Universal PREMIUM LINE shear bars have been an available option for JAGUAR forage harvesters for many years, but now come as part of the JAGUAR standard equipment. For long lasting durability and clean cutting performance, operators will appreciate the difference. 
An additional update to the JAGUAR forage harvester is a free one-year subscription to TELEMATICS Professional – an upgrade from their Basic package – which allows users to monitor and analyze harvest data from a computer, tablet or smart phone. A three year package is also available.
PICK UP 300 & 380 CONTOUR
The CLAAS line of PICK UP headers received a number of changes designed to increase reliability, ease maintenance and improve throughput in the toughest windrows. A newly engineered double-roller crop press ensures efficient crop transfer to the intake auger in varied crop conditions. The pick-up tine bars have also been updated for less crop loss and lower maintenance costs. A new spring-loaded intake auger now features continuous flighting with two center paddles for smooth, uniform, high-volume crop flow. The drive train is updated and reinforced with a higher torque auger clutch and with an improved one-speed auger transmission (standard) or three-speed auger transmission (optional) for really high volumes.
The improved ground-following design of the PICK UP headers features reinforced gauge wheels – including a third wheel in the center of the larger PU 380 CONTOUR – and a pendulum frame that is suspended with three arms. For even better ground contour following, ACTIVE CONTOUR is standard with an electronic sensor that reads the terrain and actively adjusts the position of the head. The end result is a header with superior contour following in hilly/rough conditions that prevents leaving the ground for better picking of crop, protects the turf and generates less wear on the machine.