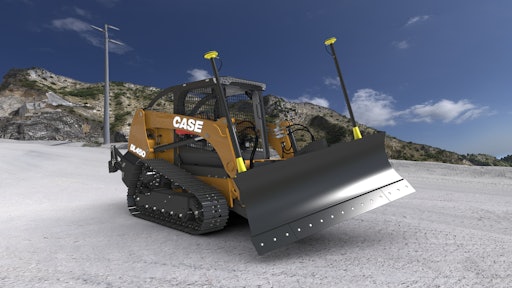 CASE Construction Equipment
At CONEXPO-CON/AGG 2017, CASE Construction Equipment unveiled its new DL450 Compact Dozer Loader Concept Vehicle. The machine is a combination of a large-frame compact track loader and a bulldozer.
John Dotto, Brand Marketing Manager at CASE Construction Equipment, says the compact dozer loader (CDL) concept came about because contractors are continually looking for ways to get more out their equipment. The three elements which he says contributed to the machine's development are:
A growing compact track loader market which is moving toward larger machines.
Contractors involved with earthmoving processes want to own a dozer, but it often doesn't make sense to own a full-sized dozer from both a jobsite capacity and transportation perspective.
Two-in-one functionality allows contractors to invest in equipment from which they will ultimately get higher utilization.
"The CASE DL450 concept is a first-of-its-kind machine that fits in well with the current CASE lineup and, while being innovative, also provides a very practical and real solution to our customers," says Dotto.
Technologies come together for improved performance
Termed "Project Minotaur," Dotto says the DL450 provides the power and performance of a small dozer in a platform which also serves as a loader, and is capable of running all the attachments contractors own for their skid steers and compact track loaders. "Contractors can now have one machine on site that handles all of these items," he says.
The core feature of the DL450, says Dotto, is a C-frame dozer interface that pins directly into the chassis of the machine. Doing so ensures all operating power and stresses are channeled through the chassis and not the arms of the machine because the chassis to blade connection through the C-frame assembly never changes the way a load is transferred to the chassis.
Though modestly effective, he says dozer attachments on compact track loaders (CTL) and skid steers channel operating stress through the coupler and loader arms, which adversely affects performance and adds wear and stress to those components. "You also lose some of the multifunctional control capable with a true dozer blade," he says, "and as soon as you raise or lower the loader arms, performance is affected." 
In addition, the C-frame interface can be unpinned to free the loader arms for use with a bucket or other attachment typically used with a CTL or skid steer.
Machine controls within the DL450 will be familiar to both operators of CTLs/skid steers and of dozers, helping to minimize the learning curve for customers. Similar to ISO controls, the forward and reverse travel and steering is controlled with the left hand while the boom and bucket are controlled with the right. The right hand controls the lift, angle and tilt of the six-way dozer blade, as well.
CASE Construction Equipment
When designing the dozer loader, CASE engineers wanted to include the pushing power and frame strength of a radial lift machine, so they combined the frame of the company's current TV380 CTL with a radial-lift loader arm design similar to that of CASE's legacy 465 skid steer. Dotto says the TV380 has a robust structure built for heavy stress; combining that machine platform with the strength of the radial arm design ensures the DL450 will be capable of providing maximum pushing performance. 
Steel tracks and grousers are included on the DL450 to aid its use as a dozer. Using steel instead of rubber for the tracks creates a heavier undercarriage to put more pressure on the ground while the grousers "bite" into it for improved traction. "More ground pressure and better bite are a formula for better tractive force or pushing performance," says Dotto.
Dozer performance is further aided by the inclusion of additional steel and support built into the machine, while also ensuring it meets required ROPS standards.
"There is nothing on the market today that provides this dual functionality and purpose-built design," says Dotto. "There are crawler loaders. You can put a dozer blade on a CTL or a skid steer. But neither of those solutions can provide the all-in-one engineered strength, control, versatility and functionality of this purpose-built dozer loader. It is truly a unique offering to the market."  
At CONEXPO, the dozer loader was outfitted with a 3D Leica Geosystems grade control system which Dotto says is ideal for working with the DL450 due to its true dozer-like performance. 
Residential contractors, commercial construction contractors and landscapers—basically those looking to add more strength to their fleet, as well as the refined dozing/finishing controls of a bulldozer—are among the key customers CASE sees for the DL450, though it anticipates receiving interest from customers in a broad range of markets.
The company is currently conducting voice-of-customer input and feedback on the machine, some of which took place at CONEXPO. Though the machine is not yet on the market, Dotto says CASE sees it having a practical place within its product lineup. "Our current belief is that contractors will see the true two-in-one value of the machine, and that the purpose-built performance of the machine in terms of both dozer and loader/attachment functionality will ultimately allow contractors to be more competitive and expansive in the types of jobs they bid on." 
Companies in this article