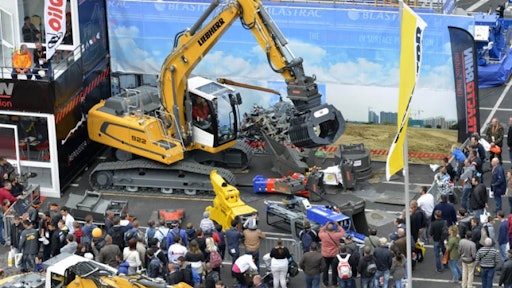 What could be better than Paris in the spring? How about seeing the latest product launches, vehicle designs and concepts, and hearing about the award-winning innovations of the industry while in Paris in the spring? Sounds like a winning combination.
Not going to be able to make it to the show? Head to www.oemoffhighway.com/search and search INTERMAT 2018 to see all of the latest news and announcements. Plus, you can follow us on Facebook and Twitter for live updates at the show!
Volvo CE Electric Compact Excavator Prototype Wins INTERMAT Innovation Award
Stands 6 A 076, E6 F 056, and 6 A 042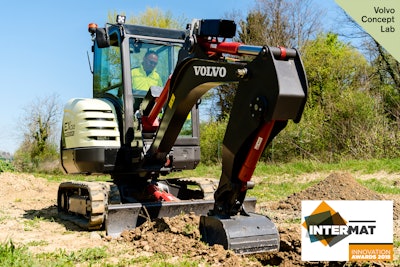 Volvo Construction Equipment's (Volvo CE) 100% electric compact excavator prototype – known as the EX2 – has won the Equipment & Machinery Award in the Earthmoving & Demolition category of the INTERMAT Innovation Awards. The concept machine, which delivers zero emissions, 10 times higher efficiency, 10 times lower noise levels and reduced total cost of ownership compared to its conventional counterparts, was recognized for its contribution towards progress in the construction industry. It is believed to be the world's first fully-electric compact excavator prototype. At this stage, the EX2 is still part of a research project and it is not commercially available.
To make the EX2 prototype fully electric, the combustion engine has been replaced with two lithium ion batteries, totaling 38 kWh, which store enough electric energy to operate the machine for 8 hours in an intense application, such as digging compact ground. The hydraulic architecture has also been replaced with electric architecture, which incorporates electromechanical linear actuators that help to optimize the transmission chain. Removing the hydraulic system and the combustion engine, as well as reducing the cooling needs, has led to significantly lower noise levels. 
"With its zero emissions and ten times lower noise levels, the EX2 could easily be used in densely populated areas without disturbing people – even at night," says Ahcène Nedjimi, Electromobility Specialist and EX2 Project Leader at Volvo CE. "Ten times higher machine efficiency, together with maintenance-free systems, means that operating costs and total cost of ownership would be significantly reduced. And because the EX2 is fully electrified and there are no mechanical joysticks, it can be controlled remotely from a mobile phone or tablet. This increases safety in hazardous working environments. Additionally, the EX2 delivers the same power and force as its conventional counterpart, as well as faster speeds in combined movements. As this type of movement is the most common kind for this machine, productivity is improved. All of this has been achieved without compromising on machine performance, ensuring customer needs would be fulfilled."
Learn more at oemoffhighway.com/20989875.
**To read more about the INTERMAT Innovation Awards 2018 and the winners in other categories, go to oemoffhighway.com/20989330.
Yanmar to Launch Two New Engine Families
Stand 5A E 046
Two brand new engine families will be officially introduced at the show, extending Yanmar's current power range up to 155 kW.
The smaller one is a 3.8 L displacement engine, named 4TN101, which lines up in the 55-105 kW power range with torque up to 550 Nm.
The bigger engine, the 4TN107, has a 4.6 L displacement with power ratings ranging from 90-155 kW and torque exceeding 805 Nm.
Both engines feature a common rail injection system, full authority electronics and after-cooled turbocharging (with a two stage turbo on the 4TN107 upper ratings). Specific power and torque are among the highest available in the market.
Both engine families will be EU Stage V-certified and share the same design target of reducing the total cost of ownership (TCO).
The aftertreatment system consists of EGR and separate DPF and SCR to safeguard durability and ensure uncompromising exhaust gas cleaning performance. Smaller, separate aftertreatment modules also allow for easier installation.
Learn more at oemoffhighway.com/20991861.
Volvo Penta Introducing Full Lineup of Stage V Engines
Stand 6 A 042
Volvo Penta will present its full range of EU Stage V solutions, including D5, D8, D11, D13 and D16. The range offers power from 105-565 kW (143-770 hp).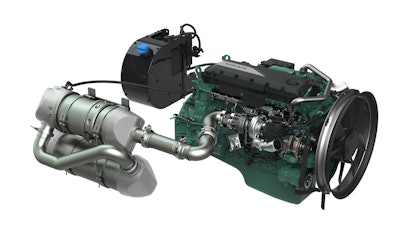 Stage V regulations for Europe will be implemented in 2019, requiring new emission limits for diesel engines. The scope of the legislation is set to widen as engines below 19 kW and above 560 kW will be regulated for the first time. And although current Stage IV regulations limit the overall mass of particle emissions, Stage V will also constrain the number of particles emitted.
Volvo Penta's 16-L diesel engine solution for EU Stage V offers a power of 565 kW (770 hp). It is a robust unit with dual-stage turbo charging which provides high power density, low fuel consumption, and a broad power band with full torque from 1,000 rpm.
As with the D16, the design philosophy for the D5, D8, D11 and D13 has been focused on maximizing the uptime and ensuring ease of installation, operation and maintenance.  
Fuel efficiency is achieved thanks to common rail fuel injection and fixed geometry turbo. Highly effective heat management is reached through the use of an air inlet throttle, together with uncooled exhaust gas recirculation (EGR), and the electrical exhaust pressure governor (EPG). This enables the system to function without the need to inject fuel into the exhaust stream to raise the temperature. With this approach, the exhaust gas has an optimal temperature when it passes through the aftertreatment system.
Learn more at oemoffhighway.com/20989161.
DEUTZ Exhibiting Electrified Drive Solutions
Stand 5A D 011
As part of its E-DEUTZ strategy, DEUTZ will be exhibiting electrified drive solutions for off-highway applications which can be installed, for example, in construction and material handling equipment. Other highlights include the range of EU Stage V certified engines and the new 'DEUTZ Connect' app which enables remote engine diagnosis by smartphone.
The E-DEUTZ strategy combines its low-emission engines with electric drives. In September 2017, DEUTZ acquired Torqeedo GmbH, the global market leader and system solution specialist for integrated electric and hybrid drives for boats (learn more, 20977507). This acquisition is the catalyst for the electrification of the DEUTZ product range. It will allow DEUTZ to harness Torqeedo's extensive know-how to benefit future developments in its core off-highway business.
To illustrate this technology transfer, DEUTZ will be displaying an electrified off-highway drive solution consisting of a combustion engine and an e-motor, plus power electronics and a battery pack specially designed for this combination. DEUTZ's solution will use the high-performance 'BMW i' lithium-ion technology which is already successfully employed in the automotive sector. As regards their power output and capacity, each component can be scaled to meet customers' requirements.
Learn more at oemoffhighway.com/20989425.
Dana to Showcase Electrification, Safety Capabilities
Stands 5B Ext 023 and 5A C 031
Dana Inc. will present its Spicer drive systems and Brevini motion systems for aerial work platforms (AWPs). These offerings include products that support the increased demand for electrified drive systems, as well as those that enhance safety by leveraging advanced data collection and on-board analytical capabilities.
"The AWP market is transforming rapidly as equipment makers respond to more stringent emissions regulations and equipment buyers move to reduce noise levels and improve safety," says Aziz Aghili, President of Dana Off-Highway Drive and Motion Technologies.
Through the acquisition of the power-transmission and fluid power businesses of the former Brevini Group, S.p.A. in February 2017 (learn more, 20850964), Dana now has a full array of advanced technologies to support the electrification efforts of AWP original equipment manufacturers.
Dana currently offers a wheel drive paired with a motor for electric-driven AWPs ranging from 3-7 tonnes (3-8 tons), and engineers are adapting Dana technologies to deliver additional wheel-drive and axle-based solutions for AWP applications up to 24 tonnes (26 tons).
Additionally, Dana is developing drive systems that integrate advanced electric motor and wheel-drive technologies in a single, compact package to optimize the performance of electric-powered AWPs with overall weights of 8-12 tonnes (9-13 tons).
Learn more at oemoffhighway.com/20989833.
Komatsu Europe to Introduce New Midi Excavator
Stands E2 D 001, 5B R 028, and 5B R 002
Komatsu Europe announces the new PC80MR‐5 midi excavator, to be premiered at INTERMAT 2018. With an integrated counterweight and tight tail swing radius, a swing boom that hugs the machine and operating weights ranging from 8,000-8,240 kg, the PC80MR‐5 is ideal for work in confined areas and urban environments.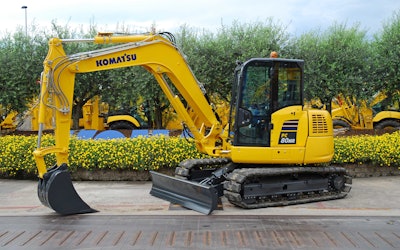 It is powered by an electronically controlled Komatsu 4D98E‐5SFB Stage IIIB engine, with DPF and a net horsepower of 46.2 kW (62 hp). This more environmentally‐friendly engine maintains the proven performance of the previous series while reducing fuel consumption by up to 10%.
The latest KOMTRAX telematics offer top fleet management and support, protect the machine against misuse, and guarantee maximum efficiency and uptime.
The auto‐decelerator and idle shutdown now both come as standard and help to reduce fuel consumption, increase residual value and lower service costs. The proportional lines improve the machine's productivity and versatility when working with attachments.
Newly developed hydraulic electronic controls optimize machine performance and also lower fuel consumption, whatever the job. The six selectable working modes, a concept usually reserved for higher end hydraulic excavators, promote relaxed operations and increased profits.
Learn more at oemoffhighway.com/20989341.