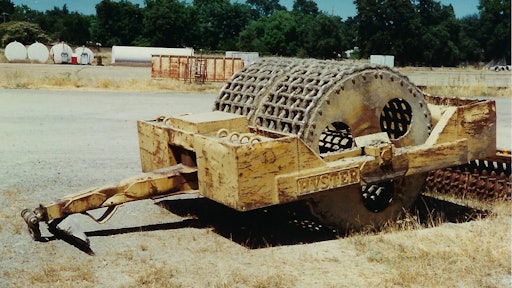 Photograph by the author, HCEA Archives
Sheepsfoot rollers, which replicate the action of a herd of livestock being driven along the fill to compact it, lose some of their effectiveness in stony or granular materials. Outfitting the drum with tapered wedge feet instead of a sheepsfoot roller's spikes improved the roller's efficiency and enabled it to work at greater speed, but didn't fully solve the problem.
Sometime in the 1950s, Hyster Company of Portland, OR, developed a solution: The grid roller. Instead of a solid drum with spikes or wedges, or a segmented drum as on Buffalo-Springfield's Kompactor, the grid roller was a wheel made of eight sections of interlaced 1.5-in. (3.8 cm), heat-treated alloy steel bars forming a mesh with 3.5 x 3.5 in. (8.9 x 8.9 cm) openings.
The wheel was attached to a solid drum that tapered to one end, so as to pass material that got through the mesh out to the side of the roller. The wheel measured 67.4 in. (171 cm) diameter by 32 in. (81 cm) wide. Front and rear cleaning scrapers were standard, and a scraping blade for the drum was optional.
The standard roller consisted of two of these drums in a common frame with openings at the front and rear for concrete ballast blocks, furnished by the customer, to be inserted. The bare roller weighed 12,400 lbs. (5,624.5 kg), and between the concrete blocks and filling the drums with sand could be ballasted to 30,225 lbs. (13,709.8 kg). A three-drum version was available, and individual drums could be mounted in place if driving wheels on two-axle wheel tractors.
Between the steel grids and the roller's weight and working speed, the roller was able to compact granular soils more effectively than a sheepsfoot or wedgefoot roller, and it also crushed and compacted rock fill. For less demanding fill material and for base courses, the Hyster D was also offered with wedge feet.
The Historical Construction Equipment Association (HCEA) is a 501(c)3 non-profit organization dedicated to preserving the history of the construction, dredging and surface mining equipment industries. With approximately 4,000 members in 25 countries, activities include publication of a quarterly educational magazine, Equipment Echoes; operation of National Construction Equipment Museum and archives in Bowling Green, OH; and hosting an annual working exhibition of restored construction equipment.
The 2019 show will be September 13-15 at the Museum in Bowling Green.
Individual memberships within the USA and Canada are $35 for one year, $65.95 for two years and $99.95 for three years, and $55.00 US elsewhere. HCEA seeks to develop relationships in the equipment manufacturing industry, and we offer a college scholarship for engineering and construction management students. Information is available at www.hcea.net, by calling 419-352-5616, or e-mailing info@hcea.net.