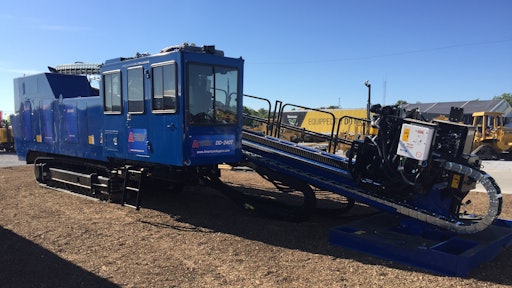 The American Augers DD-240T Midi Rig introduced a whole new design concept in horizontal direction drills to the 2017 International Construction and Utility Equipment Exposition (ICUEE). Many of the features that make the 240,000-lb. class HDD rig fully configurable are industry firsts in direct response to HDD contractor input gathered by American Augers in an extensive industry survey.
"The DD-240T is not an upgrade to an existing rig design," says Richard Levings, American Augers Product Development Manager. "It's a wholly new, ground-up design driven by the users themselves. We interviewed contractors across the industry, from all applications and every make of rig. We learned what they wanted from a machine in this size class. Our response is the DD-240T."
The DD-240T is a totally configurable, wholly self-contained and easily mobilized rig that gets drillers from job to job faster, Levings says, "whether their jobs take them to wide-open landscapes or tight urban spaces."
The range 2 rig's 52.6 ft. length (20 ft. pipe version 40 ft.) and width of just 8.2 ft. make it as easy to transport as it is to set up and take down, even though it has more production capability than many units with larger dimensions. Maximum thrust and pullback force are rated at 240,000 lbs., with 30,000 ft.-lbs. of rotary torque at 50 rpm. Maximum rotary torque is 43,900 ft.-lbs. at 37 rpm.
Fully configurable
The unique, modular design of the DD-240T gives customers a wide array of configurations beginning with choice of frame size to accommodate Range 2 pipe or 20-ft. pipe. The DD-240T can be ordered with or without onboard fluid pump, with pipe-loader or full-length manway.
The patented, moveable cab comfortably accommodates both driller and wire-line operator and can be set off-board to reduce vibration conveyed to the operating compartment or onboard to work in confined spaces. No other rig in this class size features a dual-person cabin.
The new operator's platform features touchscreen control. Individual controls can be programmed to match any control system a given drill operator is familiar with, helping any driller comfortably transition to the unit from other makes and models.
Other industry firsts include fully traveling wrenches that can be positioned anywhere from front to carriage. Convenient for use breaking stuck pipe joints, they can be moved out of the way for hammering in casing while still using the frame as an operating platform.
Productivity in mind
The unit's 523 hp Mercedes Tier 4 Final engine supports running rotary torque, push/pull and onboard fluid pump all at high levels without having to prioritize one function over others. The smart engine design achieves EPA Tier 4 Final compliance without requiring any regen cycle, so drilling operations are never interrupted due to engine derating.
DD-240T drilling productivity can be further optimized by pairing it with the American Augers M-300D "next level" fluid system, also introduced at this year's ICUEE. Unlike fluid cleaning systems that inaccurately rate flow by cone capacity, the M-300D provides true, 300 gpm, first-cut cleaning capability for keeping pace with the high productivity of the DD-240T.