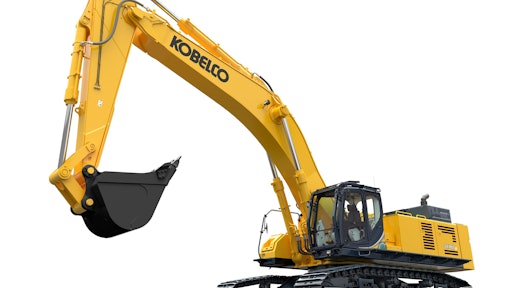 KOBELCO Construction Machinery USA introduces the enhanced SK850LC-10 excavator. The SK850LC-10 is the largest KOBELCO Generation 10 model and features cutting-edge power and efficiency capabilities to make downtime a thing of the past. 
The SK850LC-10 is more durable than ever and able to withstand the rigors of the toughest jobsites. This trendsetting KOBELCO excavator delivers a dynamic bucket digging force of 90,598-lbs. to achieve leading-class work volume. Premier working ranges and a powerful 146,800-lb. drawbar pull force enable the SK850LC-10 to conquer rough terrain and slopes with increased productivity.
This robust, 185,700-lb. unit is powered by a 510 hp Tier 4 Final HINO engine, allowing it to tackle heavy-duty applications while remaining highly fuel efficient. While operating in ECO-mode, the SK850LC-10 boasts an impressive ~17% improvement in fuel economy compared to its predecessor. This boost in efficiency is a result of an enhanced hydraulic line layout that further reduces energy loss to ensure outstanding performance. A variable-geometry turbocharger also helps to lower fuel consumption, and a new selective catalytic reduction system decreases NOx emissions by 80% to provide low operation emissions.
Operators can look forward to staying safe and comfortable in the SK850LC-10, regardless of the work at hand. An improved lever control force of 25% further lessens operator fatigue during long hours of operation, while added climate control outlets and an expanded cab interior provide a pleasant work environment. A FOPS top guard, rear-view camera and swing flashers come standard on the SK850LC-10 to enhance jobsite safety.
Maintenance on the SK850LC-10 is simple and cost effective. Easy access to maintenance data from the operation management system greatly improves ease of maintenance scheduling and ensures a long service life, while easy access to the cooling unit, engine compartment and electrical components ensure convenient day-to-day maintenance.