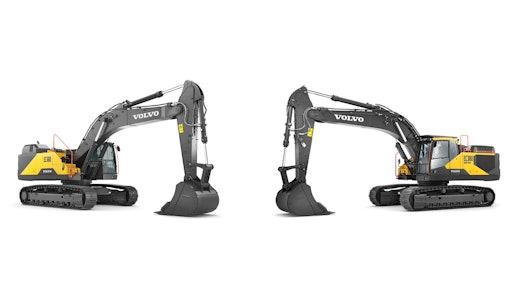 Volvo Construction Equipment
At bauma CHINA 2020, held November 24-27, Volvo Construction Equipment (Volvo CE) unveiled two major new product ranges. With the market demand for excavators growing, Volvo CE introduces two ranges of excavators - Standard and Heavy Duty - to meet this growth in demand. Each range is designed according to the varying needs of customers in China, promoting sustainable development of the industry with innovative technology.  
Among the first to be introduced during the first half of 2021 will be the EC380 Standard and EC380 Heavy Duty excavators. A total of 10 models will be launched throughout 2021, showcasing how Volvo CE will continually and thoroughly mold the future of the industry with its new generation of electromobility, automation and connectivity.
Senior Vice President of Sales Asia at Volvo CE, Tomas Kuta, explains: "China is one of Volvo CE's four most important sales markets in the world. Since the Asian headquarters moved to Shanghai in April 2020, through its twin HQ arrangement, Volvo CE has better served the local market with its innovative products and solutions. We have helped the rapid development of the Chinese economy through our shared vision of building a better tomorrow."
CREATING NEW VALUE AT THE FRONTIER OF TECHNOLOGY
The new ranges feature the latest fuel-efficient Volvo engines, smart telematics and automation systems such as Volvo ActiveCare and Volvo Co-Pilot and many safety configurations. This greatly increases the safety and connectivity of machine operations, effectively helping the customer to lower equipment operation costs and increase productivity for business growth.
All-round suitability for different working conditions
Innovation is in Volvo CE's DNA. The company has continually developed and expanded its product portfolio to meet the needs of urban construction. Encompassing small 12-tonne models and 90-tonne pieces of heavy equipment, the two new product ranges cover the full range of work environments, from the common to the highly challenging and complex, offering customers a wide variety of products to meet their needs.
Standard range
The standard range of equipment is suitable for general construction and light duty environments. It features fuel efficiency and high output, making work quicker and more efficient for the customer. The drivers' cabs feature a large area of glass surface, an innovative high-quality rear camera system, and a seat belt warning system, ensuring a broad field of vision and increased operating safety for the operator. The cabs also feature ergonomic controls to ensure precise movement and excellent operator comfort.
Heavy Duty range
The Heavy Duty range of equipment is suitable for highly challenging and complex operating environments, offering durable, highly fuel-efficient products that help the customer improve their productivity. This range provides the customer with more custom options. Customers can enjoy functionality from exclusive Volvo technology tailored to different working environments, including Volvo's Co-Pilot excavator assistance systems that can greatly increase equipment productivity, and a new hydraulic hybrid power system that can significantly increase fuel efficiency.
LOCAL INNOVATION – BUILDING TOMORROW IN CHINA FOR CHINA
The new ranges were developed locally at the Volvo CE R&D center in Jinan. Conducting a thorough market study, the research and development team focused on Chinese customers' usage habits and working environments and carried out independent innovation based on local needs. The Jinan R&D center is a central part of the Volvo CE global research and development network. Since it was established in 2010, it has developed infrastructure equipment geared to the needs of customers in China and South East Asia. It has also strengthened the foundation of innovation for local development, manufacturing, sales, and aftersales value chain.
Deputy President of Volvo CE China Sales, David Chen, says: "Since we put down roots in China 18 years ago, Volvo CE has moved forward together with the Chinese engineering machinery industry and actively taken part in national strategies such as new urbanization and the Belt and Road Initiative. In the future, Volvo CE will continue to work hand-in-hand with Chinese partners to help transform and upgrade the construction equipment industry."
Today China is focusing on a new construction drive focusing on 'new infrustructure, new urbanization initiatives and major projects'. The two major new Volvo CE product ranges, with their connectivity, high quality, and high fuel efficiency, will actively help the company carry out its development concept of "Building Tomorrow in China, for China."