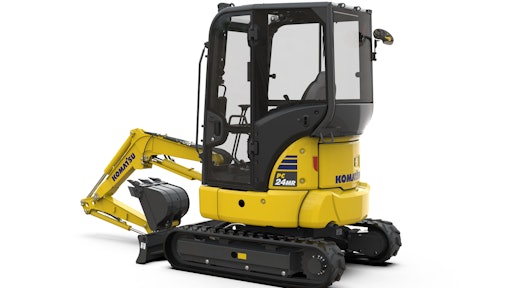 Komatsu
Komatsu Europe International N.V. announces the release of its PC24MR‐5, the newest addition to Komatsu's MR‐5 range. Powerful and versatile, with the excavator is equipped with the latest EU Stage V engines.
The all-new MR-5 range builds on the successful MR-3 product line, and additionally benefits from a full host of new and improved customer focused features.
A seat belt indicator, an easily accessible secondary shut down switch and protected PPC levers makes these machines safe, both for the operator and for bystanders. The MR-5 range also benefits from Komatsu designed and developed factory-fit options such as fingertip proportional controls and a hydraulic quick coupler line to deliver flexibility, and ensure quality, reliability and performance day in and day out. The large ergonomically designed operating environment, with a wide seat, provides a comfortable and safe working place for any operator, whatever the job.
Simone Reddi, Komatsu Europe Product Manager for mini excavators, says, "The MR-5 range concentrates the quality and performance of the larger Komatsu construction range into a compact package, and with a unique design concept the Komatsu MR-5 excavators are sure to stand out on jobsites across Europe. The PC24MR-5 is positioned to combine with the PC26MR-5 to form a strong 2-model attack strategy in this all-important segment that requires high performance and easy transport."
The PC24MR-5 offers huge customer values with MR-5 features already available on the successful PC18MR-5, PC26MR-5 to PC58MR-5 range.
The latest models added to the MR-5 range include:
PC18MR‐5
PC24MR‐5
PC26MR‐5
PC58MR‐5
Features of the new excavators include KOMTRAX monitoring systems installed as standard and enhanced boom swing cylinder design. Depending on the model, operating weights range from 1,820-5,640 kg (4,012.4-12,434.1 lbs.). Maximum digging depth ranges from 2360-4130 mm (92.9-162.6 in.) while maximum digging reach ranges from 4,300 to 6,570 mm (169.3-258.7 in.), again depending on the model.