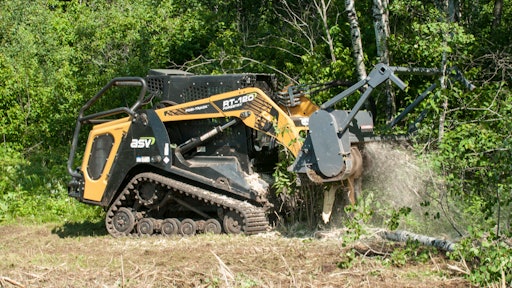 ASV Holdings Inc., an industry-leading manufacturer of high-performance compact track loaders and skidsteers, features the RT-120 Forestry Posi-Track Loader, the largest and most powerful compact track loader in the industry. The large-frame RT-120 Forestry features more power and productivity with less ground disturbance than any other machine in its class.
ASV will introduce a new machine and conduct live demonstrations of it at the 2018 GIE+EXPO October 17-19 in Louisville, KY. Demonstrations will be held outside at booth 7838D. Attendees can also visit ASV at booth 29108 inside the convention center.
Maximum power and torque, along with unparalleled cooling capacity, make the RT-120F capable of using the largest attachments for long periods of time without bogging down or overheating. The rugged machine makes mulching, brush cutting and highway and utility work faster and easier. Like all ASV equipment, the RT-120F includes maximum efficiency hydraulics and innovative, high-capacity cooling systems that allow for more work done in less time. In addition, the machine achieves versatility on all surfaces — from mud and brush to ice and snow — using ASV's patented Posi-Track undercarriage. It provides industry-leading serviceability, ground clearance, ground pressure, traction and track life.
ASV optimized the RT-120F for forestry work that can be too demanding for other machines. The unit includes metal guarding against brush and debris around key areas, such as lights, the AC condenser and the rear screen. A full rear brush guard is also available as a factory-installed option.
The RT-120F also incorporates an additional level of durability with a heavy-gauge, falling object protective structure (FOPS) level 2 cab, improved rollover protection (ROPS) and reinforced windows for impact resistance. The machine blows debris from mulching applications out of the engine compartment screens with a hydraulically driven, auto-reversing cooling fan. The RT-120F works with all standard attachments, including mulching heads, brush cutters, backhoes, tooth bars, buckets, snow blades and pallet forks.
ASV builds its machines from the ground up, starting with the undercarriage. The RT-120F ensures maximum operator comfort, speed and traction with the company's patented Posi-Track rubber-track suspension. The dual-level suspension includes both suspended wheels and axles, allowing it to travel quickly over all types of terrain. The machine achieves maximum traction in the roughest conditions with a fully-flexible track and suspended wheels that conform to the ground. ASV maximizes the RT-120F's performance on steep slopes by manufacturing it with multiple wheel contact points and four guide lugs — compared to many machines with only one or two guide lugs. The unit comes standard with 20-inch-wide tracks, resulting in a ground pressure of only 4.3 psi. The features, combined with the machine's 15 inches of ground clearance, allow operators to comfortably operate it in more places and conditions for longer periods of time than competitive models.
ASV took its previous closed design — similar to what's used on competitive steel-embedded undercarriages — and transformed it to an open-rail and drive-sprocket design. The conversion results in easier and faster undercarriage cleaning as well as improved sprocket and bogie life. ASV builds all rollers with mechanical face seals, eliminating the need for maintenance for the life of the machine. The tracks are manufactured with embedded co-polymer cords for extra strength and are produced using a single-cure process, eliminating cure-point weaknesses in the track that can lead to premature breakage. These features allow for a 1,500- to 2,000-hour track life — 30% more than competitive steel-embedded track units. ASV stands behind that with an industry-leading 2-year, 1,500-hour track warranty.
The forestry machine's 120 hp Cummins 3.8-L, turbocharged engine produces 360 ft.-lbs. of torque — about 8% more than the machine's 111 hp predecessor, the RT-110. The RT-120F transfers torque to the ground through direct-drive hydraulic motors. ASV builds the machine without planetary drives, eliminating the need for servicing those components. Highly efficient motors transfer maximum power to the patented internal-drive sprockets, and internal rollers prevent friction loss in the undercarriage, transferring all power to the track regardless of drive speed. The RT-120F meets Tier 4 Final standards using a diesel oxidation catalyst that, unlike DPF systems, requires no additional maintenance or replacement filters.
ASV builds all its models with a priority that they be easy to service. The RT-120F gives operators easy access to the reliable Cummins engine through a three-panel hood and tilting cooler arrangement. The rearward tilting cab provides easy accessibility when additional service is required. Sight gauges for both hydraulic oil and coolant, combined with the design, simplify regular inspections of oil, filters and normal service items.
The RT-120F's highly efficient auxiliary hydraulic system includes 45 gpm high flow and 4,060 psi. The attachment receives more hydraulic flow and pressure because the machine uses larger line sizes, hydraulic coolers and direct-drive pumps — rather than belt-driven pumps. This means operators maximize horsepower efficiency even while using demanding attachments, such as brush cutters and mulching heads. Belt-drive pumps and restrictions on competitive machines' hydraulic systems result in many losing as much as 30% of the horsepower shown on their spec sheets. Conversely, the RT-120F achieves 16% more actual hydraulic horsepower than the PT-110 compact track loader it replaces.
The RT-120F beats competitive machines' performance in every category. The unit features a rated operating capacity of 3,745 pounds and a tipping load of 10,700 pounds — greater than the RT-120. It is 73 in. wide and has a 125-in. lift height. Machine operation is easy and intuitive as a result of standard joystick controls. The unit's cab is pressurized for a clean operator environment. An optional all-weather cab that includes heat and air conditioning is also available.
The RT-120F is also available in dirt and road profiling configurations.