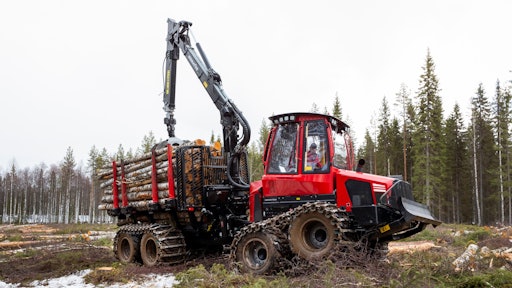 Komatsu Forest
Komatsu Forest is presenting a number of forwarder announcements with the launch of its 2021 machine models, including an upgraded Komatsu 845 and a brand-new thinning concept, Thinning Experts (TX), which includes the Komatsu 835TX and the new Komatsu 825TX. This will mean that Komatsu's entire forwarder range now boasts a fully upgraded design, a new 4-cylinder engine and a new control system. The Bogie Lift Advanced option will be available for all small forwarders and, moreover, MaxiFleet will gain several new features to simplify day-to-day forwarding work.
The Komatsu 825TX, an agile 9-tonne forwarder for the market segment for the smallest machines, is a brand-new and eagerly awaited forwarder model. Our former smallest model, the 11-tonne Komatsu 835, has been upgraded and is now being relaunched with a new designation, the Komatsu 835TX. We will also be presenting an upgraded mid-class 12-tonne stalwart, the Komatsu 845, which performs well not only in thinning, but also in lighter final logging.
"With the launch of the 2021 models, all our machines have now been upgraded and we're pleased to be able to offer our customers comprehensive forwarder and harvester ranges. The new thinning experts have several qualities which make them extremely well-suited to thinning, and which have been requested for some time. They also feature some of the advantages of the larger forwarders," says Daniel Grabbe, Product Manager at Komatsu Forest.
Comfortable cab with excellent visibility in all directions
All new forwarders have been upgraded with the same cab as the current Komatsu 855, 875 and 895 models. Komatsu's ergonomic cabs are based on a tried and tested concept that offers a comfortable and spacious work environment with good visibility in all directions. The interior is well considered with many practical storage spaces.
Another improvement is that the Orbitrol steering wheel has been replaced by an electric mini steering wheel, found on the right joystick. This new steering wheel enables a higher transport speed of 22–25 km/h depending on the model. "The removal of the old steering wheel means less hydraulics in the cab, providing an even more spacious and quieter work environment," says Grabbe.
Minimal impact and agility in focus
With the Thinning Xperts concept, an all-new tracking frame which more than halves the tracking – the difference between the front and rear wheel tracks – to less than 200 mm.
"A machine with the smallest possible tracking is more agile and has less impact, which reduces the risk of damage to standing trees," Grabbe explains.
The lengths of the tracking frame components have been optimized for the best possible tracking – all without impacting the overall frame length or the length of the load area. The steering coupling has also been moved further back so that the rear wheels better follow the front wheels, to further reduce tracking.
"Naturally, not only do thinning machines need to be agile, they also need to be productive. This means a spacious load area, a powerful crane and high traction. In short, the same demands placed on the large machines but in a more compact package," says Grabbe.
Greater reliability with the latest engine installation
The Komatsu 825TX, 835TX and 845 models all boast a new engine installation, one which meets the latest emission legislation for diesel engines (Stage V). This provides a number of benefits: an all-new AdBlue system, a new exhaust system and hydraulic tappets.
The AdBlue system has been completely overhauled, with a focus on improvements to increase reliability. The tank has been moved to the front-left storage space and has a new and improved filling solution incorporating both a spill guard and filtration. A specially designed funnel with venting channels enables faster filling.
"All these modifications simplify daily machine maintenance while also reducing the risk of dirt entering the tank," Grabbe explains.
Modern control system for the best starting conditions
Another feature shared by our new forwarders is that they have been equipped with the MaxiXT control system, which was unveiled for Komatsu's other forest machines last year. MaxiXT is a complete system for machine and head control, bucking, crane settings and administration, with user-friendly functions and tools that provide full control of the timber from order to roadside delivery.
Bogie Lift Advanced for an easier working day
Bogie Lift Advanced, which enables individual control of the left and right bogies, will now be available as an option on the Komatsu 825TX, 835TX and 845 models. This function provides the forwarder with great mobility when passing over obstacles, which is especially important in dense forest stands with narrow strip roads that require agile machines with good off-road handling.
Improved information transfer and increased cooperation
The launch of the 2021 models will also see two major new features added to MaxiFleet, Komatsu Forest's operations management system. Location data will now enable users to view their position on the map, which can aid the sharing of information between colleagues. Komatsu Forest is also releasing a new function that helps in the preparation of forwarder instructions. Preparing the instructions in advance means less need for administration in the cab and more time for the operator to actually forward.