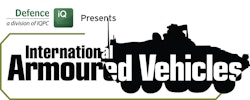 Twickenham Stadium
200 Whitton Road, Twickenham
London TW2 7BA
United Kingdom
Phone:
+44 (0) 207 368 9737
Focused on the armored vehicles community, this conference and exhibition gives attendees the opportunity to learn about the challenges facing armored vehicles and solutions those in the industry have found to keep the crews and vehicles safe.
Topics at previous events addressed questions such as:
What technology and platforms are we preparing for current and future scenarios?
How can the modern armoured vehicle continue to adapt and remain capable in 21st century theaters of conflict?
How can we deploy assets at speed?
How can we best operate and communicate within a joint and multinational environment?
Over 70 speakers, 40 nations and sponsors, and more than 650 attendees are expected at the event.