Caterpillar Inc.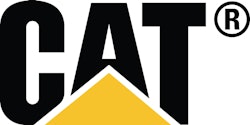 During MINExpo INTERNATIONAL 2021, Caterpillar Inc. introduced several new pieces of equipment which aim to help customers in the mining industry improve their productivity. This included machines with advanced technology, and in some cases automation capabilities.
Sustainability was a strong theme throughout the show, including for Caterpillar. The company intends to make all of its new products going forward more sustainable than the previous generation. In addition, it is developing battery-electric machines and researching other possible zero-emissions power options, as well.
New Cat R1700 XE underground battery-electric LHD
The new electric Cat R1700 XE Load Haul Dump (LHD) offers 100% battery-electric propulsion, producing zero exhaust emissions and significantly less heat generation than a reciprocating engine powered model for underground mining operations. It leverages over 400 Caterpillar advanced power system design patents.
Caterpillar's new underground LHD matches the performance of the diesel-powered R1700 while using switch reluctance (SR) technology that draws from Caterpillar's more than 15 years of electric drivetrain experience and thousands of field application operating hours.
Featuring fast onboard charging technology, the machine's batteries can be charged while remaining on the R1700 XE to maximize available run time. The portable Cat MEC500 Mobile Equipment Charger provides quick charging wherever it's needed and eliminates the expense of and need for static charging station infrastructure, additional batteries, and battery handling and swapping. The MEC500 fully charges the R1700 XE in less than 30 minutes using a single charger or in less than 20 minutes using two units. Liquid cooling allows the loader's batteries to be cooled while the machine is put back in operation, increasing machine uptime availability.
Built for productivity
The R1700 XE electric platform brings a new level of production capability in Caterpillar's electrified product range. Multiple design features are carried over from the field proven R1700 platform to reduce overall operating cost, improve component durability and reliability, and maximize availability and productivity. An aggressive digger, it features Autodig for optimal loading and improved traction control for maximum tire life.
Borrowing the front linkage geometry from the R1700, the R1700 XE offers matching lift and tilt breakout force for electrified machines of 24,190 kg (53,330 lbs). Advanced hydraulic performance and load-sensing pumps with controllable flow deliver a 13.2-second raise/dump/lower hydraulic cycle time and 323 kN (72,613 ft.-lb.) rimpull and drawbar. The electric LHD vehicle offers 15 tonnes (33,069 lbs.) payload, 18 kph (11.2 mph) fully loaded top speed and 2.5 hours of aggressive run time between charges.
Five bucket sizes, including a bolt-together bucket option, with capacities ranging from 5.7-7.5 m3 (7.5-9.8 yd3) match material density needs to various loading, hauling and dumping conditions. Offering optimized balanced between productivity and bucket life, the full range of Cat ground engaging tools (GET) includes modular Weldon, bolt-on half arrow, and Durilock mechanically attached shrouds, heal shrouds and wear plates.
The R1700 XE comes from the factory ready for Cat MineStar for Underground technology to further increase operating efficiency and productivity. Scalable levels of remote operation from line of sight to fully autonomous are available to increase production efficiency and operator safety. Standard Product Link Elite delivers machine health monitoring to improve uptime availability.
Improved comfort and safety
Integral to the cab and frame, the rollover protective structure (ROPS) and falling object protective structure (FOPS) are resiliently mounted to the frame to isolate the operator from vibration for a more comfortable ride. Pressurized to mitigate dust infiltration, the cab features a new climate control system with improved airflow, greater defrosting coverage and reduced noise levels. The larger cab provides additional space for the operator, who sits slightly lower inside the cab for greater headroom and improved ride comfort.
The R1700 XE's operator station is ergonomically designed for total machine control in a comfortable, productive and safe environment. Steering and transmission integrated control (STIC) provides maximum machine responsiveness and control by combining directional selection, virtual gears and steering into a single level. Low-effort, electrically operated joystick controls implement functions smoother with faster cycles for less operator fatigue.
Auto retarding improves machine control and operator confidence on long downhill hauls, while optional rearview and sideview cameras enhance operator visibility. Further increasing visibility, the R1700 XE features auto lights high and low beam, auto directional switching and auto boom lights on and off functions.
The multilayered electrical safety systems of the new underground loader are designed to withstand the rigors of underground mining environments. No high voltage cabling crosses the hitch of the R1700 XE, increasing operating safety and machine reliability.
Serviceability and Durability
Intrinsic to the battery-electric vehicle design, the R1700 XE has fewer parts for reduced maintenance, and it shares strong parts commonality with the R1700, requiring less parts inventory. Modular design of key components, like the HVAC system being modular in design, better component positioning, and a light, modular structure delivers servicing ease.
Leveraging the R1700's heavy rear structure design lends to long-term durability for the new battery-electric loader. Offering respective 250 kW (335 hp) and 226 kW (303 hp) rated peak power output, the highly efficient switch reluctance traction and auxiliary motors both offer long, 15,000-hour service intervals. Electrical connections are sealed to lock out dust and moisture, while wire harnesses are covered for protection. Colored and number-coded wires facilitate easy diagnosis and repair.
Field tested and validated, the thermally stable Lithium Iron Phosphate battery system powers the electric R1700 XE LHD, delivering fast charging capability and reliable performance. The Caterpillar-engineered cooling system with new chilling cores for battery cooling maximizes performance and cell life. Enabling efficient electronic diagnosis of machine performance and key diagnostic data, the Cat electronic technician (ET) delivers quick and effective maintenance and repairs.
The Cat R1700 XE underground battery-electric LHD displayed at MINExpo 2021 will be commercially available in select markets starting in the first quarter of 2022.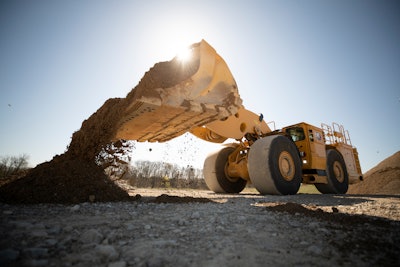 MEC500 Mobile Equipment Charger delivers fast, simple and safer charging
Caterpillar has introduced the new Cat MEC500 Mobile Equipment Charger, the first of its kind for the underground mining industry. Equipped with a durable skid mount and integrated forklift eyes, the 1,600-kg (3,527-lbs.) charger can be efficiently moved to where the equipment is working via towing, fork truck or overhead lift. Delivering a charge where it is needed, the MEC500 provides an alternative to expensive static charging station infrastructure, additional batteries, and battery handling and swapping. The mobile equipment charger offers customers charging options and the ability to optimize the mine site's electrical power supply.
The new MEC500 delivers 500 kW charging and connector capability. It offers an impressive range of 300-1,000V and up to 700 Amp current output. This fast mobile charger can be used as a single unit to deliver a full charge to the battery-electric Cat R1700 XE LHD in less than 30 minutes. Alternatively, ultrafast battery charging is achieved by connecting two units in parallel to charge the LHD in less than 20 minutes. Its adjustable output voltage and current can trickle charge the battery to maintain optimal performance for the R1700 XE.
Simple and safe
The new MEC500 eliminates the complexity of battery charging. When charging the R1700 XE, the mobile charger immediately recognizes the loader, and all charging functions can be managed from the keypad at the MEC500 or LHD. Allowing for constant communication between the charger and R1700 XE, the battery-powered vehicle management system dictates the exact amount of charge needed throughout the cycle, optimizing battery longevity. The operator can conveniently monitor the charge cycle from inside the cab or from the MEC500's display.
The mobile charger's integrated display also helps to simplify diagnostics and troubleshooting. The charging port on the R1700 XE continuously senses the temperature, voltage and current to detect potential problems, which are communicated to the operator through the in-cab display and via audible warnings.
The MEC500's 6-function keypad manages charging, and the charger performs a short-circuit and insulation-resistance check on the cable prior to energizing the output. Featuring built-in line insulation monitors on both the AC input and DC output, the monitors automatically coordinate with each other when parallel charging to provide comprehensive and uninterrupted ground fault protection.
Rugged reliability
Designed for the rigors of underground mining, the lightweight, military-grade aluminum Cat patented charging cable, available in 10- or 15-m (32.8- or 16.4-ft.) lengths, is metal jacketed for extra mechanical and electrical protection. Military-grade lift eyes on the MEC500 allow it to be lowered down a mineshaft, further increasing charger mobility.
Its integrated Cat radiator with two on-demand fans anchor the sealed air conditioning and dehumidification systems' design to support unit cooling. Isolation mounted to the skid base, the MEC500 charger, along with electronic control modules (ECMs), are built to withstand high vibration, seismic and shock loading experienced in the operating environment. Designed to the IP66 international standard rating, critical components, including where the electrical input-output connections are made, are protected from both water and dust infiltration.
The new Cat MEC500 Mobile Equipment Charger offers a wide range of altitude operating capabilities from 3,600 m (11,800 ft.) above to 4,500 m (14,700 ft.) below ground, allowing it to deliver a charge wherever and whenever it's needed.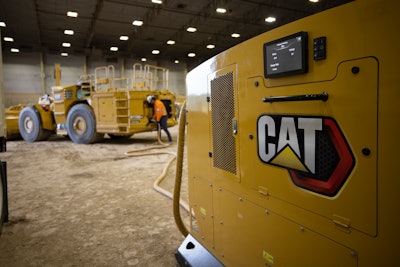 Caterpillar

highlights diesel electric drive design of R2900 XE LHD

Built on the company's most popular load haul dump (LHD) platforms, the Cat R2900 XE LHD will feature a diesel electric drive system that delivers high productivity, smooth and quick machine response, and improved digging and tramming performance. Employing a high-efficiency electric drive system, the R2900 XE will reduce fuel consumption to help customers achieve their goals for lower greenhouse gas emissions and total cost of ownership.

Slated for commercial availability in 2023, the R2900 XE drivetrain features a high-efficiency Switch Reluctance (SR) electric drive system; the machine also includes redesigned axles, wheel and brake groups.

Superior productivity, less fuel

Increasing payload more than 9% over the Cat R2900G, the R2900 XE offers an 18.5-tonne (40,785-lb) rated loading and tramming payload for a 3- to 4-pass match with the Cat AD63 truck. The electric drive system delivers 52% faster acceleration and improved machine response, while reducing fuel consumption by more than 30% in many applications. The redesigned lift arm and components geometry, combined with load-sensing hydraulics and new bucket geometry, increase the R2900 XE's breakout force by 35%.

The machine's high-efficiency SR electric drive system replaces a mechanical transmission to deliver improved power and faster cycle times compared to the R2900G, with variable speed control and implemented virtual gears for machine controllability. With no driveline or powertrain shock loads, the diesel electric LHD offers smooth directional changes. Programmable speed management improves operator efficiency and reduces fatigue, while automatic retarding controls help to maintain speed on grade. STIC maximizes loader responsiveness with a single lever that combines directional selection, virtual gears and steering into a single lever.

Built for the global market, the Cat C15 engine powering the R2900 XE comes in configurations to meet a range of emissions regulations, including EU Stage V and U.S. EPA Tier 4 Final. Its Stage II- and Tier 2-equivalent Ventilation Reduction (VR) engine configuration can be equipped with diesel particulate filters to reduce diesel particulate matter. The diesel electric design enables the engine to operate at a lower 1,600 rpm to reduce fuel burn, heat generation and exhaust emissions, while increasing power. Mines have the option of equipping the loader with a high-efficiency radiator.

Improved technology and hydraulics

The R2900 XE features Autodig to optimize loading and traction control to maximize tire life. The machine easily integrates available technologies to further increase operating efficiency and productivity with factory-ready Cat MineStar for Underground. Scalable levels of remote operation from line of sight to full automation help to increase production efficiency and operator safety. Standard Product Link Elite delivers machine health monitoring to improve uptime availability.

The diesel electric LHD's lift and tilt system includes variable piston pumps for higher flow rates, faster cycle times and powerful lift forces. Load sensing hydraulic piston pumps deliver the exact flow and pressure required for hydraulic functions to improve efficiency and reduce heat. Improving cycle times and operator comfort, optional ride control dampens the lift circuit to reduce fore and aft pitch.

Durability and ease of maintenance

The R2900 XE is built for long life and easy maintenance. It leverages the heavy structure rear design of the R1700 to further enhance long-term durability. Improvements to the brakes, axles, auto retarder, frame and articulation increases machine longevity and operating reliability. Its electric drive system has fewer moving parts than mechanical transmissions to reduce service requirements, provide easy maintenance and extend maintenance intervals.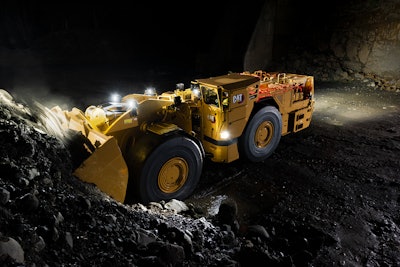 Cat D11 XE harnesses the power and efficiency of electric drive
During MINExpo, Caterpillar previewed its new Cat D11 XE dozer. Leveraging 20-plus years of Cat electric drive experience and field application, the D11 XE dozer's electric drive system delivers constant power to the ground, continuous pushing and greater maneuverability for faster cycle times and improved fuel efficiency.
Combining optimum power to the ground with increased durability and ease of service, the D11 XE delivers the lowest cost per ton operation in dozing applications. When in production, this Cat model will be the world's largest, most powerful and efficient electric drive dozer with high drive.
Promising low emissions-per-ton dozing, the D11 XE targets up to 25% less fuel costs per BCM. The fresh design targets up to 20% longer engine rebuild cycles than mechanical drive models, while 60% fewer moving parts translates to better machine uptime availability.
The D11 XE fully integrates Cat powertrain, Cat electronics, Cat software and Cat controls for optimized performance. Inherent machine protection reduces component damage for improved reliability. Its updated electronics architecture allows the dozer to take advantage of proven Cat technologies like MineStar Command for dozing, which offers both remote control and semiautonomous dozing.
The new dozer's modular design simplifies maintenance through improved serviceability of the powertrain. Fewer moving parts translates to fewer touches required to maintain the dozer and lower service costs. This electric drive dozer also shares components with mechanical drive models, meaning familiarity for service technicians and fewer parts to stock for owners.
With a powertrain life targeted to deliver longer rebuild intervals, the simple machine design delivers less major component rebuilding and/or replacing. Longer rebuild cycles, lower fuel consumption and less maintenance come together with higher machine efficiency to give owners the lowest cost of bank cubic meters (BCM) of material moved ever.
The D11 XE is currently operating at Caterpillar's dozer proving grounds in Peoria, IL, and will then complete an extensive field validation plan before entering full production.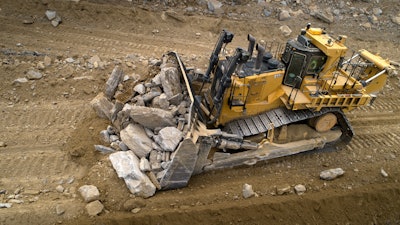 D10 dozer offers more productivity with less fuel consumption and maintenance
Caterpillar also previewed its new Cat D10 dozer which is designed to do more with less. Improvements to the drivetrain, hydraulic and cooling systems reduce fuel consumption by up to 4% while increasing productivity by up to 3%. Greater component durability, service improvements and technology integration deliver a reduction in overall owning costs.
The dozer's optimized drivetrain features an updated Cat C27 engine paired with a new stator clutch torque divider. Extended oil changes and integrated fuel lines increase the time between service intervals and enhancing reliability of the C27 engine. Different aftertreatment solutions are available to meet the needs of the global market, including configurations to meet U.S. EPA Tier 4 Final/EU Stage V regulations as well as emissions equivalent to U.S. EPA Tier 2.
Boosting productivity in downhill dozing applications, the new D10 comes standard with high-horsepower reverse, which offers up to 20% more power in reverse gears. Load-sensing hydraulics provide oil flow only on command, reducing parasitic draw to increase available power to the ground. Paired with a single-plane cooling system, these improvements increase operating efficiencies by up to 6%.
Boasting an updated electronic architecture, the new D10 features a new operator cabin, infused with proven technologies. Operator efficiency and comfort are improved with a new 254-mm (10-in.) touch screen display offering intuitive machine operation, upgraded seat offerings, available 360-degree vision and improved visibility. Future-ready, the electronic infrastructure provides seamless integration of proven Cat technologies like MineStar Command for dozing, which removes the operator from the cab through line-of-site or non-line-of-site remote control. Technology updates to optional automated features such as AutoCarry and AutoRip improve efficiency and ease of use, reducing operator fatigue, increasing productivity and minimizing machine wear by limiting track slippage.
New to the D10, Remote Flash conveniently ensures the machine operates with the most current version of on-board software, so the dozer consistently delivers high performance, maximum efficiency and minimum downtime. The service enables remote updates to the software at a time convenient to the mining operation, without interrupting the production cycle and reducing service time on the machine.
With its modular design and elevated sprocket drive, the D10 series is renowned for industry-leading serviceability and low maintenance costs. Further reducing downtime, the new D10 design features extended oil change intervals enabled by a larger engine oil sump. Its new, easy-access radiator door and single-plane cooling system reduces overall heat load and promotes easier cleaning. New push arm bearing inserts improve reliability and reduce overall rebuild time.
Multiple visibility offerings provide customers with different solutions to achieve their desired line-of-site to the front, rear and around the dozer. Further enhancing operating visibility, an available four-camera system delivers a 360-degree view around the D10 and includes a ripper camera. Improvements to the powered access ladder with lockout protection elevate operator safety when entering and exiting the cab.
Availability of the new Cat D10 dozer is scheduled for mid-2022.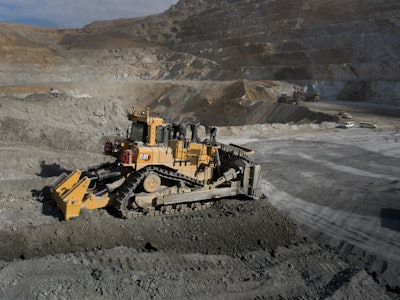 992 Wheel Loader increases productivity up to 32%
The new Cat 992 Wheel Loader sets a new standard by offering up to 32% greater productivity. This new large mining loader reduces maintenance costs by as much as 10% and offers up to 48% greater payload-per-fuel efficiency than the earlier model 992K.
Powered by the new Cat C32B engine with U.S. EPA Tier 4 Final/EU Stage V and Tier 2 equivalent emission engine options, the new 992 meets the global industry's demand for high-production equipment with greater payloads. Powertrain design enhancements to the transmission, axles and final drive, along with the new engine, deliver a 20% longer interval for planned component replacement.
Offering both standard- and high-lift configurations, the 992 delivers the lowest cost-per-ton when paired with fleets of Cat 775, 777 and 785 trucks. Standard-lift payload capacities reach 23.1 tonnes (25.5 tons) for quarry face applications and 27.2 tonnes (30 tons) for loose material handling, while high-lift capacities reach 20.4 tonnes (22.5 tons) and 24.5 tonnes (27 tons) in respective applications.
More productive and efficient
A new Z-bar linkage optimized for performance, and improvements to rimpull and breakout force, deliver greater machine capacity and efficiency. The new 992 has demonstrated in field testing up to 48% greater payload-per-fuel efficiency in applications where a four-pass match to 90.7 tonne (100-ton) trucks was achieved, versus five passes with the 992K. The powerful and efficient 992 provides up to 9.5% more rimpull during digging and up to 20% more breakout force, increasing productivity.
The new Cat 992 Wheel Loader features an on-demand throttle mode to optimize payload-per-fuel efficiency without slowing production. New standard automatic retarding controls disable the impeller clutch, enable the lockup clutch, and use the implement and fan pumps retarding to slow the machine on grade. The available advanced automatic retarding controls with engine brake feature offers full control of the loader's speed on grade to maintain a desired hold speed.
Automating critical digging cycle elements, optional New Autodig Components further improve productivity and efficiency while reducing tire wear. To stop slippage before it happens, a tire slip prevention feature reduces rimpull before the tires are set and increases rimpull when downward force is applied to the tire. The tire set function detects pile contact and automatically lifts against the pile to set the tires and increase available traction. The lift stall prevention feature automatically manages rimpull in-dig to prevent hydraulic stall while lifting through the face, so the 992 spends less time in the pile.
Optional new Payload Overload Prevention allows for productivity and efficiency improvements by providing a large enough bucket to be used to achieve target pass-match across a range of material densities without the risk of overload. With the overload value fully adjustable based on the target payload, this feature can be configured to automatically stop or slow the lift function when the overload value is exceeded.
Improvements to the setback and strike plane angles, a longer bucket floor, and a stronger and larger bottom section increase the bucket fill factor by 10%. The taller side plate with level top surface helps to improve visibility beyond the bucket edge to the material pile.
Available Operator Coaching empowers operators to exceed productivity targets by measuring and providing feedback to teach proper operating techniques. Among other operating techniques, this feature shows how to properly shorten travel, avoid unracking in-dig, enter the pile with a level bucket, reduce the dump height, and use the kickout.
Elevated comfort and safety
The newly redesigned Cat 992 Wheel Loader cab increases visibility, offers intuitive control, and incorporates next-generation technology to boost efficiency by providing easily accessible information. Its taller windshield increases the glass surface area by 25%, resulting in 10% greater visibility. Operators will appreciate the cab's 50% increase in legroom and more width by the knees.
Providing shift-long operating comfort, the new 992 controls feature electrohydraulic speed-sensing steering with force feedback. Two 254-mm (10-in.) color LED monitors display machine control and operating functions. A separate 203-mm (8-in.) screen provides a dedicated viewing feed of the standard rearview camera, upgradable with an optional 270-degree vision and object detection.
Low total cost of ownership
Extended major component life on the new 992 and improved service access deliver up to 10% lower maintenance costs. Automatic lubrication to Z-bar linkage pins with robust guarding helps to deliver more reliable operation. A front walkaround platform simplifies cleaning of cab windows. Two large openings per machine side offer quick and convenient access to the improved cooling package, reducing cleaning time.
Improved hydraulic systems filtration and pump prognostics for the implement pump reduce machine downtime. The new loader displays the remaining useful life for the engine air filter, allowing technicians to plan ahead for machine servicing.
Offering convenient and improved access to maintenance items, the service center has been relocated to the left-hand side of the machine, along with the fuel tanks. S∙O∙SSM fluid sampling ports are safely accessed from ground level and filters are organized by type and change interval to increase maintenance efficiency.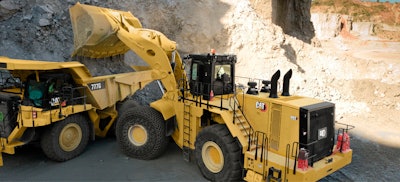 Next generation cab for Cat mining trucks optimized for more comfortable and productive hauling
The state-of-the-art next generation cab for Cat mining trucks includes numerous automation features to improve operator efficiency. The larger ergonomically optimized cab design incorporates more than 30 new features that improve connectivity, build confidence and adapt to future mining needs with an expandable electronics platform.
Integrated Cat electronics boost data analytics and diagnostic capabilities. The reengineered electronics platform improves maintenance for Cat mining trucks through enhanced remote services offerings – Remote Flash and Remote Troubleshoot. By upgrading software and diagnosing machine alerts remotely at a time convenient for the production schedule, Remote Flash and Remote Troubleshoot deliver higher productivity with maximized truck uptime.
Starting with the operator
Making the operator more comfortable and efficient is at the heart of the next gen cab. The walk-through design with fully adjustable center console, increased legroom, adjustable next gen seat, temperature-controlled HVAC system, and advanced cab filtration option delivers a safer and more comfortable operator environment. Two 254-mm (10-in.) ideally located displays eliminate clutter and reduce operator fatigue. The touch screen display integrates several standard and optional Caterpillar technologies with a simple, consistent and intuitive streamlined interface.
Reducing adjustment time to seconds, the new in-cab powered mirror control delivers convenient left- and right-side rearview mirror adjustments from the operator seat. The deluxe cab is available with high efficiency particulate air (HEPA) filter options to reduce operator exposure to potentially hazardous particles. Delivering more stabilized cabin pressurization over all HVAC fan speeds, the new design reduces respirable dust penetration up to 96% to keep operators healthier and more productive.
"Every time we get a new machine at the quarry, we feel that they are getting better. They are getting more sophisticated to help the operator run the machine," says Mario Amaran, heavy equipment operator for CEMEX Quarry, Miami, Fla. "The panels and controls are within your reach without having to lose your focus on operating the machine. The comfort and the ride, I compare it to my car out on the turnpike. It's very comfortable, even with our dirt road situations. We bring a lot of dirt to the hopper, and the operators are happy."
Boosting productivity
From secure push-button start to AutoHoist, the next gen cab is equipped with a host of standard and optional features that improve efficiency and productivity. Eliminating the key and up to 30-second hold sequence for cold starting, the new secure automated starting process enables all pre-start functions and checks to occur at the push of the button. A unique operator ID code authenticates the operator to improve security.
Enhanced Automatic Retarder Control (ARC) sets retarding speed based on grade, payload, and brake oil temperature and demonstrated up to 6% higher retarding speeds in feature validation. Operators can conveniently use the console's rotary dial to set the maximum speed limit maintained during retarding without further actions to reduce fatigue and improve efficiency. Enhanced Cat Payload System delivers more accurate measurement of payloads with improved application monitoring interface for the technician and operator.
Multiple optional features customize the operator experience and improve efficiency in the next gen cab. AutoHoist automatically raises the truck body and controls the engine speed, simplifying operation and can reduce the dump cycle time by up to 12 seconds. Offering feedback on truck operation to maximize its potential, Speed Coaching provides a recommended speed, indicating the machine capability for both propulsion and retarding. Maintained speed is set and controlled on-the-fly using a rotary dial with a Cruise Control option.
Building operator confidence
Eliminating the need for two-foot hill starts, standard Hill Start with Anti Roll Back keeps the truck stationary through automatic brake application when rolling in the opposite direction of the selected gear. Configurable 2nd Gear Start reduces shifting by automatically determining if the truck can start in second gear. Assessing individual wheel speeds, grade and acceleration, Enhanced Traction Control determines targeted rear-wheel speeds to improve control, while reducing tire wear and damage. Elevating mine safety, Object Detect combines radar and camera systems to warn truck operators of hazards within the immediate vicinity.
Further improving truck control, optional Dynamic Stability Control monitors and modulates the individual wheel brakes to keep the machine tracking with the operator's steering inputs, while the available anti-lock brake system (ABS) maintains the desired path of travel during braking in slippery conditions. Cat Vision 360, available from the factory, improves the operator's field of vision by providing a top-down surround view of the truck using the system's four cameras.
The optimized next gen cab displayed at MINExpo 2021 is currently available for the Cat 785 mining truck and is scheduled to expand to the 789 and 793 models in 2022.
Enhanced Cat technology maximizes value of MD6310 rotary drill
Part of the Cat drill family, the Cat MD6310 rotary drill displayed at MINExpo 2021 shares a common platform, parts, components and technologies across the entire drill line to maximize lifecycle value and streamline operator training, maintenance strategies and fleet planning. Matched to the application, its powertrain optimizes system efficiency to deliver higher performance with reduced fuel burn.
Every component and subsystem on the MD6310 – engine, compressor, hydraulics and undercarriage – are purposely selected and properly matched to work together as a system, resulting in increased uptime, greater efficiency and low cost-per-meter drilling. The proven Cat electronics infrastructure, shared across Cat machines for technician familiarity, boasts integrated protection features and interlocks to prevent potential failures or misuse and improve operating safety.
The drill's new electronic compressor regulation boosts productivity while reducing fuel burn. Modulating working pressure and air volume flow, the compressor controls match the drill's compressed air output to the specific application, tooling and how it interacts with ground conditions.
Leveraging automation
New MD6310 rotary drills integrate Caterpillar electronics that leverage automated features and technology to improve drilling accuracy and efficiency. Drill Assist executes all major functions or cycles of the drill and automatically adapts drill power to match ground conditions. Automated features such as jack leveling and retraction, mast raise and lock to desired angle, and auto pipe handling for multi-pass auto drill-to-depth improve operator drilling efficiency on the bench.
Cat MineStar ready, the drill's electronics infrastructure provides a gateway to exclusive Caterpillar technologies that further advance drilling automation and safety. Terrain for drilling uses high-precision GPS guidance to deliver accuracy down to the centimeter, ensuring holes in the pattern are drilled in the right place and to the designed depth.
As a building block to autonomy, Command for drilling offers scalable technologies ranging from line-of-site remote control to autonomous operation to meet the mine site's needs for safety and productivity. The remote operator's station removes the operator from the bench and now allows one operator to manage drill operations and run up to five machines simultaneously. As part of the MINExpo display, the Cat Command Station gave show attendees the opportunity to experience the capabilities of Command for drilling's remote operation.
Lower costs, improved safety
Advancing sustainable operation while lowering owning and operating costs, major components for the MD6310 – engine, undercarriage and rotary head gearbox – are built to be rebuilt, giving the machine multiple service lives. Common components and consumables across the Cat drill family reduce parts inventory needs and simplify service.
Onboard health monitoring and Cat Electronic Technician makes troubleshooting quick and convenient to increase drill uptime availability. Uniform hose and wiring harness routing increases machine reliability in the field. Grouped service points and simplified access to maintenance items reduce service time, allowing the MD6310 to spend more time in the field and less time in the shop.
Designed to improve safety and operator comfort, the next generation cab features floor to ceiling windows to improve line-of-sight to the drill deck and offers ergonomic display and control layouts. Closed-circuit cameras with additional mast camera help to improve operator visibility. Its FOPS-rated cab, standard drill window safety cage and operator-present conditional safety interlocks help further improve safe operation.
Ideal for high-production drilling on 12- and 15-m (39.4- and 49.2-ft.) bench heights and capable of drilling up to 311-mm (12.25-in.) hole diameters, the MD6310 offers up to 30-degree angle hole drilling for cast blasting. A true global machine, the MD6310 is powered by the Cat C32 engine with configurations available to meet EU Stage V and U.S. EPA Tier 4 Final or Tier 2-equivalent emissions standards. A 42.2 m3/min (1,500 ft.3/min) at 34.4 bar (500 psi) compressor is available for DTH drilling, while rotary drilling compressor choices include units offering 56.6 m3/min (2,000 ft.3/min) at 8.6 bar (125 psi) or 73.6 m3/min (2,600 ft.3/min) at 7.6 bar (110 psi).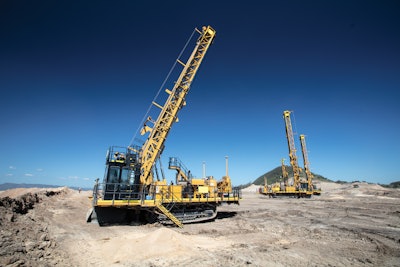 New additions to MineStar Edge platform
Augmenting Cat MineStar Solutions' suite of technologies, MineStar Edge leverages cloud-based computing to create an operational ecosystem for mining companies, enabling drill-to-mill along the value chain. The cloud-based application lowers costs of deployment and significantly reduces the time it takes from order to use, making it scalable to fit a range of mine site applicational needs.
Edge features the latest technology advancements to measure, manage and optimize mining operations. Using data fusion, machine learning and artificial intelligence, Edge continues to grow as it collects data, identifies patterns and learns to make decisions. Currently, dozens of mine sites rely on Edge's Equipment Tracking and Production Recording capabilities with fleet installations ranging from fewer than five to more than 80 machines.
MineStar Solutions is set to introduce two new capabilities to the Edge Platform – MineStar Guide and Surface Management – accessed alongside Equipment Tracking and Production Recording data from the same office computer or tablet in the field. Guide, available in early 2022, serves as a new platform for high-precision on-board, while Surface Management is an enhanced office platform for Guide currently in development.
Increased precision with MineStar Guide
Using the advanced capabilities of the Edge platform and the most advanced GNSS technology, MineStar Guide provides the next generation high-precision system for grading and loading operations. Real-time feedback improves operator efficiency and increases machine production.
Featuring a new user interface inside the machine's cab, Guide offers intuitive operation, which makes it easier to train new operators. Its on-board, dual-receiver system offers improved machine heading and data to increase grading and loading efficiency.
Working through enhanced 3D grade control and design visualization, Guide provides high-precision block and material identification that is automatically provided to the operator and operations. Grade, block and material designs are also automatically sent to the machine, based on location, to ensure compliance to plan, increase productivity and reduce rework.
Guide offers stakeless ore control and regular elevation updates, reducing the need for surveyors in the field to improve safety. The enhanced level of automatic blade control provided by Guide will help to reduce operator fatigue when grading to design.
Operator and production key performance indicators are sent to the machine through MineStar Edge, empowering operators to stay on schedule. Guide demonstration units will be installed on the Cat 992 wheel loader, Cat 6060 hydraulic mining shovel cab and Cat 24 motor grader displays, as well as inside the technology area, for MINExpo attendees to view.
3D planning with MineStar Surface Management
Accessed through the integrated MineStar Edge platform, new MineStar Surface Management delivers to the field planning and material information created in the office. This enhanced next generation grading and loading platform leverages data provided by Guide-equipped machines for precise execution of planned versus actual production.
With the new Edge platform, Surface Management allows reports to be viewed on office computers or in the field on laptops and mobile devices. Its 3D visualization of virtual and augmented reality substantially improves project progress viewing. The mobile platform gives users the ability to zoom and rotate on particular areas of the site for a more detailed view.
A powerful material management tool, Surface Management automatically generates fused digital modeling from multiple data sources for improved accuracy. It tracks haul roads, dumps, loading areas and other truck destinations. Users can easily review designs, blocks in progress and as-built areas. Reporting capabilities include timeline advance and comparison with swipe to previous or future and volume calculation. Increasing program flexibility, Surface Management gives customers the freedom to choose the reporting method.
Autonomous water truck aims to improve efficiency on job sites
Previewing the continual advancement Caterpillar is making toward the fully autonomous mine, the Cat 777G displayed at MINExpo 2021 features Cat MineStar Command for hauling, providing automated water delivery. The 777G autonomous water truck (AWT) represents a new approach to controlling dust at the mine site, helping to solve overwatering and underwatering issues with a focus on sustainable operations.
Like automated haul trucks, autonomous water trucks offer the potential for greater utilization than operator-driven vehicles. The trucks reduce operational delays such as shift changes and meal breaks while providing improved operational consistency to further increase Command for hauling efficiency. The process offers 100% compliance with watering plans aiming to sustainably eliminate overwatering and underwatering, improving productivity and safety. Command for hauling enables the water truck to interact with other autonomous equipment and integrate with customer mining processes and systems, all managed by MineStar.
Rio Tinto Gudai-Darri mine automation
The exhibited Cat 777G AWT showcases the same Command hardware and technology currently used to automate the Cat 789D AWTs being deployed at Rio Tinto's USD $2.6 billion Gudai-Darri iron ore mine in Western Australia's Pilbara Region. Featuring the world's first autonomous water trucks, Gudai-Darri is on track to be one of the world's most automated mines.
In addition to the Cat 789D AWT, the mine's fleet consists of Cat 793F autonomous trucks equipped with Command for hauling and three Cat autonomous drill models equipped with Command for drilling. Offering a 160 000-L (42,288-gal.) tank capacity, this 789D AWT reports and tracks the amount of water delivered to manage the application of water and keep mine roads in optimum condition.
Leveraging Caterpillar and Rio Tinto expertise, the new 789D AWT furthers Rio Tinto's Mine Site of the Future program. "When Rio Tinto approached Caterpillar about the greenfield project, an autonomous water truck solution didn't yet exist but was high on our list of priorities, and meeting this need was a challenge Caterpillar was eager to take," offers Caterpillar Resource Industries Group President Denise Johnson.
Autonomous building blocks
Similar to the Cat 789D AWT at Gudai-Darri, the exhibited 777G AWT integrates the truck, tank and water delivery system, connected with Cat technology. Featuring the Cat Water Delivery System (WDS), the truck delivers variable waterflow based on truck speed, and the variable displacement pump automatically starts and stops when the truck slows or comes to a halt, preventing overwatering and subsequent poor traction at intersections.
The integrated Cat branded water tank on the Cat 777G AWT has a 76 000-lL(20,000-gal.) capacity. The truck comes complete with water spray system, splash guards, fill chute and rock ejectors. It's Adaptive Economy Mode reduces fuel consumption by up to 13% over full power mode, and the water cannon operates at engine idle speed to save an additional 50% on fuel.
Non-autonomous truck option
For mine sites not requiring autonomous operation, Caterpillar currently offers a fully integrated Cat 777G Water Solutions truck that leverages MineStar Edge technology to help operators better control haul road dust. Cloud-based, MineStar Edge collects and communicates machine data, allowing site supervisors to monitor the fleet and meet production targets. The scalable system provides a range of data including real-time and historical reporting, truck location and utilization, fuel and water levels, volume of water distributed, area covered, and rate of water being put down, among other operating metrics.