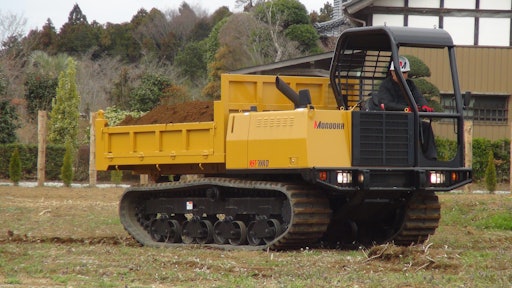 Morooka USA has introduced a new mid-size rubber track carrier, the MST700VD, to the North American and South American markets. The new carrier sports a 93 hp Kubota V3800 Tier 4 Interim engine for plenty of dependable power in tight spaces. It also provides a maximum payload of 9,460 lbs. in a package that is less than 15 ft. long, making it well suited to construction related markets.
Safety is a key component of the Morooka design. A rotational reverse seat contributes to operator safety and improved visibility, especially when driving in reverse. The seat comes standard with the MST700VD, as does a canopy that is both ROPS and FOPS certified.
"This fills a gap in our rubber track carrier fleet," says Curt Unger, Morooka USA's Vice-President of Sales. "We have three models more compact than the MST700VD, and four larger ones. So our full line dealers are now better able to custom-fit the needs of their customers to the capabilities of the carrier they rent or buy."
Rubber tracks offer both excellent traction and the low ground pressure necessary in sensitive terrain. In fact, the new MST700VD only exerts a ground pressure of about 3.6 psi (empty).
The new model will come direct from the factory with a dump bed. All Morooka rubber track carriers feature hydrostatic transmissions and come with a 1-year, 1,000-hour warranty.