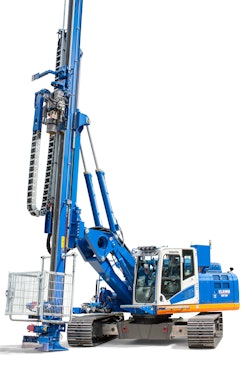 KLEMM Bohrtechnik
KLEMM Bohrtechnik has developed a new drill rig, the KR 720, specifically for High Pressure Injection (HPI) drilling. This application requires the use of specially designed equipment capable of carrying out tasks such as sealing dams, drilling deep foundations and underpinning foundation supports.
The new KR 720 is particularly suited for drilling vertical, comparatively large drill depths of up to 25 m (82 ft.) in a single pass, the company says in its press release announcing the launch of the new machine. It can be used for several construction and mining applications including:
compaction grouting for improved lad bearing capacity of the ground
rock grouting for filling fissures, cracks and cavities
can be configured for water extraction, deep hole hammer micro-piling (DTH) or continuous flight auger drilling
More on the KR 720 drill rig from the company's press release:
The parallel kinematics of the boom and the 2-fold backstay cylinder kinematics are optimal for carrying out such operations. Not only is it easy to move the mast into the drill rig transport position, but adjusting the angle of the mast, and the longitudinal and transverse spacing of the drilling axis can be carried out with ease and accuracy. Initial drilling points can be easily reached by hydraulically adjusting the height of the mast.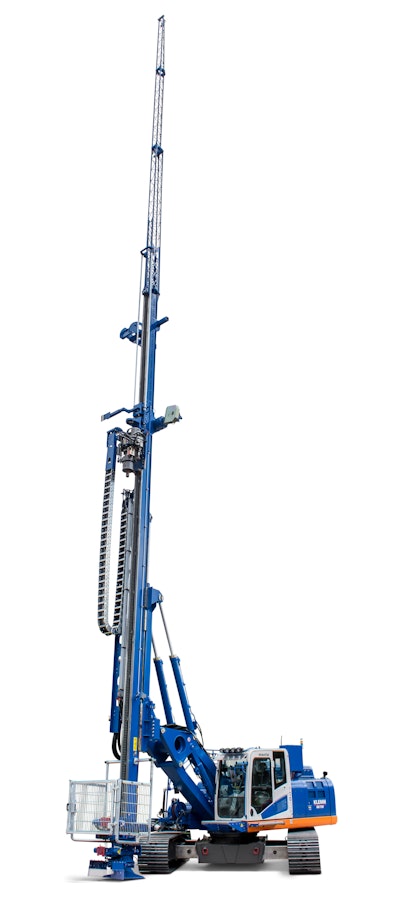 For HPI operations, the base mast can be combined with a gear feed system and lattice mast extensions which are individually removable. This allows the base mast to have a long, uninterrupted feed. The mast can also be fitted with bezels, sleds for flushing heads, safety rails and injection hose diverters.
The KLEMM KH 14SK - rotary head with mandrel - can grip and drive HDI rods with a diameter of up to 114 mm (4.5 in.). The KLEMM KH 12SK is suitable for larger diameters of up to 133 mm (5.2 in.).
A modified hydraulic excavator combined with an operator cabin make up the base of the KR 720. The 360-degree rotatable upper carriage enables drilling positions to be reached all around the pivot point. In order to have both a compact transport position, and a high level of stability the undercarriage of the rig base is telescopic. The electro-hydraulics and electronic controls on the KR 720 were developed especially for this model.
The functional safety of the drill rig complies with the requirements of EN 16228. KLEMM's KR 720 meets EU Stage V emissions regulations, as well.