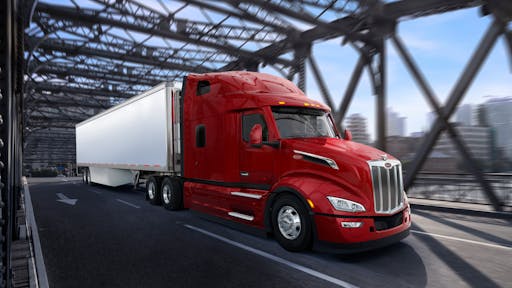 Peterbilt Motors Co.
On February 3, Peterbilt Motors Co. announced the launch of its new Model 579. According to Jason Skoog, Peterbilt General Manager and PACCAR Vice President, the new truck is the result of 5 years of development in which the company put an emphasis on improving uptime, as well as increasing fuel economy and operator comfort. "Our main goal was to reduce overall cost of ownership for customers," he said during the virtual launch event for the Model 579.
To achieve these goals, Peterbilt worked on improving the truck's aerodynamics as well as incorporating more technology features such as new safety systems. Inclusion of a large digital display in the cab and LED lights help to improve driver comfort and safety, as well.
Aerodynamic improvements lead to efficiency gains
Up to a 7% fuel economy gain can be achieved due to the aerodynamic and other technology enhancements made to the new Model 579. Skoog said this gain is on a like-for-like basis for a line haul sleeper application compared to the current Model 579. "At a diesel cost of $2.50 a gal. and driving 100,000 mi. (160,934.4 km) per year, that translates into an annual savings of $2,000," he said.
A new three-piece hood is included on the truck and is one of the areas in which Peterbilt worked to improve aerodynamics. "We lowered the top of the hood, as well as narrowed the hood to improve the airflow over the top and around the sides of the vehicle," said Scott Newhouse, Chief Engineer at Peterbilt.
Up to a 7% fuel economy gain can be achieved due to the aerodynamic and other technology enhancements made to the new Model 579.Peterbilt Motors Co.
The hood is made from a stronger Metton material which Newhouse said makes it more resistant to impact and reduces the opportunity for fender damage, helping reduce total cost of ownership for customers.
Aerodynamic improvements were also incorporated into the bumper and the lower air dams. The bumper also features a three-piece design with integrated forward radar cover for the collision mitigation system. This helps to improve airflow around the vehicle, as does the use of a larger air dam.
Newhouse said airflow is also enhanced off the truck's windshield due to the inclusion of new aerodynamic A-pillar vanes which redirect airflow around the windshield to reduce friction without negatively impacting visibility. This also helps reduce in-cab noise 10%, enhancing the driving experience. Improvements were also made to the truck's aero mirrors, fairings, side skirts and closeouts to provide the more aerodynamic look of the entire tractor.
The aerodynamically designed cab mirrors provide visibility down the side of the tractor and trailer. In addition, they house cameras for Peterbilt's new digital camera vision system. The Digital Vision System provides drivers with enhanced, camera-enabled visibility around the truck at all times including at night and during inclement weather. This helps to improve safety as well as comfort by eliminating the need to strain to see objects near the truck.
Chassis fairings on the Model 579 have been redesigned to aid with fuel efficiency improvements while maintaining easy entry and exit from the cab. The fairings' tip out feature eases access to batteries, fuel tanks and other accessories that may require maintenance.
The company says it spent over 1,000 hours of computational fluid dynamics (CFD) analysis and more than 7.8 million CPU processing hours evaluating the exterior design of the new Model 579. This was to ensure an optimal design which met customer needs could be achieved.
Skoog said the company put a lot of thought into the aerodynamics of the vehicle; it did not make the choices it did just for the sake of improving aerodynamics. The engineering team worked hard to find the right balance between making changes that would improve fuel efficiency and meeting customer needs.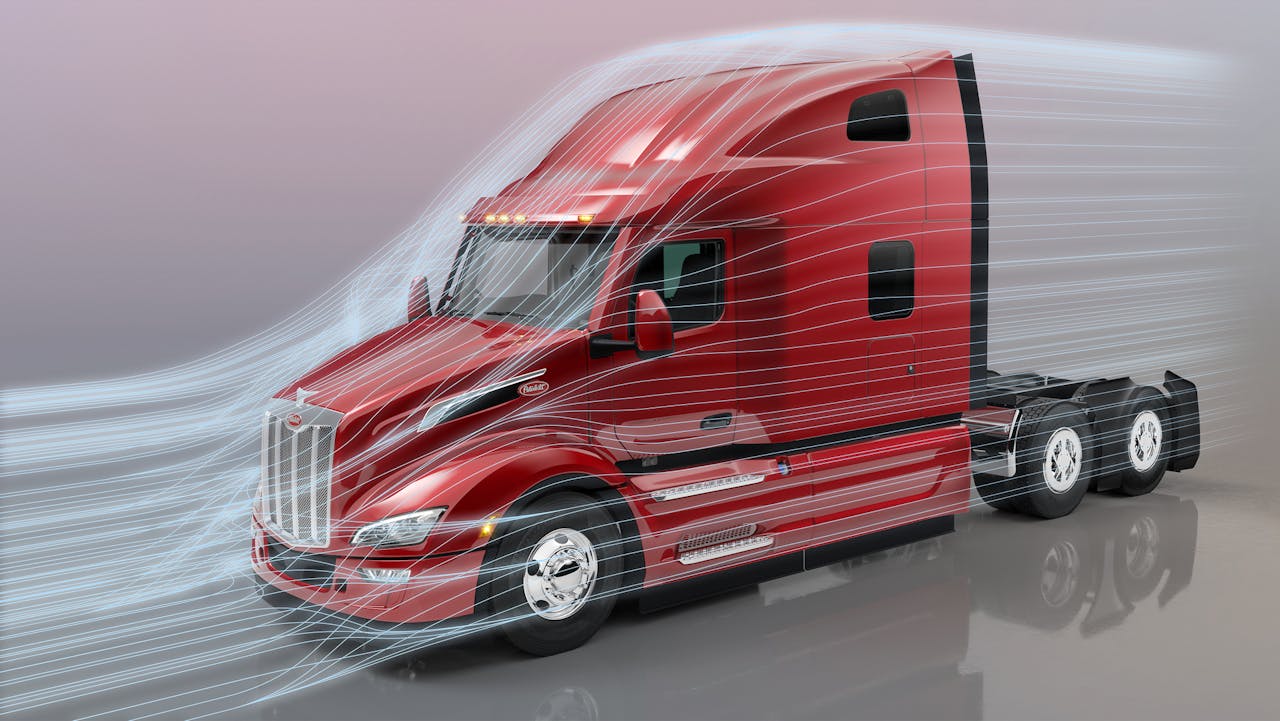 Aerodynamic improvements were made at various points around the vehicle to help improve fuel economy.Peterbilt Motors Co.

Enhancements to the driver experience
Skoog said driver comfort features were enhanced behind the wheel as well as in the sleeper. The interior was updated with richer colors, soft-touch material and a new optional wood trim made to provide a more luxurious look.
The 579 UltraLoft with an integral sleeper provides 70 cu. ft. (2 cu. m) of space and features an 8 ft. (2.4 m) high ceiling to help maximize comfort. There is room for small appliances, including a 1.1 cu. ft. (0.03 cu. m) microwave, a 32 in. (81.3 cm) TV, a tall wardrobe closet, multiple power outlets and optional bunkbeds with fold-away ladder. Multiple windows are included, as well, to provide additional ventilation and natural light.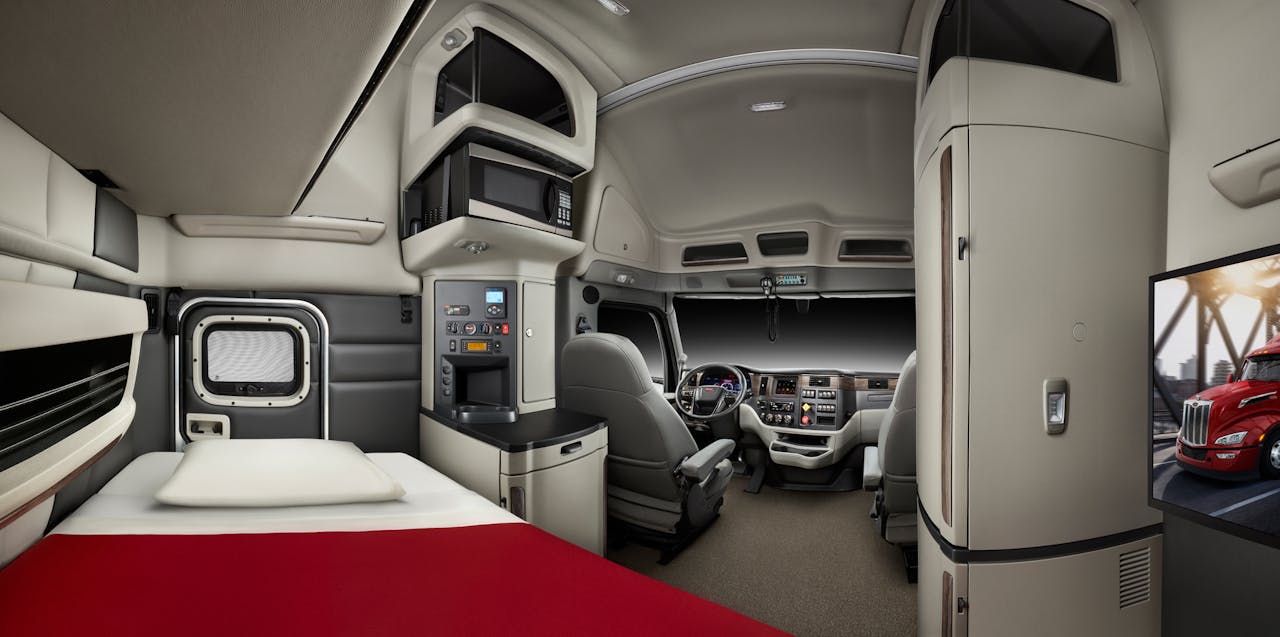 A more spacious sleeper compartment includes more storage and 8 ft. high ceilings.Peterbilt Motors Co.
New sound abatement technology reduces the amount of outside noise entering the cab in an effort to make rest periods quiet and comfortable.
The biggest addition is the 15 in. (38.1 cm) digital display positioned directly behind the steering wheel to provide optimal visibility to drivers. This display will now be available in every conventional Class 8 Peterbilt truck, as well.
The display has a fully customizable user interface (UI) which the company says allows for an endless combination of digital gauges on the main screen that can be set to meet each driver's preferences. It provides drivers with every bit of information they are ever going to need, said Skoog.
Newhouse said the new digital display gives drivers the flexibility to see what they want to see, and when; if necessary, they can change the display throughout the day. "It gives them the flexibility to meet their wants and needs, and that's a major benefit," said Newhouse.
Operators can control the digital UI through one of three different Drive View Zones:
Minimized View eliminates everything but the speedometer and tachometer for minimal driver distraction.
Basic View represents traditional information found on analog dashes with Air & Oil Pressure, Fuel & DEF level and Water temperature all prominently displayed along with a speedometer and tachometer.
Enhanced View builds upon the previous views displaying the maximum number of gauges from a list of over 30 information sources.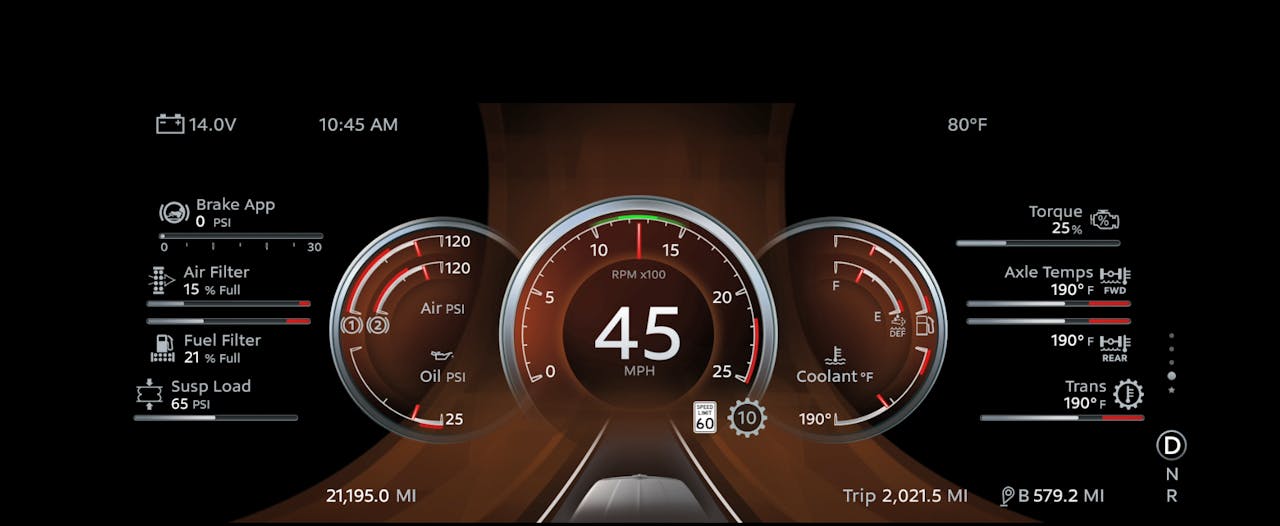 The Enhanced View displays the maximum number of possible gauges.Peterbilt Motors Co.

The Digital Display also has the ability to run through a visual Systems Check prior to departure, inspecting 13 systems and providing a green checkmark with each passed test. A detailed Trip Information screen is available for post-trip analysis which provides a breakdown of important operating metrics from the most recent journey. These features can help to make a driver and overall fleet more productive and efficient by allowing drivers to get on the road faster and evaluate performance of the driver and truck to make any necessary improvements.
"With the rapid pace at which technology is growing in our vehicles, we changed to a digital display," said Andy Weiblen, Director of Product Planning & Strategy at Peterbilt. "What that enables us to do is integrate those technologies much faster."
Instead of creating a new gauge cluster each time there is a new technology the company wants to integrate, it can now change the graphics in the display to provide the necessary information. Information can be provided in real time when drivers need it. Weiblen said over 200 drivers were interviewed to ensure the right information would be provided at the right time on the display.
Newhouse added the digital display not only enables the right information to be provided, but also better information than previously available.
Further operator comfort improvements come from the newly designed front chassis and powertrain which help lead to the 10% reduction of noise in the cab.
With the various enhancements made to the operator cab, Peterbilt hopes it will help to mitigate driver turnover which is a big concern for the trucking industry. Creating a more comfortable driving experience helps to reduce fatigue and improve the overall job experience, making it more likely for a driver to remain with a fleet or as a driver in general. "If we can reduce driver turnover just by 1 or 2 people every year for each of our customers, that's going to lower total cost of ownership, as well," said Skoog.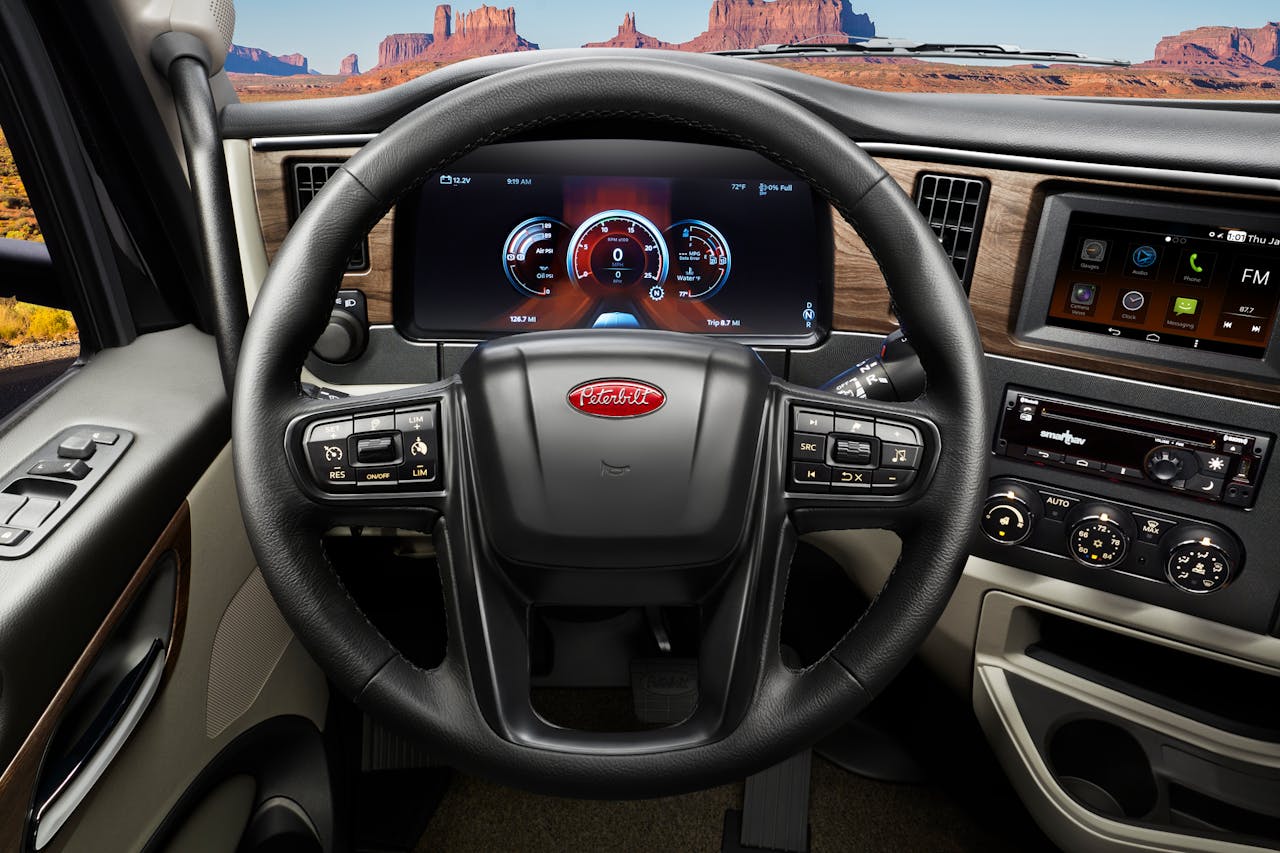 A new digital display placed directly behind the steering wheel provides vital information to drivers within their line of site.Peterbilt Motors Co.

Technology improves safety
Safety was a critical design element for the new Model 579. This includes excellent visibility around the vehicle, new LED headlamps as well as the design of the chassis which increases stability of the turning system by 15%, said Newhouse.
Fully integrated Advanced Driver Assistance Systems (ADAS) are included in the new digital display, as well. The integrated camera system and radar technology aid with collision mitigation, overspeed alerts and lane keep assist which are all displayed in the center of the digital display.
Adaptive Cruise Control is included, as well, to help with travel speeds—which can improve fuel efficiency—and driver comfort.
LED headlamps are included as they can provide many benefits compared to halogens. Newhouse said they allow for better intensity and control of the light to further expand the area of visibility for drivers. "That control allows us to better distribute the light in front of the truck, give better visibility in front of the truck, and more importantly it takes the stress and fatigue off the driver," he explained.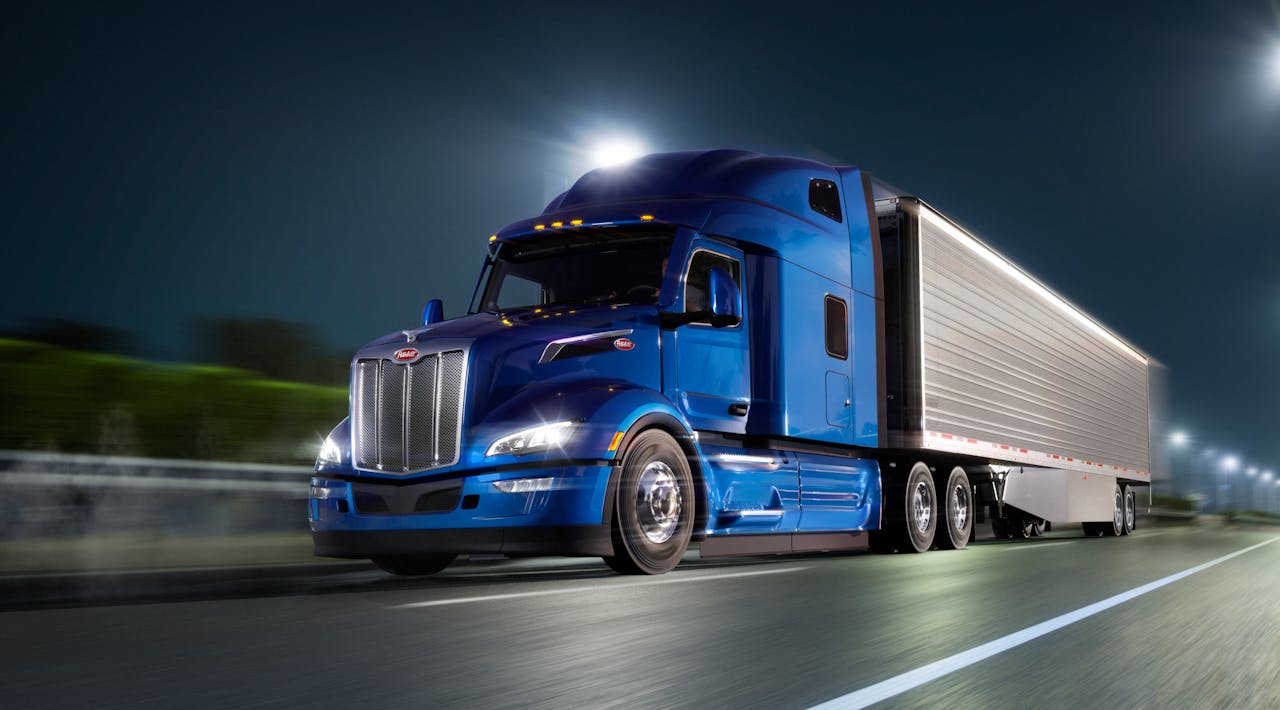 LED headlamps help to ensure optimal visibility for drivers.Peterbilt Motors Co.

Longevity is another integral reason for including LEDs; they are known to last longer than halogens which helps with total cost of ownership as the lights will not have to be replaced as frequently.
Infrared heaters are included in the headlamps to ensure ice and snow does not collect on them, aiding visibility in all weather conditions.
Lights on the bumper provide three functions—foglamps, driving lamps and cornering lamps. The cornering lamps turn on automatically with the turn signal as well as in low-light conditions. This improves further helps improve visibility for drivers.
Skoog concluded by saying the new Model 579 meets Peterbilt's high expectations for the products it offers, and hopes it will meet customers' expectations, as well.
The truck is currently available for order from dealers in North America, and initial production of the truck is set to start in April.
Companies in this article