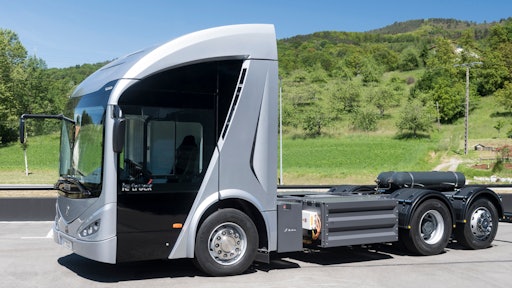 Irizar Group recently introduced its Irizar ie truck, an electric vehicle capable of producing zero emissions. The electric truck features a compressed natural gas (CNG) range extender to enable electric driving in cities and extended autonomy and working time via the natural gas engine.
The first prototype of the truck is equipped with a side loading body for waste collection, and is expected to be available in the market place within the coming months.
The goal when developing the vehicle was to eliminate both atmospheric and acoustic emissions. The truck's low noise levels enable operation at night so as to reduce traffic disturbances during more congested periods.
Several in-house technologies used in electric drive systems in the company's electric buses, energy storage and control electronics were utilized in the ie truck, as well. Regenerative braking enables capture and use of kinetic energy as much as possible to help power the truck.
The truck is a 6x2 8 m (26.2 ft.) long model with carrying capacity of 18 tonnes. Different variations of the purely electric truck are under currently under development, which will add to the company's range of zero-emissions vehicles.
Additional features
Operator comfort and safety were also key design factors for the Irizar ie truck. The company says the low position of the driver's seat, width of the windscreens and side windows, and ergonomic access to all the controls and dashboard were important methods of ensuring optimal operator comfort within the cab.
The truck's pneumatic door swings inwards to prevent it from hitting any obstacles in the road.
The latest active safety technology and stability control is also included on the truck. A built in camera and front radar sensor detect lane changes and alert the driver if he or she swerves unintentionally. An emergency assisted braking system activates the emergency brake if the vehicle gets too close to the front of the vehicle and the driver does not take corrective action in time.