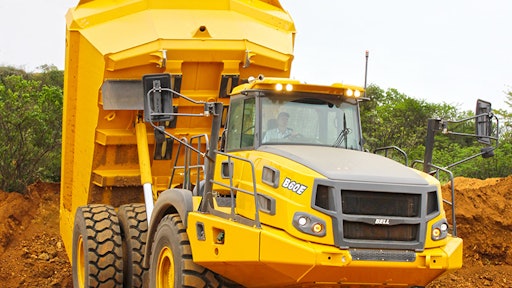 Bell Trucks America will launch a new generation of Bell articulated trucks at CONEXPO 2017.
Along with the launch of the new E-Series B40E and B50E trucks, Bell will introduce two new truck models, the B45E with increased payload and power to the traditional 40 T size trucks and the B60E.
In line with expectations, Bell again pushes the innovation boundaries and comes up with the B60E truck proving that the company is still a leader in the concept of moving more dirt at less cost.
At 60.6 T, the Bell B60E features a carrying capacity of 45.8 cu. yd. The B60E is an all-wheel drive 4 x 4 that is powered by a 577 hp Tier 4 Final Mercedes Engine and Allison transmission.