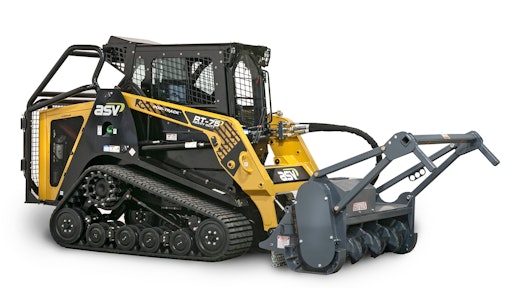 ASV LLC, an industry-leading manufacturer of all-purpose and all-season compact track loaders and skidsteers, introduces the large-frame, radial-lift Posi-Track RT-75 Heavy-Duty (HD) compact track loader for tough applications, such as forestry and excavation. The RT-75 HD features maximum durability and serviceability, innovative high-capacity cooling systems and highly efficient hydraulics. The machine uses ASV's patented Posi-Track undercarriage to provide the industry's highest ground clearance, lowest ground pressure, longest track life and best traction over all types of surfaces, from brush and mud to snow and ice. The features allow for superior performance in applications such as mulching, brush cutting as well as highway and utility work.
"We're committed to delivering maximum performance — no compromises," says Jim DiBiagio, ASV General Manager. "The RT-75 Heavy-Duty makes our already-tough RT-75 even stronger. The design ensures our customers have a machine built for maximum durability, serviceability and productivity in rough and dirty applications. The RT-75 HD allows workers to limit downtime, get more jobs done and achieve a high return on investment."
The RT-75 HD is a customization of the ASV RT-75. The HD features upgraded durability and optimizations for forestry work. These include metal guarding against brush and debris around key areas, such as lights, the AC condenser and rear screen. The machine blows debris from mulching applications out of the engine compartment screens with a hydraulically driven, auto- reversing cooling fan. A full rear brush guard is also available as a factory-installed option. The machine works with all standard attachments, including mulching heads, brush cutters, backhoes, buckets, snow blades and pallet forks.
ASV purpose-builds the compact track loader from the ground up, starting with the undercarriage. The RT-75 HD features the company's patented Posi-Track rubber track suspension. The dual-level suspension incorporates both suspended wheels and axles, providing operators a smooth ride over uneven terrain and at higher speeds. The suspended wheels and fully flexible track conform to the ground, assuring maximum traction in the roughest conditions. In addition, the multiple wheel contact points and three guide lugs — more than many machines that use only one or two guide lugs — achieve maximum performance on steep slopes. The large number of contact points — combined with standard 18-in. wide tracks — achieve a ground pressure of only 3.6 psi. Buyers can also pair the RT-75 HD with optional 20-in. tracks for an even lower ground pressure of 3.2 psi. The productivity-enhancing features, combined with the RT-75 HD's nearly 15 in. of ground clearance, allow workers to use the unit more comfortably and often in more places than competitive machines.
Over the past 10 years, ASV has completely converted its undercarriage from a closed design — similar to those used on competitive steel-embedded undercarriages — to an open-rail and drive- sprocket design. The result is increased sprocket and bogie life and an undercarriage that's easier and faster to clean.
ASV manufactures all rollers with mechanical face seals so that no maintenance is needed for the life of the machine. The innovative tracks contain embedded co-polymer cords for extra strength and are produced using a single-cure process, eliminating cure-point weaknesses in the track that can lead to premature breakage. The result is a 1,500- to 2,000-hour track life — 30% more than steel-embedded track units. ASV guarantees its tracks with an industry-leading 2-year, 1,500-hour track warranty.
The RT-75 HD features a 75 hp Cummins 2.8-L turbocharged diesel engine that produces 221 ft.-lbs. of torque — 13% more than the machine's 80 hp predecessor, the PT-80. Direct-drive hydraulic motors transfer torque to the ground. The RT-75 HD doesn't use planetary drives, eliminating the need for servicing those components. Highly efficient motors transfer maximum power to the patented internal-drive sprockets. Internal rollers prevent friction loss in the undercarriage, resulting in maximum power transfer to the track regardless of drive speed. The RT-75 HD meets Tier 4 Final compliance using a diesel oxidation catalyst that requires no regeneration, no sensors, no diesel exhaust fluid, less wiring and no additional maintenance.
ASV designed the unit with serviceability in mind, manufacturing it with a three-panel hood and tilting cooler arrangement to provide operators easy access to the reliable Cummins engine. The rearward tilting cab provides easy accessibility when further service is required. Featuring sight gauges for both hydraulic oil and coolant, the design simplifies routine inspections of filters, oil and standard service items.
ASV builds the RT-75 HD's highly efficient auxiliary hydraulic system to provide 35.7 gpm high flow and 3,300 psi. The machine transfers more flow and pressure directly to the attachment by using larger line sizes, hydraulic coolers and direct-drive pumps rather than belt-driven pumps, which prevents power loss. The improved efficiency allows operators to run attachments, such as brush cutters and mulching heads, more efficiently than higher-horsepower machines from other manufacturers. As a result of belt-driven pumps and restrictions in the hydraulic systems, many competitive machines lose as much as 30% of the listed horsepower. The RT-75 HD achieves 22% more actual hydraulic horsepower than the 80 hp compact track loader it replaces.
The RT-75 HD includes high-performance features for difficult applications. The machine runs at a rated operating capacity of 2,650 lbs. and a tipping load of 7,571 lbs. It is 70 in. wide and has a lift height of 126 in. Operation is easy and intuitive with the standard joystick controls. The machine comes with an optional all-weather cab that includes heat and air- conditioning, and is pressurized for a clean operator environment.