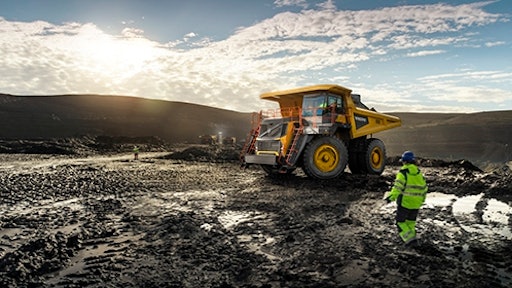 With a size and capacity that makes it easily the largest hauler in the company's line up, the new R100E rigid hauler from Volvo Construction Equipment (Volvo CE) drives down operating costs for customers by optimizing productivity, uptime and operator comfort.
This groundbreaking model is built on strong DNA, with roots tracing as far back as 1919. For nearly 70 years, the Volvo CE Motherwell facility has designed, manufactured and distributed rigid haulers. Built from nearly a century of engineering excellence, no other machine can compare to the R100E.
Move more, earn more
Offering a true 100t/95-tonne payload, the newest star in the Volvo fleet allows operators to meet production targets faster. Built to perform, the R100E is powered by the premium 783 kW (1,075 hp) engine. The combined drivetrain delivers high torque capabilities, unparalleled pulling performance and class-leading rimpull, for optimum traction. Drivetrain control and machine moment are supplied by the new Volvo Dynamic Shift Control, which automatically tailors the transmission shift-points depending on the worksite and operational inputs.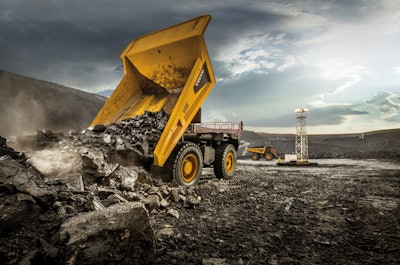 The R100E is built for all surface mining and quarrying applications, where operational costs are critical. Customers can expect to spend less per haul with the R100E, featuring a 60.4 m3 capacity V-shaped body for optimum load retention and minimal material carry-back. The industry-recognized load profile policy enables the operator to meet a consistent average target payload (95t), while the speedy body-tipping system ensures fast cycle times for an all-round efficient performance.
Volvo builds on the high capacity and hauling speeds of its rigid hauler with intelligent monitoring systems. The On-Board Weighing (OBW) option is an integrated system that ensures the machine moves the optimum safe payload to further optimize production and minimize operational costs. It does this by using exterior-mounted pressure sensors to monitor and relay machine statistics to the operator's on-board display. Not only can machine information be viewed in real-time via the on-board display, it can be remotely accessed via Volvo's CareTrack telematics system to help operators and fleet managers improve planning.
Customers interested in increasing the productivity of existing and future projects can access Volvo Site Simulation with the help of their local Volvo dealer. The system works by providing customers with valuable information about their machinery, fleet choices and site configuration, helping them maximize productivity, while better managing ownership and operational costs.
Durable by design
Uptime and productivity are centered on the machine's durable design, which promotes high component protection and longer lifecycles, for extended intervals between planned maintenance.
Offering rock-solid stability, the R100E conquers the toughest terrains while in complete control. The robust hauler offers a low center of gravity and is equipped with an expertly designed body and chassis that work in harmony with the McPherson strut with lower wishbone front suspension and the new low-effort steering system. The operator can easily maneuver around tight corners with light, intuitive steering provided by the pilot-operated remote-mounted orbitrol control valve.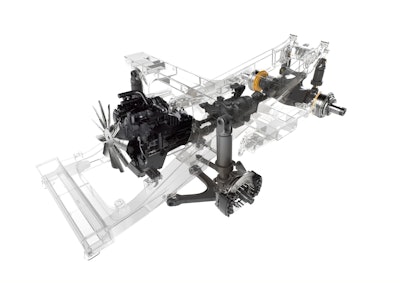 Not only is the R100E designed to achieve optimum performance and productivity through high levels of operator comfort, machine control and stability, it also promises to reduce repair costs. The front suspension is widely spaced to absorb load and ground surface shocks, and protect vital machine structures. Detailed engineering is also evident in the machine frame 'horse collar' design, providing flexibility to travel on uneven terrain. Manufactured from box-section steer rails, the frame features high-strength steel castings in the key stress locations to absorb ground impacts. All frame bores are sleeved for additional protection. A significant investment was spent in frame and body rigorous testing, which included applying 60,000 hours' worth of chassis fatigue loads. With a body manufactured from high impact and high abrasion-resistant 400-HBW-hard steel the R100E rigid hauler achieves long-lasting performance.
The operator's choice
Not only a highly efficient machine, the R100E also brings operator productivity to the fore – starting with the ROPS/FOPS-certified operator cab. Offering reduced vibrations and exterior noise, the cab is fitted onto viscous-type isolation mounts for greater ride quality.
From the operator seat, located on the left side of the cab, the operator can observe the job site and surrounding areas through the large glass area and a low rake windscreen. Good visibility is complemented by a 360 degree surround view system provided by Volvo Smart View. The system uses multiple ultra-wide-angle exterior-mounted cameras to produce a bird's-eye-view of the vehicle and surrounding work area via the on-board display. Benefits of this 360 degree system extend beyond increasing operator and worksite personnel safety; it also reduces or eliminates collisions with other objects to minimize machine and tire damage, particularly when reversing as it enables operators to safely avoid ground obstructions. Reducing the risk of accidental machine damage lowers repair costs and increases uptime.
All displays and ergonomically positioned fingertip controls are within reach of the fully adjustable Volvo air suspension operator seat, easily adjusted to fit the operator's physique. The cab is equipped with pressurized properties and HVAC control, as well as ample storage to reduce in-cab clutter and distractions.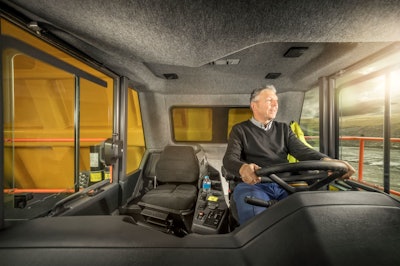 As with all Volvo machines, the rigid hauler is built with safety in mind and safety is designed into every aspect of the high-performance machine. For the protection of both the operator and site staff, all machine systems, such as the emergency shutdown switches are easily accessible. The transmission retarder and neutral coast inhibitor secure safe machine control in downhill conditions, while the engine overspeed protection automatically slows the machine down to safe operating limits.
Easy to inspect
Regular service inspections are required to spot potential problems and ensure a long service life. The R100E makes accessing daily service checks and routine maintenance quick and easy with anti-slip steps and secure walkways, the machine get back to work as quickly as possible. All service points are strategically grouped and located within reach from the ground and service platform to provide quick, easy and safe machine maintenance or adjustments, while the direct rim-mounted wheel design promotes safe and quick installation and removal. Inside the cab, access top-level diagnostic data using the operator-friendly dashboard for fast analysis and solutions. From the dashboard, the operator can quickly monitor the machine's health and access the system pressures, temperatures, fuel consumption, engine diagnostics, transmission diagnostics and VCU diagnostics.
The R100E also features high level of hydraulic filtration that features magnetic suction filters on each hydraulic functional system, as well as a pressure filtration on the steering, brake actuation pump and rear brake cooling units. The engine-mounted primary and secondary fuel filters combine with the advanced two stage oil filtration to remove harmful contaminates. Packed with durable features that provide superior protection, the R100E optimizes operations and extends maintenance intervals for lower operational costs.
On the rare occasion that the Volvo R100E requires more attention than a routine service check, Volvo experts are always on hand to provide specialist advice via an extensive infrastructure of dealers and technicians. Combining local knowledge with global mining experience, Volvo offers a range of customer solutions – from telematics machine reports, Volvo Service Agreements (VSA) and extended warranties – to increase profitability throughout the entire machine lifetime.