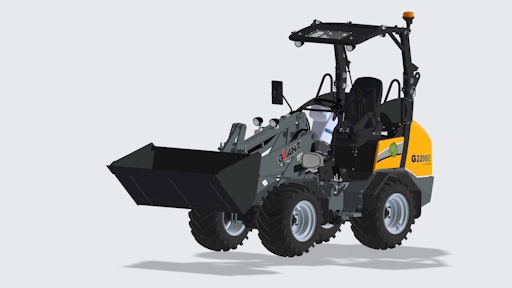 TOBROCO-GIANT
At bauma, TOBROCO-GIANT will present its first fully-electric loaders - the G2200E and G2200E X-TRA. The G2200E models combine the best of both worlds with the advantages of an articulated loader and near-silent operation and zero emissions, making the compact loaders ideal for indoor applications or construction sites in urban areas.   
Ready for the future
In mid-2016, a new Research & Development Center was opened at the factory of TOBROCO-GIANT to develop and build new and innovative products. Furthermore, the engineering department has expanded considerably so that all the knowledge is in-house to focus on electrically driven machines. The G2200E represents the future of fully-electric GIANT loaders and are the first in response to the increasing demand for zero emissions.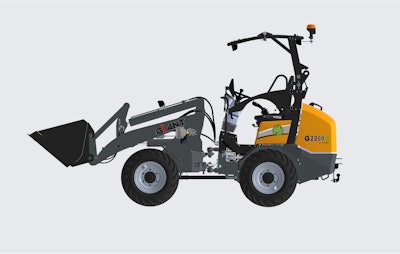 Outstanding performance
G2200E loaders come standard equipped with a 48V lithium-ion battery that fills the space traditionally used for the engine. With two separate electric motors, 6.5 kW to drive the machine and 11.5 kW for the hydraulics, there is always enough power to perform tasks precisely. With a lifting height of 2.85 m and capacity of 1,650 kg, the G2200E is perfect to use when height is important. The G2200E X-TRA has a lifting capacity of 2,200 kg, lifting height of 2.45 m and is specifically developed for extremely heavy work and work within construction and earthmoving.
Customers have the possibility to choose the battery that is suitable for their needs and the best solution for their range of application. TOBROCO-GIANT offers three lithium-ion batteries with a capacity of 12.3 kWh (240 Ah), 18.4 kWh (360 Ah) or 24.6 kWh (480 Ah). Depending on their choice one battery charge is sufficient to work under normal conditions for 4, 6 or 8 hours. So there is more than enough energy to work the entire day.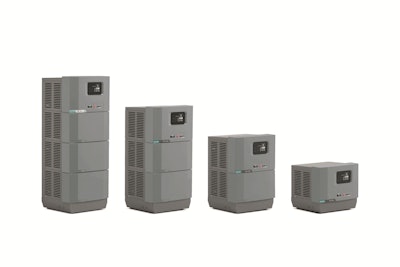 Charging solutions for work
The lithium-ion batteries from TOBROCO-GIANT score over traditional lead-acid batteries with their performance, fast charging times and zero maintenance. Furthermore, the lithium-ion batteries last up to three times longer than conventional batteries. The battery is self-protected by its own intelligent battery management system and can be charged whenever, without affecting the battery lifetime. Making it a reliable solution for the Rental market. TOBROCO-GIANT offers various solutions for charging on a job site or on the go. The electric GIANT's can be equipped with an on-board charger of 40A or 60A which uses a standard 230V power supply so they can be charged anywhere.
To offer maximum flexibility customers can choose for an external charger at their jobsite. The chargers are available in the range from 40A-300A, making it possible to charge a battery system for 50% within 30 minutes. After the light and compact chargers are fastened in place or installed, they can be placed in operation immediately.
Reduced operating and maintenance costs
Despite a higher investment for an G2200E (X-TRA), customers will benefit from reduced operating costs and less maintenance during the lifecycle of their machine. There is no need to store diesel at the jobsite and with every charge a customer will save money. The G2200E models require lower maintenance as they have fewer moving parts and engine filters and fluids don't need to be replaced. Longer service intervals mean fewer lost hours from maintenance downtime.
The customer's wishes
G2200E machines can be configured according to the customers' wishes. Starting with the selection for a standard or X-TRA model. Then there is a choice for three lithium-ion batteries. Also, with regards to the options there are plenty of possibilities. Consider the choices for an, EU certified, cabin, safety roof or foldable safety roof, heating and up to three double-acting functions at the front. This gives customers the opportunity to assemble the machine precisely for the work that needs to be done and for a competitive price.
At the demo area visitors can experience the low noise levels and emissions-free work of the compact and agile G2200E X-TRA for themselves. Inside the hospitality area customers can take the time to see the standard G2200E.