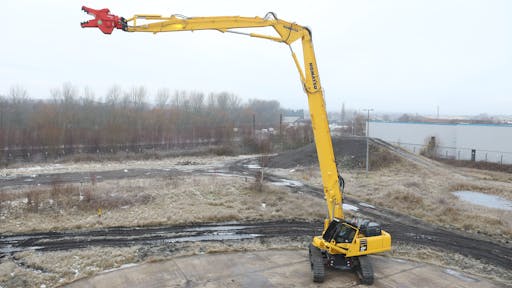 The new PC490HRD‐11 is the latest in Komatsu's range of heavy‐duty demolition excavators. It brings "best in class" working height to the 60‐tonne machine sector and can be configured in six different working arrangements. It carries a 2.0 tonne demolition tool up to a height of 32 m, a 3.34 tonne tool up to 28 m and it can work with a 5‐tonne demolition tool up to 17.4 m. This new machine will allow operators to work through the widest possible range with optimal control and safety.
Designed and developed, incorporating customer feedback, by Komatsu UK (KUK), it is also manufactured in this Komatsu Europe plant located near Newcastle, in the North East of England. The whole machine works as a single complete system, with smooth and convenient operating, high precision, great stability and first‐class comfort.
Operating weight of the PC490HRD‐11 ranges from 55,200-73,400 kg. Its Komatsu EU Stage V compliant engine puts out 270 kW/362 hp at 1,900 rpm, with minimal environmental impact. Ecological concerns are growing, and urban areas are increasingly sensitive to engine emissions. The PC490HRD‐11 provides Komatsu customers with the opportunity to participate in more tenders, to demonstrate their environmental credentials and to future‐proof their investment.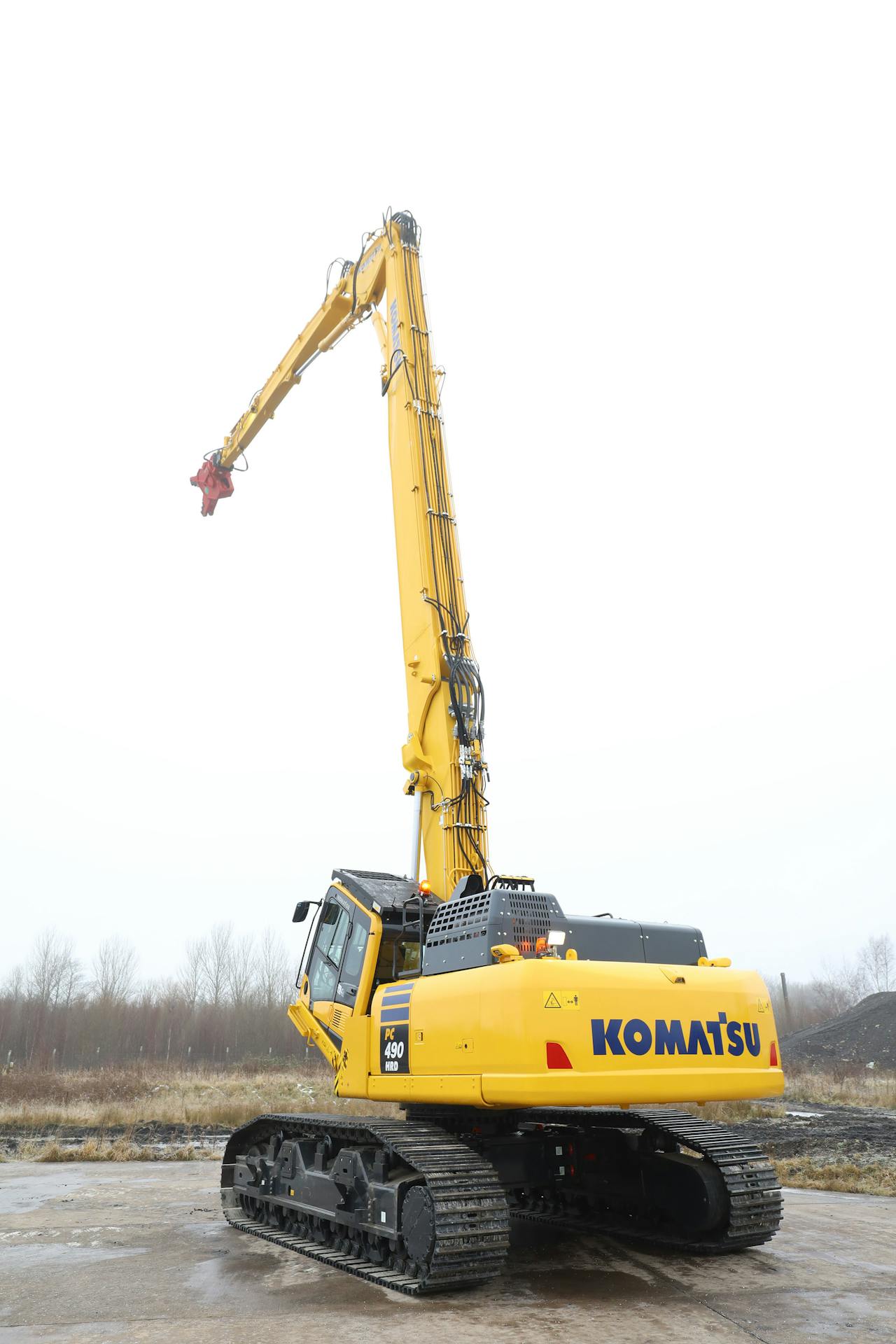 The new Komatsu PC490HRD‐11 excavator is a highly versatile unit which can be easily re‐configured for changing work demands. Komatsu's in‐house boom change system includes oversized quick connectors for the hydraulic lines, to minimize back pressure and oil heating, without restricting oil flow. The system also features hydraulically powered pins, which are mounted inside the main boom structure, reducing risk of damage.
The working range indication system on the PC490HRD‐11 is an important and advanced feature: it allows the operator to use the machine to its maximum effect without compromising safety, through a full 360 degrees. It can also display the view from the optional arm end camera system.
Komatsu has committed significant effort to transport arrangements on the PC490HRD‐11. Every section of the working equipment is provided with tie down points and lifting eyes to allow the equipment to be lifted and secured onto a trailer safely. The machine itself has been kept as compact and light as possible, without compromising durability.
The new excavator's standard undercarriage is mechanically variable: it keeps the weight down and maintains exceptional stability with a minimum transport width of less than 3 m. The optional hydraulically variable undercarriage makes it exceptionally easy and quick to set up the machine on site, achieving a working width of nearly 4 m, while keeping the transport width under 3 m.
Komatsu has also built in a number of features for increased operator convenience. For example, the front screen wiper and the cab tilt functions can be triggered without the operator taking their hand off the main controls.
Stuart Blackham, Design Manager for demolition products at Komatsu UK, says, "We are really pleased that a machine that was designed, developed and manufactured here at KUK has been received so well, and will be used across Europe."
He adds, "There is a desire at Komatsu to continually improve and innovate, no matter how well our machines already perform. This new high reach machine is an example of how customer feedback, combined with our own invention and innovation, can help create a game‐changing machine."
Simon Saunders is Product Marketing Manager for Komatsu Europe demolition machines. He says, "Komatsu is proud that the demolition products sold in Europe are entirely developed and manufactured in our European excavator factory. This means that our innovations are driven by the needs of the local European industry. Everyone is committed to offering exceptional versatility and safety, with a host of operator convenience features."
The latest KOMTRAX telematics, and the Komatsu CARE complimentary maintenance program, offer top fleet management and support, protect the machine against misuse and guarantee maximum efficiency and uptime.