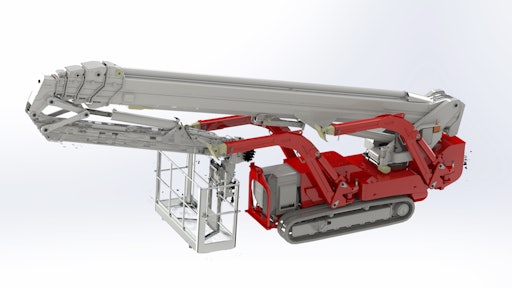 During the 2019 bauma fair that is taking place in Munich, Germany – from the April 8-14, Palazzani Industries S.p.A. will presents the XTJ 37+, the new model entering the wide range of Palazzani's Spider Lifts "Plus Series."
XTJ 37+ offers a very interesting working diagram, a classic Palazzani's telescopic boom with telescopic jib, featuring 37 m of maximum working height, an exceptional outreach of 16 m, -5.5 m in negative, in only 2.6 m of set-up. Designed to be extremely compact, 7,800 mm long, 1,200 mm wide and only 2,000 mm high, the new Spider is going to amaze for its excellent performances and ease of use, thanks to the implementation of the most advanced technologies.
Maximum comfort for the operator in the basket too, thanks to the wide standard dimensions of 1,800 x 70 x 110 cm and optional of 2,400 x 70 x 110 cm, as well as to the capacity of 120-230 and 330 kg (optional).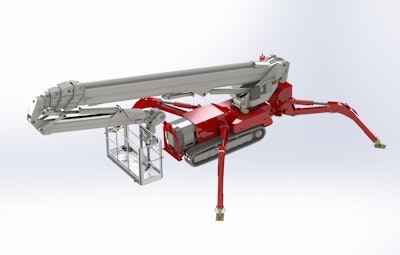 Equipped with radio control on the ground, air/water pipe on the arm and intercom in standard configuration, XTJ 37+ has all various optional items already present on the other Palazzani's models, among which the hydraulic winch of 500 kg, that makes it even more versatile, transforming it into a Spider Crane.
The new Spider XTJ 37+ extends the existing range of the Palazzani's Spider Platforms, from 17-52 m of height, and will be available in both Crawler and Wheel versions as well as Bi-energy (Diesel+AC), ECO (AC+DC) and Hybrid (Diesel+DC) power options.
THE NEW PLUS + SERIES
Palazzani Industries S.p.A. presents the new range of "+" Spider Lifts.
The Spider Lifts models entering the "Plus Series" are: TZ 330+, XTJ 43+, XTJ 48.1+, XTJ 52+ and the newest XTJ 37+.
What does "plus" mean and what are the benefits:
Plus means + speed: important increase of the operational efficiency thanks to the introduction of the CANbus. The innovative system increases the speed of the machine during aerial work.
Plus means + precision: high precision of aerial movements to carry out at best every delicate operation, in total safety.
Plus means + efficiency: thanks to the extremely fluid movements, there's a remarkable energy saving and optimization of working times.
Plus means + safety: with the installation of the Easy Drive feature, the truck loading operations result very easy. The innovative transfer system gets the two crawlers at same speed, avoiding unintended steering.
Plus means + comfort: thanks to the "Return to Home" function, the machine automatically switches from work position to transport position.
Plus means + interconnected: with the PALConnect kit, the platform can be interconnected with other softwares, and the main functions of the machine can be controlled and checked for remote.